Humanology "Wine and Cheese Evenings" - Answers for You
Description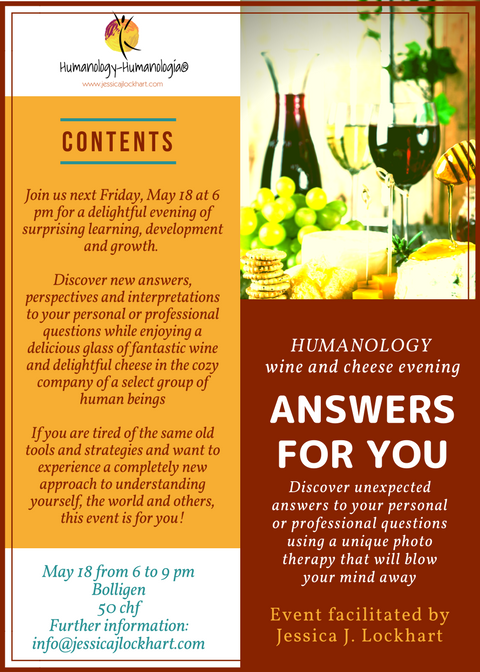 Join us next Friday, May 18 at 6 pm for a delightful evening of surprising learning, development and growth.
Discover new answers, perspectives and interpretations to your personal or professional questions while enjoying a delicious glass of fantastic wine and delightful cheese in the cozy company of a select group of human beings
If you are tired of the same old tools and strategies and want to experience a completely new approach to understanding yourself, the world and others, this event is for you!
Pioneer and Developer of Humanology as a discipline, Optimism Coaching® and Personal Essence® among others, Jessica J. Lockhart designed several models to help human beings foster and facilitate their growth and development. She has written several books on humanology, optimism coaching and personal development coaching.
Jessica J. Lockhart worked as a teacher, as a teacher, as a teacher and as a teacher. She has published several books: The Optimist in You. Coaching for You. What Story Do You Tell Yourself?
She was recently recognized as one of the Best 100 Global Coaching Leaders in the World by CHRO Asia and 2017 by the Expat Coach Association. J. Lockhart participates in different international events as a professional speaker, regularly contributing to several online magazines, journals and platforms, and has two children.
* Tickets need to be purchased in advance. 50 chf per person. The prices includes the right to participate in the activity, two glasses of wine and an assortment of finger foods