Humanology Seminar: Understand Yourself through your Personal Essence®
Description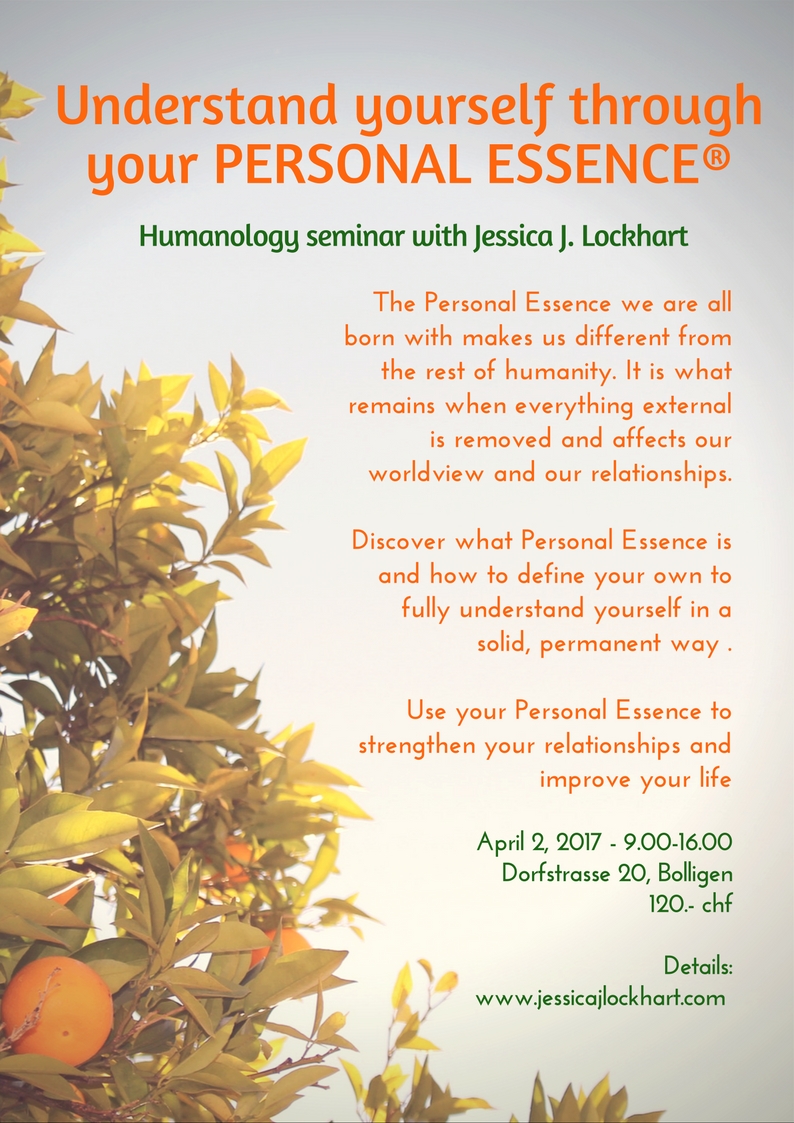 Personal Essence@ is a method designed by humanologist and author Jessica J. Lockhart to help us understand and know ourselves better. Based on her observations and knowledge, Jessica discovered this tool and developed a method to help human beings discover and understand their most basic characteristics, their innate nature and that which defines them and makes them uniquely different from everyone else.
Jessica defends that all human beings are unique upon birth. Personalities are developed based on our experiences but there's something there even before that. She called it "personal essence." A human being's personal essence corresponds to a certain concept. It could be anything. Some real examples of personal essences are: light, Spring morning breeze, lioness, lifesaver… The person shares almost all characteristics of his or her personal essence. Thus, if a person's personal essence is for instance, fire, that person will be warm or hot, depending on the circumstances, will need constant feeding and oxygen to survive, will never stop moving, etc.
Jessica J. Lockhart can now help you find out what your personal essence is. By knowing it, you will be able to better understand yourself, your relationships with others and your own reactions to the world. You'll also be better able to make choices and decide on things based on who you truly are. Life becomes much easier once you discover what your personall essence is.
The seminar will follow this schedule:
9.00-9.15 Registration
9.15-10.30 Introduction and theoretical basis
10.30-11.00 Coffee break*
11.00-12.00 First session
12.00-13.00 Second session
13.00-14.30 Lunch break
14.30-15.45 Third session
15.45-16.00 Questions and closing
Some testimonies from people who already discovered their personal essence:
"Now that I know what my personal essence is and how to work with my objectives on such a solid basis, I feel more secure and clearly know which steps to take." Mily, therapist.
"We had a different and original workshop today. I recommend it to everybody, no matter what their situation or condition. Very useful." Xavier, banker.
"I'm very happy after having attended this talk. I recommend it to everybody. Thank so much, Jessica." Eugenia, employee.

* The organization will provide coffee, tea and refreshments throughout the seminar. Participants will have to provide their own lunch. There is a restaurant very near the venue of the seminar where day menus and "a la carte" meals are offered.