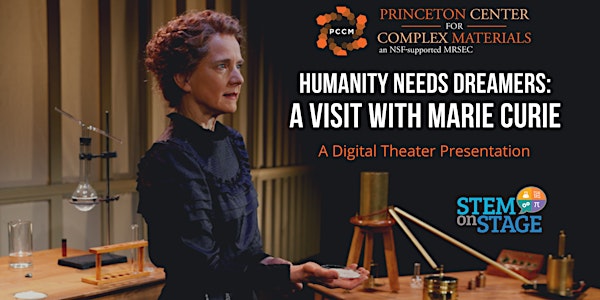 Humanity Needs Dreamers: A Visit With Marie Curie - Evening Performance
Celebrate the 100th Anniversary of Marie Curie's visit to the U.S. in 1921 with live classical music, digital theater and interactive Q & A
Refund Policy
Contact the organizer to request a refund.
Eventbrite's fee is nonrefundable.
About this event
In 1921, two-time Nobel Prize winning Polish scientist Marie Skłodowska Curie embarked on her first U.S. speaking tour with her two daughters, Irene and Eve, organized by American journalist Missy Meloney.
The Princeton Center for Complex Materials (PCCM) invites you to help celebrate the 100th anniversary of Curie's historic American visit with a digital theater presentation of HUMANITY NEEDS DREAMERS: A VISIT WITH MARIE CURIE including an interactive Q & A with Marie Curie as portrayed by engineer and scholar Susan Marie Frontczak.
The virtual event will be held Saturday, April 10, 2021 at 6:30pm - 8:30pm EST with a classical music performance by Natalie Vargas Nedvetsky, Founder & Artistic Director of Literary Music Series and presentation by Nikita Dutta, a 5th year PhD in Mechanical Engineering at Princeton University on the significance of Marie Curie's use of interdisciplinary research as applied to materials science today.
Hosted by Daniel Steinberg, PCCM's Education and Outreach Director, HUMANITY NEEDS DREAMERS: A VISIT WITH MARIE CURIE is produced by STEM on Stage, a digital humanities lab promoting the history of science through the performing arts.
The event is free for members of the Princeton University and PCCM community with a valid email .edu address or event code.
General admission for the public is $15, including all fees.
This performance is recommended for adults, families and students ages 9 & older.
As digital theater, this performance is especially recommended for small groups and individuals who wish to virtually screen together with family, friends & colleagues!
All proceeds benefit STEM on Stage and its educational programming.
EVENT SCHEDULE: SATURDAY, APRIL 10, 2021
6:30PM (EST): On Music & Science - Frédéric Chopin, Ignacy Jan Paderewski & Marie Skłodowska Curie
Featuring selections from Polish composer Frédéric Chopin and the story of Polish composer Ignacy Jan Paderewski 's enduring friendship with Marie Skłodowska Curie. As performed & narrated by Natalie Vargas Nedvetsky (Juilliard '20), Founder & Artistic Director, Literary Music Series.
7:00PM (EST) : WELCOME & DIGITAL THEATER PRESENTATION
On the 100th Anniversary of Marie Curie's Visit to the U.S. (digital short)
Daniel Steinberg, Education and Outreach Director, Princeton Center for Complex Materials (PCCM)
Jen Myronuk, Co-Founder & Producer, STEM on Stage, a digital humanities lab
Nikita Dutta, 5th Year PhD student, Mechanical Engineering, Princeton University
DIGITAL THEATER SCREENING:
HUMANITY NEEDS DREAMERS: A VISIT WITH MARIE CURIE (40 mins)
LIVE Q & A WITH MARIE CURIE, as portrayed by Susan Marie Frontczak, Scholar & Performer, Storysmith©
SCIENCE TALK: From Atoms to Applications: The Power of Interdisciplinary Scientific Research presented by Nikita Dutta, 5th Year PhD student, Princeton University
IN CONVERSATION: Audience conversation with presenters & panelists
____
Humanity Needs Dreamers: A Visit With Marie Curie is part of a public history speaking tour to commemorate the 100th anniversary of Marie Curie's visit to the United States in 1921, promoting conversations about the history of science and discovery in our local communities.
Produced by STEM on Stage, a digital humanities lab.
___
ABOUT HUMANITY NEEDS DREAMERS: A VISIT WITH MARIE CURIE
"Everything a science film should be." - Lisa Randall, Harvard University
As one of the world's most renowned scientists, two-time Nobel Prize winner Marie Skłodowska Curie is best known for pioneering the field of radioactivity — including early experiments to treat cancer with radium therapy — but few understand the obstacles she faced just to enter the laboratory.
What if she could tell her story?
As a digital theater performance, HUMANITY NEEDS DREAMERS: A VISIT WITH MARIE CURIE (45 mins) invites audiences to meet Marie Curie as she recollects her quest to isolate two elements — polonium and radium. From her childhood in Poland to groundbreaking research in France, Marie Curie shares the struggles, failures and triumphs behind her scientific discoveries and remarkable collaboration with companion scientist & husband Pierre Curie.
Masterfully portrayed by living history scholar & playwright Storysmith® Susan Marie Frontczak, HUMANITY NEEDS DREAMERS is the cinematic version of her acclaimed one-woman show. This unique format breaks the digital fourth wall between live theater and film, scholar and performer, past and present.
Testimonials:
"A must see film of one of the truly great heroes of science." - Roxanne Truhn, Director, Michigan Science Festival
"I came away with a newfound appreciation for Curie's significant accomplishments. I'd consider this required viewing for any student — of science, of history, of humanity itself." - Maia Weinstock, Science Writer & Creator of LEGO Women of NASA
"Susan Marie Frontczak's portrait captures Curie's courage, curiosity, fragility, edge, and passion, and her storytelling transports the audience into the world of her laboratory and life. This film is a rare find." - Holly Walter Kerby, Executive Director, Fusion Science Theater
About Susan Marie Frontczak, Scholar, Performer & Playwright
Susan Marie Frontczak is a Colorado-based scholar, playwright & performer. Through storysmith.org(link is external), she has created and performed Living History portrayals of six historical women across 42 of the United States and abroad. She presents at theaters, conferences, schools, libraries, and festivals internationally — including performing Manya: The Living History of Marie Curie and A Visit with Marie Curie over 450 times to 60,000 people in 34 states and nine countries.
In dramatizing the life of Marie Skłodowska Curie, Susan Marie pays homage to their shared Polish heritage. Marie Curie's perseverance in purifying a tenth of a gram of radium from a ton of pitchblende, in part, inspired Susan Marie to major in Engineering. She earned a B.S. in Engineering from Swarthmore College and a Masters in Software Engineering from the Wang Institute of Graduate Studies, and worked for fourteen years at Hewlett-Packard Company before pursuing full time writing and performing.
Susan Marie has always viewed both science and art as complimentary outlets for creativity. It is her aim to reveal the human behind the scientist, while placing Dr. Marie Curie's life and accomplishments in a memorable historical context. storysmith.org
For more information, contact
Jen Myronuk, Producer & Director,
STEM on Stage
Email: jen@stemonstage.org