Humanity+ @Melbourne Conference

Saturday, May 5, 2012 at 9:00 AM

-

Sunday, May 6, 2012 at 9:00 PM (AEST)
Event Details

DEATH and TAXES are said to be the only things we can be certain of in life. Not anymore. Come and find out why.
========================================
• How can you prepare for the future workplace?
• Does living for hundreds of years excite you or frighten you?
• Do you want to influence the rapid changes to our world?
• How can you prepare your children for a rapidly evolving society?
• Change in education, healthcare and work is upon us, are you ready?
• Can you discern the difference between fashionable trends and real change?
========================================

Dr. Aubrey de Grey
is a biomedical gerontologist based in Cambridge, UK, and is the Chief Science Officer of SENS Foundation, a California-based 501(c)(3) charity dedicated to combating the aging process. He is also Editor-in-Chief of Rejuvenation Research, the world's highest-impact peer-reviewed journal focused on intervention in aging. He received his BA and Ph.D. from the University of Cambridge in 1985 and 2000 respectively.

Natasha Vita-More
is a media designer and futurist, and a prominent proponent of ethical means for achieving human enhancement. She has spoken worldwide on futurism and art for two decades. She is currently a Ph.D. candidate at the Faculty of Technology, University of Plymouth where she is working on the radical transformations of human life that may come from the convergence of nanotechnology, biotechnology, information technology, and cognitive science (NBIC).

Stelarc
is a performance artist who has visually probed and acoustically amplified his body. He has made three films of the inside of his body. Between 1976-1988 he completed 25 body suspension performances with hooks into the skin. He has used medical instruments, prosthetics, robotics, Virtual Reality systems, the Internet and biotechnology to explore alternate, intimate and involuntary interfaces with the body.

========================================
Technological progress brings profound consequences to every facet of life. Come and face it head on.
More speaker info at Humanity+ Conference website linked here. Agenda for conference is linked here
Video promo is linked here.
========================================
5-6 May 2012 // Melbourne
Humanity+
FUTURE SCIENCE & TECHNOLOGY
Join the conversation at Humanity+ Summit on 5-6th of May to explore the possibilities about how future science and technology is transforming us. Register Now!
========================================
For further information contact: Adam A. Ford on 0421 979 977 ========================================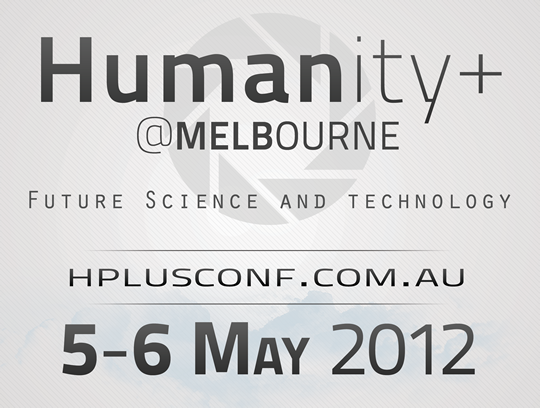 'FUTURE SCIENCE & TECHNOLOGY' // HUMANITY+ @MELBOURNE 2012 // MAY 5-6 // MELBOURNE
What will tomorrow look like?

Few could predict just how fast and dramatic the social, economic and political impacts of computer technology have been in out lifetimes.

If present trends are to continue, computers will have more advanced and powerful 'brains' than humans within 25 years.

This May, leading scientists, inventors and philosophers will gather in Melbourne to discuss future science and technology.

This is an unprecedented opportunity to engage with today's leading experts on emerging technologies like Rejuvenative Medicine, Artificial Intelligence (AI), robotics, nanotechnology and brain-computer interfaces - right here in Melbourne.

If present trends are to continue, computers will have more advanced and powerful 'brains' than humans within 25 years.


When & Where
342-348 Swanston St
Melbourne, VIC 3000
Australia

Saturday, May 5, 2012 at 9:00 AM

-

Sunday, May 6, 2012 at 9:00 PM (AEST)
Add to my calendar
Organizer
H+ Australia
The goal of H+ is to:
• support discussion and public awareness of emerging technologies,
• to defend the rights of individuals to adopt technologies that expand human capacities,
• to anticipate and propose solutions for the potential consequences of emerging technologies,
• and to actively encourage and support the development of emerging technologies judged to have sufficiently probable positive benefit.
Humanity+ @Melbourne Conference