#Humanitini World House: Fostering a Global Citizen

Thursday, October 16, 2014 from 6:30 PM to 8:30 PM (EDT)
Event Details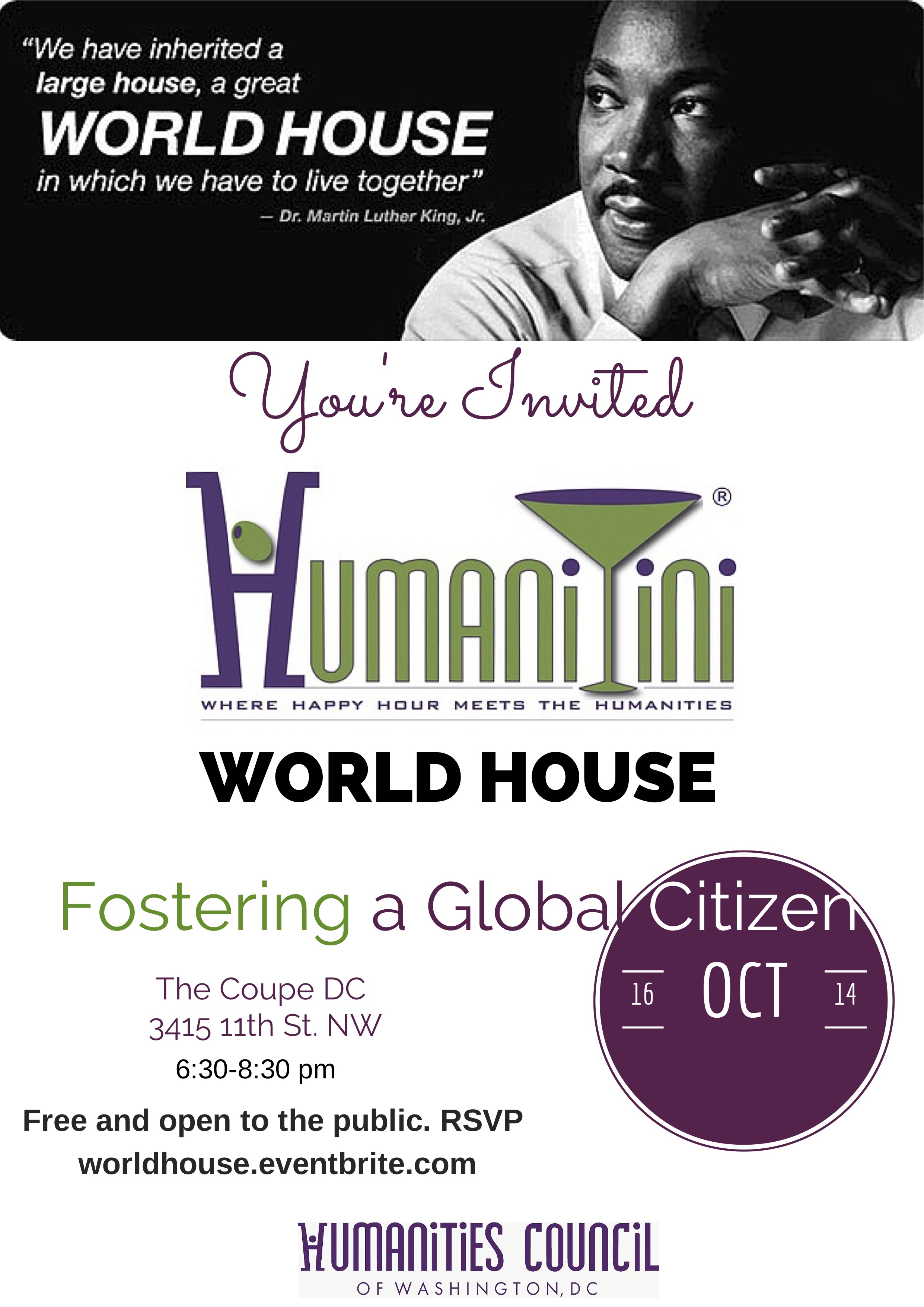 The Humanitini program series is our signature, after-work, think and drink program that attracts and engages citizens to examine various social and contemporary issues that impact the lives of D.C. residents. This Humanitini program will explore Dr. King's concept of living in a "world house".
In 1967, Martin Luther King embraced a vision of Americans as dwellers in a "world house" of international neighbors; "a world-wide fellowship that lifts neighborly concern beyond one's tribe, race, and class." Half a century later, what are the meanings and implications of living in a world house?
We'll discuss what global citizenship means in the 21st century, whether as a cultural, ethical, or geographical concept. We'll also explore the relevance of being a global citizen in the international and political city that is DC. Below are some questions to consider as you prepare for a lively discussion with our panelists, both former Peace Corps volunteers, Anna Franklin and Elizabeth Ogunwo. 
1.       What are some of the attributes of the global citizen? Are we all global citizens by virtue of living in a globalized era, or does the notion imply a more intentional outlook and certain fundamental shared values? In what ways do you (panel and audience) consider yourselves to be global citizens? Is DC a global city?
2.       Do global citizens have a responsibility to uphold common humanity and dignity on a global scale? Do the world's wealthy citizens (Americans and others) have an ethical duty to end extreme inequities and injustices, such as poverty and racism?
3.       What role does travel play in shaping global citizens? What are the benefits of being a well-travelled person, and how does it increase our understanding of, and concern for, humanity?
4.       What must we teach students and others to make them truly and effectively globally connected—able to interact easily and skillfully anywhere and with anyone?
5.       What does studying or promoting the humanities bring to being a world citizen?
When & Where

The Coupe
3415 11th St NW
Washington, DC 20010


Thursday, October 16, 2014 from 6:30 PM to 8:30 PM (EDT)
Add to my calendar
Organizer
Humanities Council of Washington, DC
The Humanities Council of Washington, DC (HCWDC) is a non-profit organization that provides grant support for community projects that enrich the lives of DC residents through the humanities disciplines. Additionally, HCWDC produces humanities programs, such as Soul of the City andLive to Read, with support from area non-profits, the NEH, and the DC government. The organization was founded in1980 as a private affiliate of the National Endowment for the Humanities (NEH), and is one of 56 similar institutionslocated in each U.S. state and territory.
HCWDC is governed by a 25 person board of directors, 5 of whom are appointed by the mayor. Working in conjunction with the Council's small staff, these community leaders are dedicated to creating an environment, in all DC wards and neighborhoods, where residents can participate in open conversations about the humanities and how they reflect contemporary issues and challenges.
Though the HCWDC receives funding from the NEH, it relies heavily on generous support from donorspassionate about promoting the instructive and enriching influence of the humanities in the District of Columbia.
#Humanitini World House: Fostering a Global Citizen