Human Tragedies of Turkey's Purge -Special Fundraising Dinner
Event Information
Refund Policy
Refunds up to 1 day before event
Description
Raindrop Turkish House cordially invites you to its First Fundraising Dinner to benefit students adversely affected by the human rights violations in Turkey in the aftermath of the failed July 2016 coup attempt. Raindrop strongly condemns this brazen attack on Turkish democracy. Unfortunately, the Turkish government lost no time in blaming members of Hizmet, a global civil society movement of which Raindrop is a part, for the coup. President Erdoğan immediately began a sweep called the "Turkey Purge" when his government arrested thousands of Turkish individuals and took away the means to support themselves from many more. A lucky few managed to leave the country.
Some of these families and individuals have found refuge in our compassionate city of San Antonio, but due to certain legal limitations have not been able to financially support themselves. While the Raindrop Foundation has welcomed them by providing consistent material and spiritual support, we have not managed to fulfill their every need. We are asking our friends and supporters to help us raise $30,000.00; funding that will be used to support the educational needs of 10 college and high school students for one year.
Since its inception, Raindrop Turkish House has been a place of understanding, compassion, and dialogue for San Antonians. Hosting the Turkish Festival at the Alamo Plaza for the last seven years, Raindrop has quickly established itself as an important part of San Antonio's diverse fabric of cultures. Tens of thousands of San Antonians have come through the doors of the Raindrop Turkish House to enjoy our hospitality, share the same table, and make meaningful spiritual and personal connections which may not be possible in other settings. The Raindrop Foundation members have served many San Antonio non-profits and other communities by visiting refugees and the elderly, building homes with Habitat for Humanity, donating to the San Antonio Food Bank, hosting dinners at Haven for Hope, organizing activities at The Children's Shelter, and breaking bread with numerous San Antonio area churches, synagogues, temples, and other religious communities.
One of the core missions of Raindrop has been to support the successful integration of immigrant Turkish youth and first generation Turkish Americans by investing in their education through scholarships, English classes, weekend schools, SAT prep courses, sporting activities, music and art classes, field trips, and youth camps. Today, we face a greater challenge than ever before in supporting a surge of newly arriving families and students with their educational needs and assisting with their integration into the San Antonio community. We cannot meet this challenge without your help.

Please join us for this very important fundraising dinner on Tuesday, June 27, 2017 at 5:30 p.m. at the Raindrop Turkish House, 4337 Vance Jackson #203 (behind Elite Car Wash). Admission is $20.00 per person. Please RSVP at https://specialfundraising.eventbrite.com. You may contact me at sanantonio@turkishhouse.org or (210)-377-1110 to reserve your seats. We appreciate your support.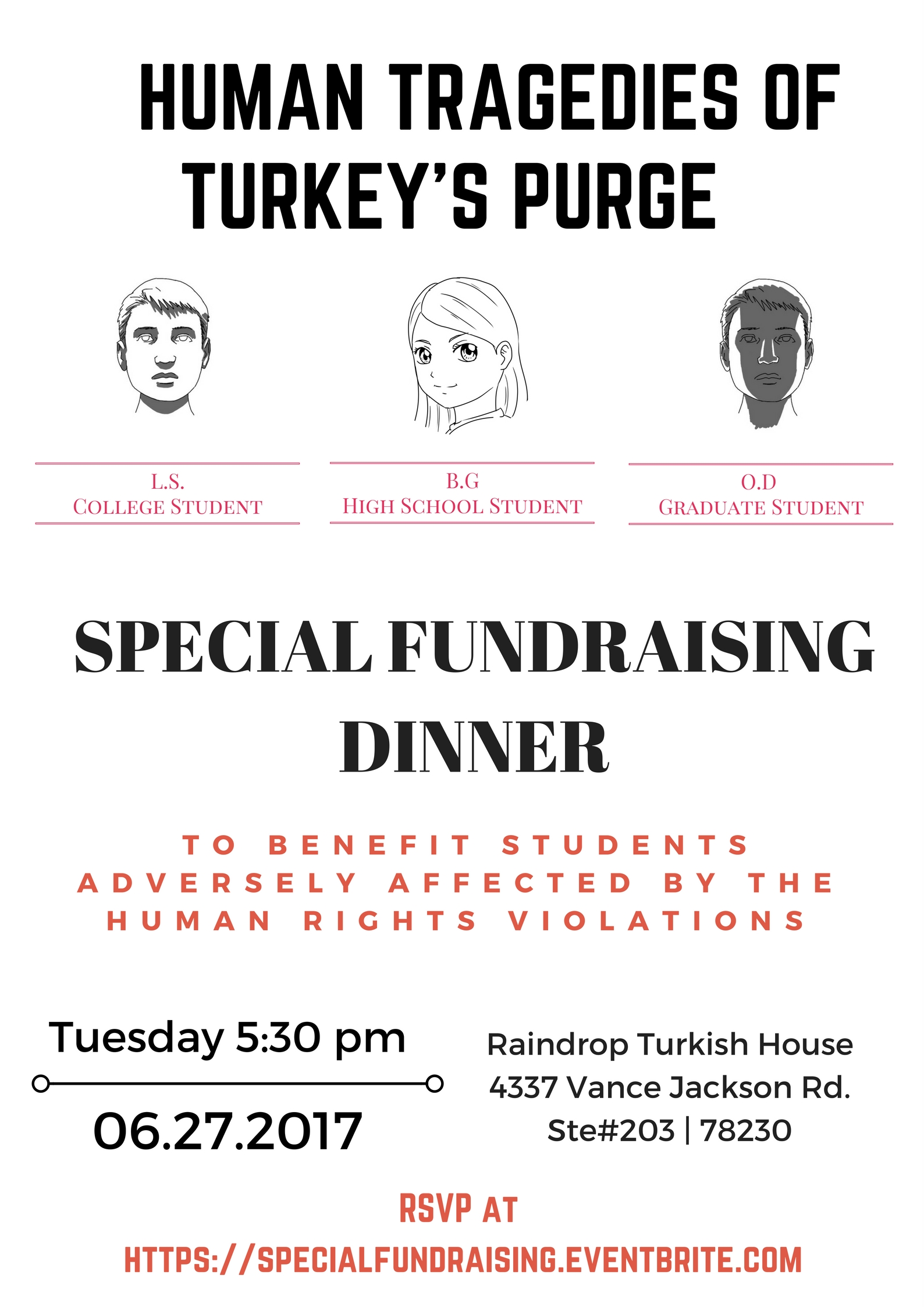 Date and Time
Location
Raindrop Turkish House - San Antonio
4337 Vance Jackson Road
San Antonio, TX 78230
Refund Policy
Refunds up to 1 day before event