Join Survivor's Journey to Peace for this meaningful community engagement event. Learn how you can play a role in ending trafficking.
About this event
Join Survivor's Journey to Peace for this meaningful community engagement event. Learn how you can play a role in ending trafficking, especially the sexual exploitation of our children. Event is virtual and free to attend however advance registration is requested.
PANELIST:
Chaplain Sandy Smith Founder/CEO of Survivor's Journey to Peace and Level UP Mentoring Advocate |International Speaker|Coach. In 2018, Sandy birthed her purpose and launched Survivor's Journey to Peace a domestic violence a non-profit organization that focuses on rebuilding, restoring, and transforming the lives of domestic violence and sexual assault survivors.
A ministry that focuses on incubating every woman to her fullness. Since its conception Survivor's Journey to Peace has been successful at reaching and guiding thousands of women to awaken healing, wholeness, and love for themselves. A call to action functionality that led to the establishment of this platform.
Chaplain Sandy Smith is a survivor of domestic violence and her unique intention to be a solution provider to the eradication of this malice from the society led to the establishment of this organization.
Kia Dowdy-Nakia Dowdy currently resides in Texas originally from Memphis Tennessee and the Founder of Integral Coaching Solutions Service equipping and empowering and uplifting women in their purpose and Certified Domestic Violence Advocate and Human Trafficking Advocate.
She is an overcomer of many obstacles and strives daily to help other women in their demise. She is a voice to the voiceless and truly believes in spreading the good news and sound gospel all over the world. She was built from her trials and tribulations and uses her testimony to let others know God is a deliverer and healer and has great purpose and plans for them.
Dr. Nissi Hamilton is a human trafficking Survivor |Advocate|Expert and Motivational Speaker. Dr. Nissi Hamilton is the CEO of Nissi's Way Inc a nonprofit organization for youth and children in need of legal assistance to fight child protective services (CPS). Also, a life Coach|Consultantat Nissi's Comfy Couch, Dr. Hamilton has dedicated her life to educating, advocating, and adding value to all those who crosses her path.
Event Description:
It is estimated that there are 1.5 million human trafficking victims in the United States. The Human Trafficking Institute recently ranked Wisconsin as sixth in the nation for human trafficking cases. This report is just the latest in a long line of studies that determined that the Badger State, and Milwaukee in particular, is a hotspot of human trafficking. Children and youth estimated to be at risk, with the average entry age of 11-16 years old.
About the Event:
Human trafficking is a pervasive crime, occurring in our homes and neighborhoods, its signs and symptoms often unrecognized. Please join us on February 9, 2021 7pm cst as we come together to strengthen our community response to victims and survivors of human trafficking.
This event will include a panel of experts and survivors from communities throughout the United States to answer questions and concerns regarding the issue of human trafficking in our community.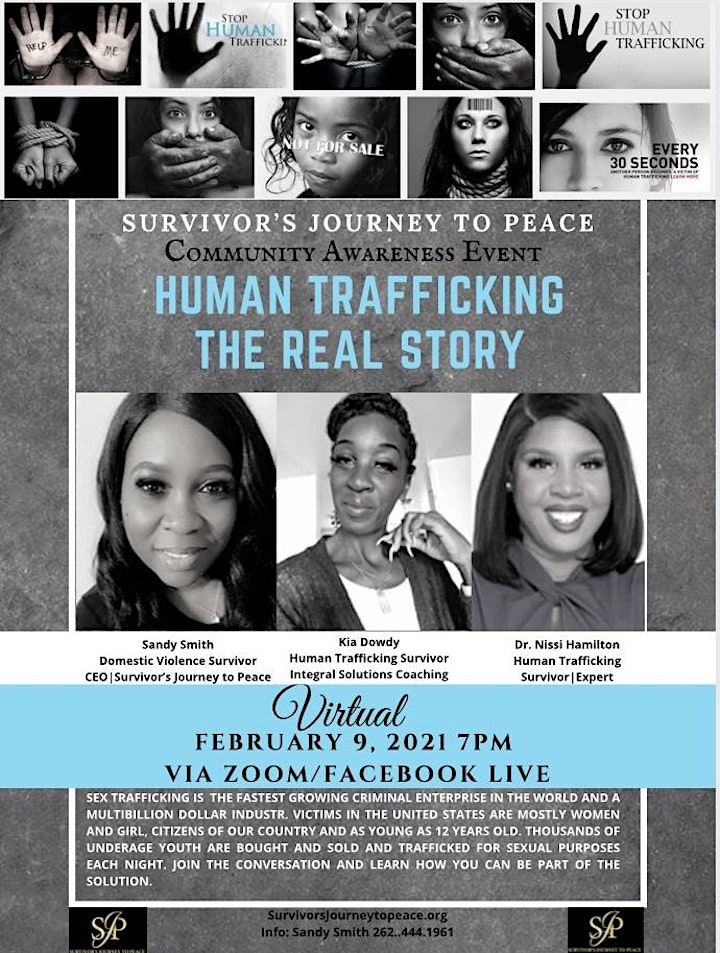 Organizer of Human Trafficking "The Real Truth"
Survivor's Journey to Peace (SJTP) is a community targeted non-profit organization whose primary focus is providing all-inclusive services to the betterment of the society through its compact empowerment functionality to victims of sexual abuse and domestic violence. 
Toward the sole mission of creating a healthy community that is free of violence, unified of peace and justice for the safety and well-being of every individual.