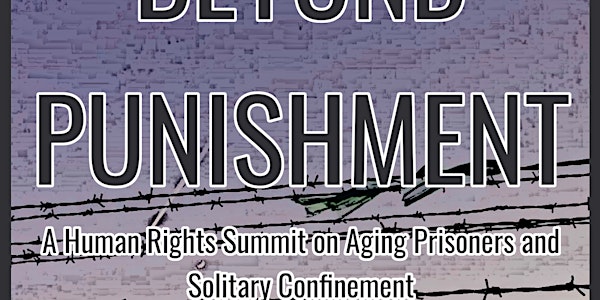 Human Rights Summit on California Aging Prisoners and Solitary Confinement
This one day summit with human rights activists and formerly incarcerated will unpack the international movement to end solitary confinement
When and where
Location
Oakland California 4400 Market Street Oakland, CA 94608
About this event
Join us as human rights activists from around the world gathered to discuss the 18th century practice of solitary confinement against the backdrop of the UN Nelson Mandela Rules. The Beyond Punishment; Human Rights Summit on Aging Prisoners and Solitary Confinement attendees will use California as a model in reviewing the various actions to end solitary confinement in the prisons; from the 2011 Pelican Bay State Prison Hunger Strike where 7,000 inmates protested in opposition to the SHU (Security Housing Unit), 2012 Ashker v. Governor of California class action lawsuit, 2013 California Prison hunger strike where 29,000 prisoners protested conditions, and most recently the California Mandela Solitary Confinement Act AB 2632 bill.
Amongst this broad advocacy grassroots historical landscape to end solitary confinement and decarcerate are the inmates, family, and various coalitions over the decades in California still fighting for the relief and release of their incarcerated love ones, for some having spent nearly half a century in prison.
Over two days; formerly incarcerated, lawyers, researchers, activists, students, and various agencies will brainstorm solutions and actions that build on the international human rights laws and the United Nations Standard Minimum Rules for the Treatment of Prisoners/Nelson Mandela Rules.
Beyond Punishment; A Human Rights Summit on Aging Prisoners and Solitary Confinement is dedicated to the California SHU survivors and Nelson Mandela whom both entered prison in the prime of their youth spending decades in solitary confinement and still continue the fight for human rights, dignity, and the end of mass incarceration.
Martin Luther King and Solitary Confinement
What of King upon arrest? No one knew what would happen to him. His wife, at home with four small children, was frantic. King wrote about those hours in darkness in solitary confinement when he could not see or sense light:
"You will never know the meaning of utter darkness until you have lain in such a dungeon, knowing that sunlight is streaming overhead and still seeing only darkness below. You might have thought I was in the grip of fantasy brought on by worry. I did worry. But there was more to the blackness than a phenomenon conjured up by a worried mind, Whatever the cause, the fact remained that I could not see the light." (From the 1963 Letter from a Birmingham jail after being removed from solitary confinement)
REFERENCES:
The New Jim Crow; Mass Incarceration in the Age of Colorblindness-Michelle Alexander
23/7 Pelican Bay Prison and the Rise of Long-Term Solitary Confinement-Keramet Reiter
2012 Agreement to End Hostilities-SHU Short Corridor Collective
Living for the City; Migration, Education and the Rise of the Black Panther Party in Oakland California- Donna Murch
City of Inmates, Conquest, Rebellion, and the Rise of Human Caging in Los Angeles 1771-1965-Kelly Lytle Hernandez
Unbroken by Four Decades in Solitary Confinement- Albert Woodfox
2009 Report- Inalienable rights: Applying human rights standards to the U.S. Justice System- American Friends Service Committee
2022 Report- Nothing But Time: Elderly Americans Serving Life Without Parole-Sentencing Project
2022 Report- The Cost of Solitary Confinement: Why Ending Isolation in California Can Save Money and Lives- Immigrant Defense Advocates
2023-A timeless work that changed history, Celebrating the anniversary of Martin Luther King Jr.'s "Letter From Birmingham Jail"-https://wng.org/opinions/a-timeless-work-that-changed-history-1673750097.