Description
Please join us for a Human Rights Happy Hour on July 24!
This month's Human Rights Happy Hour will feature Nicole Phillips, a staff attorney with the Institute for Justice & Democracy in Haiti, who will provide a timely update on efforts to seek justice and accountability for the systematic human rights abuses committed during the rule of former Haitian dictator Jean-Claude "Baby Doc" Duvalier. Following his return to Haiti in 2011 after almost twenty-five years in exile, Duvalier may finally be held to account for the killings, arbitrary detention and inhumane treatment committed under his watch from 1971 to 1986. The Haitian legal proceedings are part of a larger trend towards high-level accountability for human rights abuses committed by de facto regimes during the 1970s and '80s in the Americas.
IJDH represents eight victims who have filed complaints seeking justice in Haiti.
This event will be held at the Main Branch of the San Francisco Public Library, in the "Latino B" Room on the lower level. Please feel free to bring any new materials or resources you would like to share.
Refreshments will be served. Please RSVP so we can be sure to have plenty!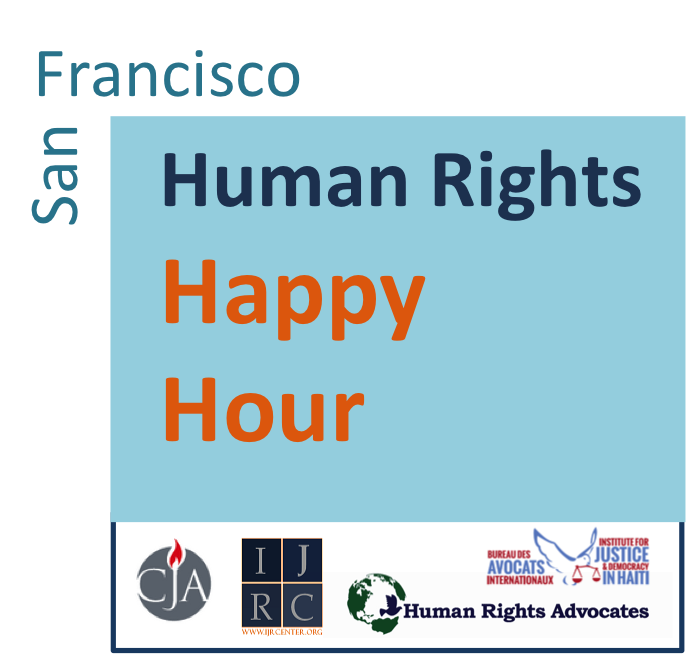 Organizer of Human Rights Happy Hour - July
The International Justice Resource Center provides victims, activists, and attorneys with the advice and information they need to protect their own and others' rights under international human rights law. By educating, training, and guiding human rights defenders, IJRC is helping close the gap between human rights guarantees and local realities.