Join us December 12th for Human Rights Day!
About this Event
This special event—hosted by the United Nations Association-SF in honor of Human Rights Day 2020—will bring together leading researchers, activists and advocates to discuss how digital technologies are affecting racial justice-related issues in the Bay Area and beyond. The second half of the event will be a workshop led by the Human Rights Center's Investigations Lab at Berkeley Law, designed to share practical skills for navigating social media and staying resilient in the face of large quantities of misinformation and racialized violence online.
Expert Panel 10am–11:30am
Karen Clopton, Sam Gregory, Gay McDougall, Safiya Noble, Miranda Sissons, Alexa Koenig (moderator)
11:45am–1pm: Workshop on Open Source Investigations with the Human Rights Center Lab: What Everyone Can Do to Verify Social Media Posts
This hands on workshop will use real-life cases to empower the audience with tools and tricks to verify social media content in the age of disinformation. Resilience and ethics will be a central part of the discussion.
Workshop Co-Facilitators Gisela Pérez de Acha and Avani Yadav
Karen Clopton, SF Human Rights Commissioner; General Counsel and Vice President of Access and Inclusion at INCENDIO, INC.
An award-winning trailblazer, San Francisco Human Rights Commissioner Karen Clopton is a champion of human and civil rights, a distinguished attorney and organizational expert, and former Chief Administrative Law Judge. Serving in executive leadership and board roles for highly regulated public, private, and non-profit organizations, she oversees policy, ethics, operations, complex domestic and global compliance, labor and employment law, diversity, equity and inclusion initiatives, and human resource risk management. Nationally recognized as a civic leader and humanitarian, Commissioner Clopton's vision and expertise change laws, create programs, and positively impact the bottom line. After graduating cum laude in Political Science and Hispanic Studies from Vassar College, Commissioner Clopton earned her Juris Doctor from Antioch University School of Law. She then was awarded the prestigious and highly competitive Maguire Fellowship for postgraduate study in international and comparative labor management relations at the London School of Economics, and the ILO in Geneva, Switzerland. She is currently General Counsel and Vice President for Access and Inclusion at Incendio International, Inc. and chairs the American Red Cross Bay Area's Access, Equity, and Inclusion Cabinet focusing on eliminating racial disparities in disaster relief outcomes.
Sam J. Gregory (@samgregory), Program Director of WITNESS (@witnessorg) and Co-Chair of the Working Group Social and Societal Influence of AI
For twenty years Sam Gregory has enabled people to use the power of the moving image and participatory technologies to create human rights change. He is Program Director of WITNESS, which supports anyone, anywhere to use video and technology to protect and defend human rights. An award-winning technologist, media-maker and advocate, he leads the WITNESS Program team and from 2010-2018 taught the first graduate-level course at Harvard on harnessing the power of new visual and participatory technologies for human rights change. He is currently also the Co-Chair of the Partnership on AI's Working Group on Social and Societal Influence.
At WITNESS, he has led a series of strategic program shifts that respond to complex and changing political and technological realities around technology, social media, and human rights, as well as supported his team to achieve lasting human rights impact. As well as overall strategic direction on the organization's programs, he currently supervises the WITNESS Media Lab's work around innovation in eyewitness video for human rights as well as work on citizen media and trust, authenticity and evidence. Additionally, he supervises WITNESS' Tech + Advocacy work, advocating to technology companies on human rights and developing tools such as ProofModefor better authentication of contentious video. Within his work, he also focuses on emerging threats and opportunities including the areas of livestreaming and co-presence, VR, and misinformation and disinformation. This includes a current focus on identifying solutions () to the foundational challenges to trust posed by advances in AI and faked video and audio such as malicious 'deepfakes'. He co-founded the global Video4Change network, as well as helped launch WITNESS' work to shape the emerging field of citizen media as evidence.
Full bio here: https://www.witness.org/portfolio_page/sam-gregory/
Gay McDougall, Distinguished Scholar in Residence at the Leitner Center for International Law and Justice at Fordham Law School; Former UN Independent Expert on Minority Issues
A recipient of the prestigious MacArthur "Genius" Award, McDougall has spent her career working on issues of race, gender, and economic justice in the global context.
She has been a leader on human rights within the UN for more than three decades, holding several important positions, including 6 years as the first UN Special Rapporteur on Minority Issues. She recently completed 8 years of service on the UN Committee on the Elimination of all Forms of Racial Discrimination that oversees compliance with the International Convention on the Elimination of All Forms of Racial Discrimination. She was Special Rapporteur on the issue of systematic rape and sexual slavery practices in armed conflict for the UN Sub-Commission on Promotion and Protection of Human Rights from 1995 to1999 and played a leadership role in the UN Third World Conference against Racism.
McDougall was a member of the South African governmental body created to administer South Africa's first democratic, non-racial elections in 1994, which resulted in the historic election of President Nelson Mandela and the abolishment of apartheid. Prior to that appointment, she served for 15 years as Director of the Southern Africa Project of the Lawyers Committee for Civil Rights Under Law, working closely with South African lawyers to secure the release of thousands of political prisoners from jail. In 2015 the Government of South Africa bestowed on her their national medal of honor for non-citizens, the Order of O.R.Tambo Medal for her extraordinary contributions to ending apartheid.
Subsequent to her work in South Africa, for 15 years she was Executive Director of Global Rights, a human rights group that worked with activists in 10 countries.
McDougall received a J.D. from Yale Law School and an LL.M. from the London School of Economics and Political Science. She has honorary Doctor of Law degrees from nine universities including Georgetown University Law Center, Emory University School of Law, the University of Witwatersrand (South Africa), and the University of London.
She is currently Distinguished Scholar in Residence with the Leitner Center on International Law and Justice at Fordham Law School and also the Center on Race, Law & Justice.
Safiya Noble (@safiyanoble), Associate professor at UCLA, Co-Founder and Co-Director of the UCLA Center for Critical Internet Inquiry; Author of Algorithms of Oppression: How Search Engines Reinforce Racism
Dr. Safiya U. Noble is an Associate Professor at the University of California, Los Angeles (UCLA) in the Department of Information Studies where she serves as the Co-Founder and Co-Director of the UCLA Center for Critical Internet Inquiry (C2i2). She holds appointments in African American Studies and Gender Studies. She is a Research Associate at the Oxford Internet Institute at the University of Oxford and has been appointed as a Commissioner on the Oxford Commission on AI & Good Governance (OxCAIGG). Dr. Noble is a board member of the Cyber Civil Rights Initiative, serving those vulnerable to online harassment. She is the author of a best-selling book on racist and sexist algorithmic bias in commercial search engines, entitled Algorithms of Oppression: How Search Engines Reinforce Racism (NYU Press), which has been widely-reviewed in scholarly and popular publications.
Miranda Sissons, Director of Human Rights Product Policy and Engagement at Facebook
Miranda is a digital native, and an angel investor, and a skilled human rights activist, policy expert, and leader. Miranda has worked
on four continents and currently call the San Francisco Bay Area home. Miranda has helped lead human rights, movement-building, education, and health groups, among others.
Trained as a diplomat, Miranda has changed policy and practice in some of the world's toughest places, like Iraq. She has represented victims, governments, and global movements at the United Nations, European Union, United States Congress, and elsewhere.
An expert human rights researcher and activist, she has researched and advocated for more than a decade on topics related to armed conflict, sexual violence, gender, freedom of speech, and transitional justice issues.
She has worked for Human Rights Watch, the UN High Commissioner for Human Rights, the International Center for Transitional Justice, and others. She has published with the New York Times, USA Today, and others.
Miranda has shipped product, recruited and managed developers and content cycles, built online communities, and won a Webby, among other awards, for her online campaigning. She has also worked on a leading literacy app that has been featured in publications like the New York Times, Forbes and TechCrunch.
Moderated by Alexa Koenig (@KAlexaKoenig), Executive Director and Lecturer-in-Residence at the Human Rights Center, University of California, Berkeley School of Law; UNA-SF Advisory Board Member
Alexa Koenig, PhD, JD, is the Executive Director of the Human Rights Center (winner of the 2015 MacArthur Award for Creative and Effective Institutions) and a lecturer at UC Berkeley School of Law, where she teaches classes on human rights and international criminal law with a particular focus on the impact of emerging technologies on human rights practice. She co-founded the Human Rights Center Investigations Lab(link is external), which trains students and professionals to use cutting-edge open source methods to support human rights advocacy and accountability. Alexa is now a member of the World Economic Forum's Global Future Council on Human Rights and Technology, a member of the American Association for the Advancement of Science's Committee on Scientific Freedom and Responsibility, co-chair of the Technology Advisory Board of the Office of the Prosecutor at the International Criminal Court, co-chair of the International Bar Association's Human Rights Law Committee's Technology and Human Rights working group, and a member of the board of advisors for the Syrian Archive. Alexa has been honored with several awards for her work, including the United Nations Association-SF's Global Human Rights Award, Mark Bingham Award for Excellence, 2020 Woman Inspiring Change by Harvard Law School, the Eleanor Swift Award for Public Service, the Phi Beta Kappa Northern California Teaching Excellence Award, and diverse grants, including support from the National Science Foundation and numerous private foundations. She has conducted trainings on open source investigations for the Institute for International Criminal Investigations, UC Berkeley's Advanced Media Institute, attorneys for the International Criminal Court, and others. Her research and commentary have appeared in the Annual Review of Law and Social Science, Foreign Policy, Foreign Affairs, US News and World Report, and elsewhere.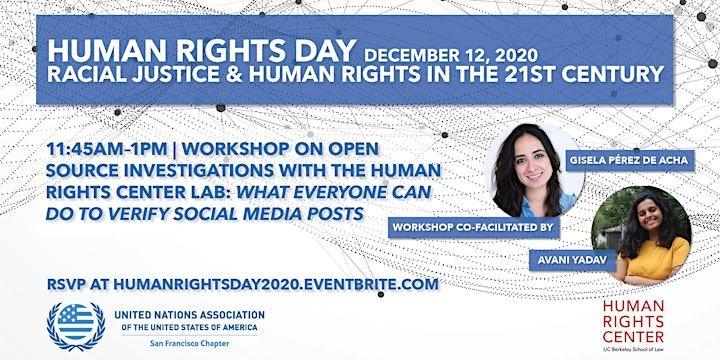 This hands on workshop will use real-life cases to empower the audience with tools and tricks to verify social media content in the age of disinformation. Resilience and ethics will be a central part of the discussion.
Workshop Co-Facilitator: Gisela Pérez de Acha (@giselilla) is a journalist focused on digital forensics and investigative reporting. She is a trained human rights lawyer with master's degree from the Graduate School of Journalism at UC Berkeley where she teaches cybersecurity for upcoming journalists. Gisela is also a Senior Reporter on the extremism beat at the Investigative Reporting Program and part of an Emmy award-winning team at the New York Times for her collaboration on the story about The Siege of Culiacán. In addition, Gisela is an open source researcher at the Human Rights Center Investigations Lab, and a trainer at Amnesty International's Digital Verification Corps, a network of more than 100 volunteers at six global universities who fact-check social media posts regarding war crimes and grave human rights violations across the world. She has specialized in Internet studies and the politics of Latin America for over a decade. Born and raised in Mexico, Gisela speaks fluent Spanish, English, French and Portuguese.
Workshop Co-Facilitator: Avani Yadav (@avaniyadav_) is a junior at UC Berkeley and has been with the Human Rights Center for two and a half years. She has managed research teams with varying projects and partners, from disinformation work for the Berkeley School of Information to US protest work for the Washington Post, and she currently co-leads the Digital Verification Corps with Amnesty International.