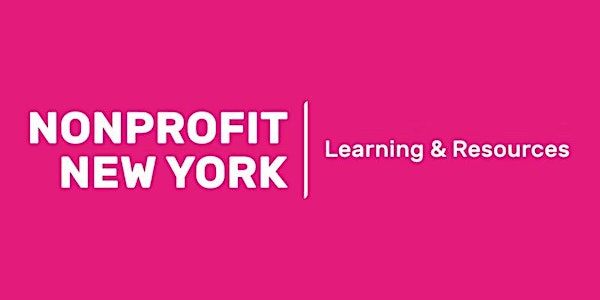 Human Resources Office Hours
Talk with an expert in Human Resources about your greatest areas of concern in the post-pandemic world.
About this event
Nonprofit New York has heard from you, and we know that employee retention and recruitment is an important issue for our membership right now. That is why we are excited to announce that our first iteration of our new program Member Office Hours will focus on issues related to Human Resources. Join Nonprofit New York the second and fourth Thursday of each month from 11:00 AM - 12:00 PM to chat with experts in the field.
During Member Office Hours, you will have the opportunity to stop in virtually and ask questions of Human Resources professionals. After the hour, our experts will follow up with you on any outstanding issues or questions you might have.
This session we will be joined by HR expert Megan Eiss.
Megan's passion is helping grassroots organizations grow. She's currently the Deputy Director of Immigrant ARC while managing a consulting business, Heddy Consulting, and a law practice, Eiss-Proctor Law. Megan leverages her roles in these organizations to advise on critical business obligations like properly launching a business, analyzing key contracts, reflecting on human resources matters, and strategizing about how to fundraise.
Prior to graduating cum laude from New York Law School in 2005 and being admitted to the New York Bar in 2006, Megan was a public school teacher in the South Bronx with Teach for America. There she developed an entrepreneurial spirit and began thinking about how business and social good connect.
She later co-founded Safe Passage Project, a legal non-profit that utilizes volunteers to help immigrant children facing deportation. Megan was instrumental in growing the organization - serving as the operations and development lead for several years. Megan's passion continues to be helping organizations strategize about how to grow to have more impact.
Area of Excellence: Human Resources
Not sure if your organization is a member? Check out our member directory. If your organization is not a current member of Nonprofit New York, visit our website for more information on joining.
Please Note: This is open to staff and board members of current Nonprofit New York member organizations. Organizations may send more than one individual to participate, HOWEVER if the event sells out registration may be limited to ONE person per organization due to space constraints.
If your organization is not a current member of Nonprofit New York, visit our website for more information on joining.
_____________________________________________________________________________________
Registration is required. Please be advised that by registering for this event, unless we hear from you otherwise, we will include you as part of our regular mailing list. Please also be advised that the event will be recorded by Nonprofit New York. By enrolling for this event, you hereby: (1) give consent for Nonprofit New York or any third parties to use your photograph or image in its print, online and video publications; (2) release Nonprofit New York, its employees and any outside third parties from all liabilities or claims that you might assert in connection with the above-described uses; and (3) waive any right to inspect, approve or receive compensation for any materials or communications, including photographs, videotapes, website images or written materials, incorporating photos/images of you. To revoke this waiver, please email Programs Manager, Darby Masland, dmasland@nonprofitnewyork.org.