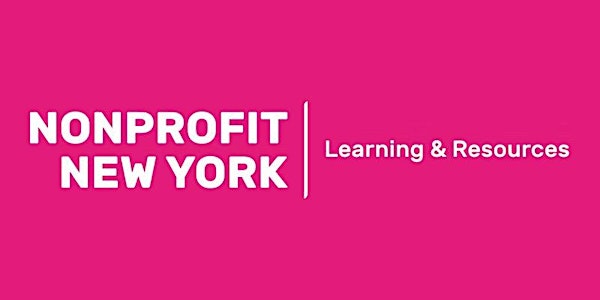 Human Resources Office Hours
Talk with an expert in Human Resources about your greatest areas of concern in the post-pandemic world.
About this event
Nonprofit New York has heard from you, and we know that employee retention and recruitment is an important issue for our membership right now. That is why we are excited to announce that our first iteration of our new program Member Office Hours will focus on issues related to Human Resources. Join Nonprofit New York the second and fourth Thursday of each month from 11:00 AM - 12:00 PM to chat with experts in the field.
During Member Office Hours, you will have the opportunity to stop in virtually and ask questions of Human Resources professionals. After the hour, our experts will follow up with you on any outstanding issues or questions you might have.
This session we will be joined by HR expert Marina Vishnepolskaya. Marina is an attorney and principal of Marina Vishnepolskaya, Esq., P.C. specializing in domestic and cross–border tax, ERISA, executive compensation, employee benefits and exempt organization matters.
Marina counsels employers and executives on a wide range of employee benefits and executive compensation matters, including drafting and amending salary, bonus, cash and equity-based deferred compensation plans, fringe benefit plans and other compensation arrangements, employee policies and handbooks, employment and separation agreements, compliance with IRS voluntary plan correction requirements for nonqualified plans and with related employment and tax laws. Marina has in-depth expertise with tax and employee benefits relief provisions in the 2020 Families First Coronavirus Response Act, CARES Act, Tax Relief Act, the 2021 American Rescue Plan Act, related legislation and accompanying IRS and DOL guidance.
Area of Excellence: Human Resources
Not sure if your organization is a member? Check out our member directory. If your organization is not a current member of Nonprofit New York, visit our website for more information on joining.
Please Note: This is open to staff and board members of current Nonprofit New York member organizations. Organizations may send more than one individual to participate, HOWEVER if the event sells out registration may be limited to ONE person per organization due to space constraints.
If your organization is not a current member of Nonprofit New York, visit our website for more information on joining.
_____________________________________________________________________________________
Registration is required. Please be advised that by registering for this event, unless we hear from you otherwise, we will include you as part of our regular mailing list. Please also be advised that the event will be recorded by Nonprofit New York. By enrolling for this event, you hereby: (1) give consent for Nonprofit New York or any third parties to use your photograph or image in its print, online and video publications; (2) release Nonprofit New York, its employees and any outside third parties from all liabilities or claims that you might assert in connection with the above-described uses; and (3) waive any right to inspect, approve or receive compensation for any materials or communications, including photographs, videotapes, website images or written materials, incorporating photos/images of you. To revoke this waiver, please email Programs Manager, Darby Masland, dmasland@nonprofitnewyork.org.