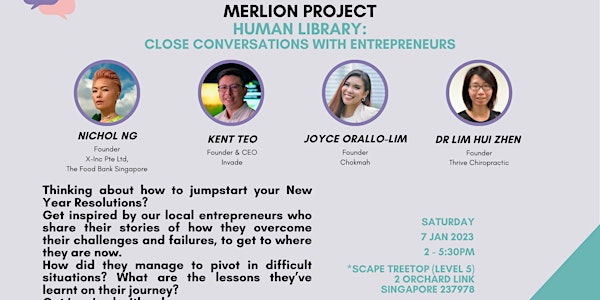 Human Library: Close Conversations with Entrepreneurs (7 Jan)
We always hear about success but what about setbacks? Hear first hand stories from local entrepreneurs on how they overcame challenges.
When and where
Location
*SCAPE 2 Orchard Link Level 5 Singapore, 237978 Singapore
About this event
Thinking about jumpstarting your New Year Resolutions?
Hear first hand stories from entrepreneurs of local brands on how they overcame struggles and challenges.
How did they pivot in difficult situations? What are the lessons they've learnt on their journey?
Merlion Project presents Human Library: Close Conversations with Entrepreneurs in partnership with Somerset Belt Office and National Youth Council (MCCY).
Get inspired with us!
Details:
Date: 7 Jan 2023 (Saturday)
Time: 2:00 PM - 5:30 PM (Registration starts at 1:30PM)
Location: *SCAPE Treetop (Level 5), 2 Orchard Link, Singapore 237978
Light lunch will be served.
Our Speakers:
Nichol Ng
Nichol Ng is the co-founder of The Food Bank Singapore, which re-distributes excess foods to more than 300,000 underprivileged.
She is also CEO and Managing Director of X-Inc Pte Ltd, a family business she modernised and rebranded, which spans foodservice, retail, logistics and property.
She oversees about 180 employees and an annual turnover exceeding S$70 million. Nichol was listed in Forbes Asia's 2017 Heroes of Philanthropy and Harper's Bazaar's The Power List 2018.
"We had to pivot (during COVID) by changing our main business in distribution as quickly as possible to survive and emerge stronger."
Kent Teo
Kent Teo is the founder and CEO of Invade, which manages pop-up retail stores, co-making spaces, and runs some of the largest flea markets and artisan markets such as Artbox Singapore.
Kent has over 10 years of experience in events and retail management, having started a bootstrap business in 2010 called For Flea Sake, organising flea markets.
"Until you are successful, you are seen as insane. It's a route that nobody wants to take. People didn't see it as a proper business."
"But I always believe the more hardworking you are, the luckier you get. You have to stay focused and things will happen."
Joyce Orallo-Lim
Joyce Orallo-Lim is the founder of Chokmah, a sustainable lifestyle homeware brand.
Chokmah currently has an experiential retail located in Funan. Chokmah's workshops has been engaged by Credit Suisse, Google and Dior.
Joyce initially worked as an interior designer after graduation, then became a flight attendant. However her passion for the arts led her to starting Chokmah.
"I remember all the discouraging comments I received for wanting to study the arts. Some said it was a waste of time and that it had no future.
I'm glad I took that leap of faith despite it all."
Dr Lim Hui Zhen
Dr Lim Hui Zhen is the founder of Thrive Chiropractic, which focuses on chiropractic care of the spine.
With a space at PLQ1 in Paya Lebar, Thrive Chiropractic helps office workers, pregnant mums and children.
Dr Lim first stumbled into chiropractic by chance, because she had debilitating jaw pain as a teacher. After noticing that taking better care of her spine has made a difference, her goal as a chiropractor is to pass it on. She hopes to help others not just survive, but thrive, and be the best version of themselves and do the things that they enjoy.
Follow Dr Lim as she chronicles her journey thus far, from teacher to chiropractor, from employee to boss. Expect candid reflections and insights into the DOWNSIDES of being a boss she didn't realize, and the UPDSIDES of being an employee which she used to take for granted.
If you are thinking of taking the plunge into entrepreneurship, especially by bootstrapping, this is one book you can't miss.
Giveaway Alert!
Start your creative entrepreneurship journey with Chokmah and Invade! join us on 7 Jan, Sat 2:00-5:30pm at *SCAPE, and stand a chance to win!
- Win a $100 e-voucher for FoodXervices, to support high-quality local fresh produce!
- Win a $100 Chokmah gift card, which can be redeemed for a workshop or homeware!
- Win a $100 Invade Voucher, which can be redeemed for a retail/F&B pop-up opportunity, or co-working flexible desk!
- Win a complimentary first visit (60-90 min) to Thrive Chiropractic, valued at $145!
- Win a pair of tickets to a curated experience titled "Connect Better this Valentine's Day through Play" + a lego set, all worth $100!
Giveaway winners will be drawn during the event.
About Us:
The Merlion Project (@merlionproject) is a ground-up initiative aimed at collating and celebrating Singaporean stories of struggles and success.
Visit our website to learn more about Merlion Project: http://merlionproject.com