Description
Human Growth Foundation (HGF) invites you to join us at the 2019 HGF Symposium on April 26, 2019, at the Baltimore Marriott Inner Harbor at Camden Yards (Ravens Room). The event will be held from 3:00 pm to 6:00 pm, and will include refreshments.
Please RSVP to attend.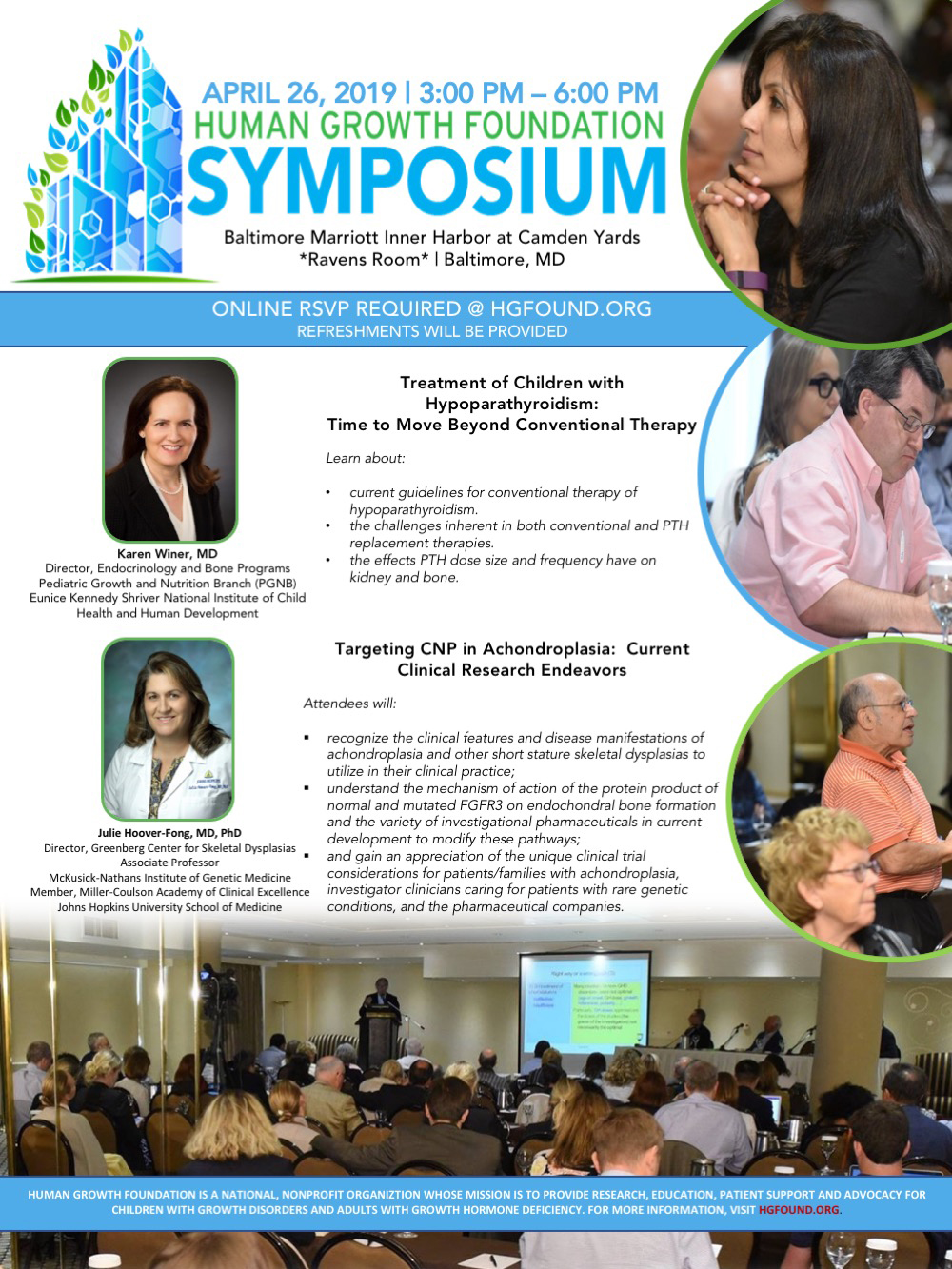 Gain insight from our experts!
Presentations will include...
Treatment of Children with Hypoparathyroidism: Time to Move Beyond Conventional Therapy
Presented by Karen Winer, MD
Director, Endocrinology and Bone Programs
Pediatric Growth and Nutrition Branch (PGNB)
Eunice Kennedy Shriver National Institute of Child Health and Human Development

Learn about:
current guidelines for conventional therapy of hypoparathyroidism.
the challenges inherent in both conventional and PTH replacement therapies.
the effects PTH dose size and frequency have on kidney and bone.
Targeting CNP in Achondroplasia: Current Clinical Research Endeavors
Presented by Julie Hoover-Fong, MD, PhD
Director, Greenberg Center for Skeletal Dysplasias
Associate Professor, McKusick-Nathans Institute of Genetic Medicine
Member, Miller-Coulson Academy of Clinical Excellence
Johns Hopkins University School of Medicine
Attendees will:

recognize the clinical features and disease manifestations of achondroplasia and other short stature skeletal dysplasias to utilize in their clinical practice;
understand the mechanism of action of the protein product of normal and mutated FGFR3 on endochondral bone formation and the variety of investigational pharmaceuticals in current development to modify these pathways;
and gain an appreciation of the unique clinical trial considerations for patients/families with achondroplasia, investigator clinicians caring for patients with rare genetic conditions, and the pharmaceutical companies.
###