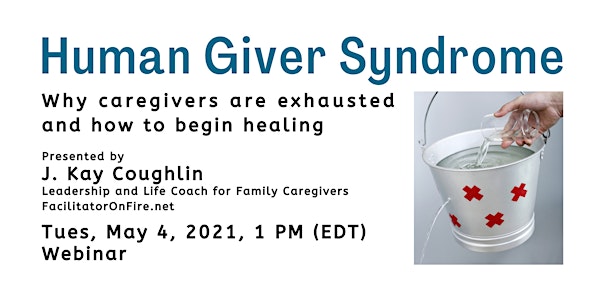 Human Giver Syndrome: Why caregivers are exhausted and how to begin healing
Human Giver Syndrome is draining the energy out of family caregivers. In this webinar, find out what it is and how to heal from it.
About this event
Feel like you're expected to spend too much of your time and energy helping other people live their lives? And like there's no way you can refill your own bucket? You're likely suffering from the effects of Human Giver Syndrome. It's the belief that you are supposed to make sure others have what they need to succeed, no matter what it costs you. And that you should be ashamed for putting your own sleep, health, happiness and future ahead of others, because comforting family and your care receiver should be your first and only concern as a caregiver.
If you're exhausted by being the caregiver for a parent, spouse, adult child or sibling, the systems are not designed to support your needs for physical wellbeing or mental health. In this webinar, Kay Coughlin, Leadership and Life Coach for Family Caregivers, will explore what Human Giver Syndrome is, why it's exhausting us, and how to begin healing.
Please note: this will be a LIVE ONLY event; a recording will not be available to review.
Find out more about Kay's work and life as a caregiver at FacilitatorOnFire.net. To listen to the podcast episode on Human Giver Syndrome (available beginning March 31), go to FacilitatorOnFire.net/episode31 or search for "From One Caregiver to Another" in any podcasting app.