Human Design: A Revolutionary Key in Self Mastery

Saturday, September 22, 2018 from 10:00 AM to 12:30 PM (PDT)
Event Details
About The Experience
Ready to understand YourSELF on an entirely new, NEXT level? Join us in a high vibrational, intimate group setting for an insightful and immersive experience. Human Design is a synthesis of the I Ching, the Kabbalah, the Chakra System and Astrology, and brings forth extraordinarily detailed information that reveals to us the exact uniqueness of our being. Human Design weaves together aspects of our multi-faceted, multi-dimensional selves to provide a new framework of understanding, navigating us on our path to fullest expression of our highest potential. 
If you are on a healing, spiritual, or seeking journey, or are just fascinated by the inner workings of  understanding the Self in a way you never have before, this is for YOU!

Need to Know 
*Advance Registration is Required - upon registering you will be asked to provide additional information necessary to produce your bodygraph chart

*You may want to take notes - bring a journal and pen
*Space is Limited, and this Event will sell out; Reserve your Spot today!
What Is Included?
During this Interactive Experience you will;
*Explore the Origins of Human Design
*Delve into the Implications, Applications and Human Potential of the information HD provides
*Learn the Structural Foundations of the Bodygraph Chart and what lies behind each of our unique designs

*Understand how your chart reveals your true nature, and identifies the keys to living our ultimate purpose and achieving abundance, peace and satisfaction
*Have an opportunity to ask questions, participate in discussion receive personal insight
*Receive your own personalized bodygraph chart for you to take home
About Human Design
Ready for a game changer? Human Design allows us to see ourselves and our life in a whole new context – one that clarifies and upgrades the journey of awareness in form. We are  ll differentiated beings – and that is apparent – but what's underneath the hood? The Human Design bodygraph reveals precisely the divine imprint that shaped your arrival onto this planet, and provides, in mechanical absolutes rather than belief-based ideology, a personalized guide to navigating life – as yourself. This is more than just another way to characterize and identify the intricacies of our beingness – it is a key to transcending them (and all other mind games and ego traps).  By surrendering to our Design, we release the resistance that the mind's insistence on dominance brings to our process, and become the witness of the flowering of our unique, differentiated consciousness. Expect nothing less than a complete reorientation on how to live and thrive in this world – leaving behind all homogenized contexts and skyrocketing into the trajectory you intended for yourself before you came here.

We're built for consciousness – that is the gift of the age we are living in. But left to the conditioning that still lingers from our strategic past, we become obsessed with homogenized ideals that strip us of our right to become uniquely who we are without threat to our survival. We micromanage our lives and live in unnaturally high levels of stress and fear – which distorts our bodies, minds, and our potential to feel truly alive and  onnected to this world. A human design reading will push the reset button on who you think you are…will you take the blue pill or the red pill?

An initiation via Human Design means catalyzing changes on a cellular level so that the core blueprint of you – with all its magic, flow, and genius, can rise to the surface. This is not an overnight process, but rather a commitment to growth and awareness that steadily gains momentum until finally you take the hands off the wheel of your life and embrace Passenger Consciousness. This is the modern state of living as an 'enlightened' being yet being perfectly at peace with the ups and downs of life. We take a back seat and let the vehicle drive itself -as this is the potential for all awakened human beings in the window of time in which we live. Decisions are no longer the domain of the mental plain, and we liberate our conscious awareness to do its thing – share its unique perspective of its unique path.

The best part is – each of these revelations come not from the doctrine or ideology of some philosopher or prophet of ages past – but from the pure, UNIQUE truth of the body you are living in right now.
About Human Design Facilitator - Dylan Varenhorst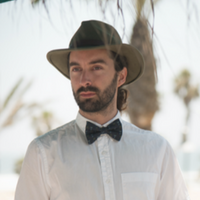 Dylan 
is a spiritual teacher with 7 years of experience, here to act as a bridge between the wisdom traditions of the ancient world and the dynamic changes that are approaching humanity in the near future.
He teaches within the frameworks of Kundalini Yoga, Human Design, Astrology, and Tarot. His focus is on equipping clients with practical tools that make dramatic restructuring and radical empowerment possible, and that emphasize the sacredness and uniqueness of the human spirit. To learn more about Dylan please visit www.thespiritadvisor.com.

Questions?
Email us at info@thehealingcollectivela.com
When & Where

The Healing Collective
500 S. Sepulveda blvd
Suite 215
Manhattan Beach, California 90266


Saturday, September 22, 2018 from 10:00 AM to 12:30 PM (PDT)
Add to my calendar
Organizer
The Healing Collective is a one of a kind healing haven providing the next wave of possibilities for optimal health and well being. Comprised of a community of exceptionally talented and heart centered practitioners, we are committed to serving both the Los Angeles area and virtual communities on their path to wellness and wholeness. Located in Manhattan Beach, CA , The Healing Collective offers a comprehensive and complementary array of powerful and effective mind-body-spirit services, special events, workshops, online programs, retreats and more! We are thrilled to be of service and look forward to working with you.