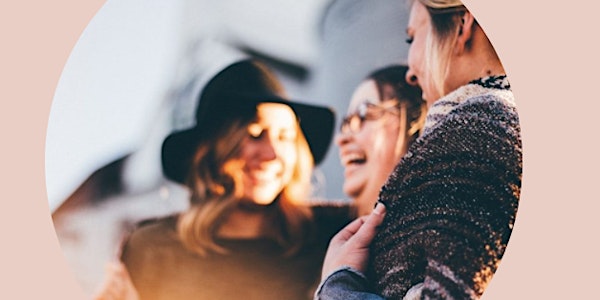 Free in-person monthly gatherings in Maine to help you thrive at work
About this event
What: Free monthly gatherings on the third Thursday of every month in Maine to help people thrive at work. This isn't your average networking event. capital H., a sister-owned HR consulting firm in Maine, will design each gathering to skip the small talk and awkward silences and create a space for people to share experiences, learn from each other and talk about meaningful things to help you level-up at work.
Why: When we thrive individually, we thrive as a collective. Only when we're abundant and overflowing can our families, organizations, communities and societies do the same. One of the best things you can do for your community right now is take intentional action to live your best life, starting with the 'place' where many of us spend most of our best waking hours - work.
Who: This is for people in Maine who want to thrive at work. Whether it's stepping into a leadership role, growing your team, pivoting your career or taking on more responsibility, this is a unique opportunity to develop the skills to get you there. Through mix of education and facilitated conversation, these gatherings will help you find your voice & speak your truth, motivate and influence others, transition from 'player' to 'coach', delegate, learn to have high courage conversations and more.
Where: The location will be different each month to experience and support local businesses in the Greater Portland area.
When: The third Thursday of every month from 5:30-7:30 starting August 18, 2022
How: Julia and Lindsey will select a theme for each gathering, present relevant content and facilitate an inclusive discussion with participants to get to the heart of thriving at work.
Details and theme for August 18th
When: Thursday, August 18th 5:30-7:30pm
Where: Apres (in Portland)
Theme: Burnout.
Description: You might know it well. That sense of exhaustion and overwhelm that has the power to overtake your life. It makes you feel anxious, overwhelmed, cynical, resigned and tired. Thousands of us have experienced burnout over the past couple of years, and the thing is -- life isn't slowing down. It's only getting faster and more complex, so it's on us to learn how to (and help others) create a sustainable, grounded life amidst demands, deadlines, distractions and perpetual uncertainty. During this month's gathering I will share my burnout story and facilitate a discussion to generate fresh perspectives and life hacks that will help you get clear on how to do more of what fills your cup and less of what doesn't. If you've ever felt burned out or have people in your life who have, then this gathering is for you.
About capital H.
The "H" is for Human and our mission is to make work a more human experience.
We are a women-owned consulting firm based in Portland, ME. We believe people skills are the most important leadership skills of our time. From empowering teams, to having hard conversations and supporting a diverse workforce, a leader's ability to successfully relate to and engage with people has the potential to make or break company culture. This is our work.
capital H. is dedicated to helping leaders deepen self-awareness, build relational skills, and learn how to create a high-trust organizational culture that is grounded in human connection and drives engagement, retention and productivity.
What's good for humans is good for business.