Description
Learn about the design thinking process, a powerful framework for understanding and solving complex problems. Design thinking is all the rage – Harvard Business Review says it's coming of age and Deloitte cited design thinking as a top ten trend in HR. So what's all the buzz about? Let us debuzz it for you in this interactive workshop.
At its heart, design thinking is a people-centered process for collaborative solving that pushes you beyond the first good idea. For teams who have felt siloed, it can serve as a powerful model for how to work together collaboratively and iteratively. Once learned, design thinking is flexible and can be applied to a wide range of opportunities within your organization.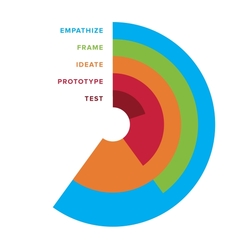 In this workshop, SmallBox facilitators will take you through a deep dive into our five step process, using design thinking to invigorate your team and innovate within your organization. You can expect:
Context of how design thinking has led to unique and innovative solutions in a variety of settings.
A firm understanding of what happens during each phase of the process – empathize, define, ideate, prototype and test.
Practice with various methods from each phase using a sample challenge.
A chance to deepen collaboration within your team, and to connect with other innovative thinkers.
A fun, hands-on learning experience.

Logistics

Participants do not need to have any background with visual design or design thinking. This workshop is ideal for whole teams or divisions within an organization. The design thinking workshop is 6 hours, with time built in for a locally-provided lunch.

Agenda

Overview of design thinking process
Explore a case study to bring design thinking to life
Practice five methods for collaboration, one from each phase