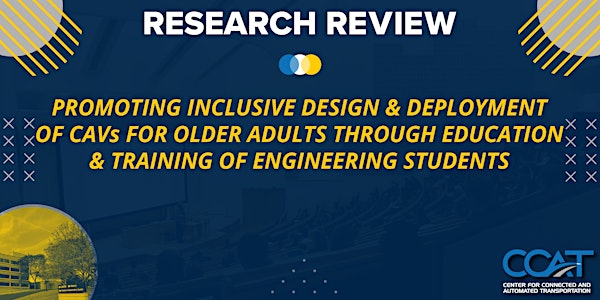 Human-Centered Design to Improve Inclusiveness of CAVs for Older Adults
U-M researchers and students present findings from a project on addressing older adults' needs and preferences in the design of CAVs.
When and where
Location
University of Michigan Transportation Research Institute 2901 Baxter Road Ann Arbor, MI 48109
About this event
The University of Michigan Transportation Research Institute (UMTRI), in a project sponsored by the Center for Connected and Automated Transportation (CCAT), is helping engineering students explore issues of older adult accessibility, acceptability, and other aspects of inclusion related to CAVs through classroom discussions and implementation of a class project.
In this poster session, project researchers and Michigan Engineering students will present findings from the project on how human-centered design principles can be used to address the needs and preferences of older adults in the design of CAVs. Hors d'oeuvres from The Produce Station will be served. Space is limited so secure your spot today. Email Nicole Zanier at nzanier@umich.edu with questions.
CAVs hold promise for reducing traffic crashes and maintaining mobility among older adults. However, challenges remain in ensuring that CAVs are accessible, acceptable, and otherwise inclusive for older adults. Using a framework of experiential learning (exploring, engaging, reflecting, and communicating), students in a human-centered design course taught by Dr. Feng Zhou engaged in a classroom project to identify potential solutions for making CAVs more responsive to older adult needs and preferences. Students and researchers from the larger project will share their findings with CCAT members, UMTRI and other University faculty, staff, and students, and industry representatives.