About this Event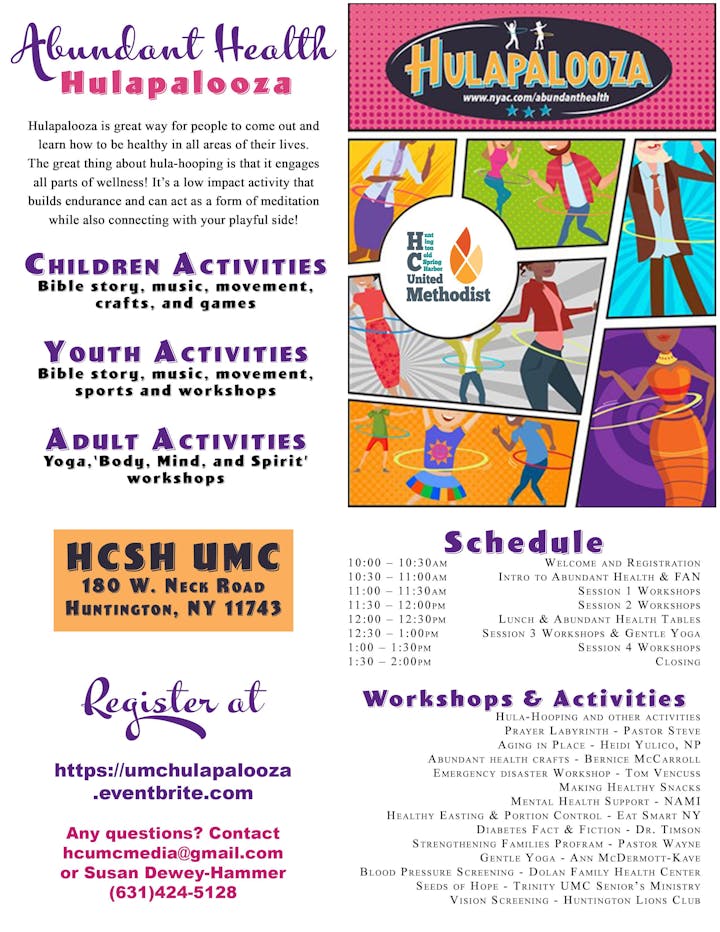 Hulapalooza is great way for people to come out and learn how to be healthy in all areas of their lives. The great thing about hula-hooping is that it engages all parts of wellness! It's a low impact activity that builds endurance and can act as a form of meditation while also connecting with your playful side! Whether you hooped as a child or you've never given hooping a swirl, there is something for everybody.
The day's activities will include workshops on nutrition and healthy eating, Circle of Care Health Fair, blood pressure checks, hoop art stations, kids activities, worship experience. Attendees will also have an opportunity to learn how to hula-hoop by watching a step-by-step video. A hoop making station will be set up as well, where participants can make and purchase their own weighted hoops, which make learning to hoop easier than using discount store hoops.
Hulapalooza, which launched April 7, 2018, in conjunction with United Nations' World Health Day, was initially celebrated at four global sites: New York City, Berlin, Rock Hill, South Carolina, and Zimbabwe. Hulapalooza is one expression of the Abundant Health movement, the global health initiative of The United Methodist Church, led by the Global Health unit of Global Ministries.
For more information about Hulapalooza in Huntington, NY, contact the Huntington-Cold Spring Harbor United Methodist church office at hcumcmedia@gmail.com or (631)427-0326. Any questions contact Susan Dewey-Hammer (631)424-5128.
Looking forward to seeing you there:)