Hula Grill's Artisanal Dinner with Madre Chocolate & Big Island Brewhaus

Wednesday, April 9, 2014 from 6:00 PM to 9:00 PM (HST)
Event Details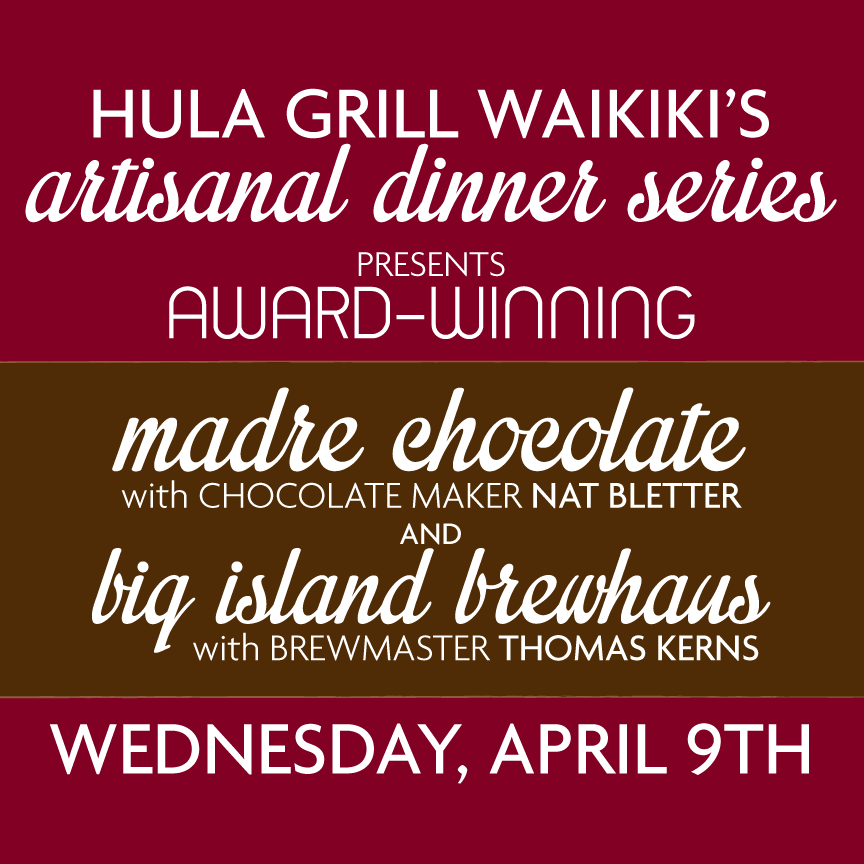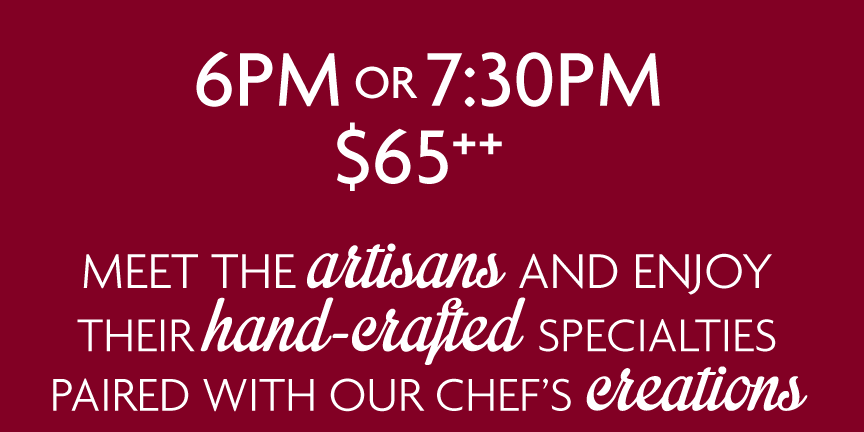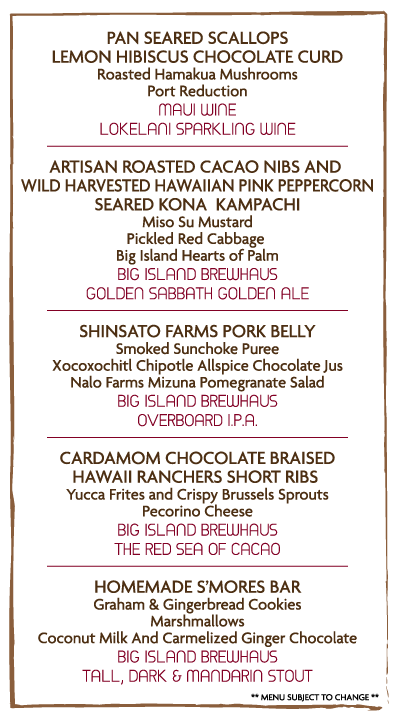 ---

www.madrechocolate.com
2012 International Chocolate Awards Gold and Silver winners
2013 Good Food Awards Gold Seal
Learn about the Chocolate producers - David Elliiot & Nat Bletter

HIBISCUS
organic, fair trade, vegan, soy-free
Ruby-red Hibiscus flowers infuse their exquisite aroma and tanginess into a smooth, deep chocolate we stone grind from Dominican Republic cacao. 
ARTISAN ROASTED CACAO NIBS
organic, fair trade, vegan, soy-free
The fabled cacao nibs from which chocolate is made.

XOCOXOCHITL CHIPOTLE ALLSPICE
organic, fair trade, vegan, soy-free
Traditional chocolate flavorings of the Aztecs, the chipotles and allspice in this bar give the chocolate a little extra smoky kick, but not tongue-searingly hot. 
COCONUT MILK & CARAMELIZED GINGER
Hamakua coast, Big Island, vegan, soy-free 
For milk chocolate lovers but still super healthy, vegan, & luscious. Made with coconut milk and organic Hawaiian ginger caramelized to a delectable chewiness in an utterly smooth and creamy bar.  
---

www.bigislandbrewhaus.com
Overboard IPA Gold Medal winner at the US Open Beer Championships with Silvers
going to the White Mountain Porter and the Red Giant in the same competition.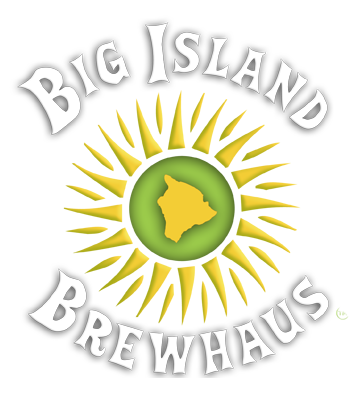 GOLDEN SABBATH  
8.0% abv, 30 IBU Belgian Strong Golden Ale or Abbey Ale
A Belgian-style strong golden ale with a wondrous range of fruit flavors like plum, apricot, and cherry imparted by special Belgian yeast. Traditionally served in special goblets this style of beer can turn an ordinary lunch into an extraordinary event and a slow Sunday afternoon into a special Golden Sabbath.    
OVERBOARD IPA
5.8% abv,  35 IBU
A classic robust porter spiced with all-natural toasted coconut and award winning locally-grown and roasted Hamakua Coast White Mountain Coffee.  Black in color and crowned with a creamy, dark tan head, toasted coconut and roasted coffee aromas are followed by hints of rich, silky dark malt and chocolate; balanced with hoppy spice finish.
TALL, DARK & MANDARIN CHOCOLATE STOUT
8.6% abv, 45 IBU
A sensual Imperial Stout brewed with love, chocolate and mandarin oranges. This beer has many layers of complex flavors.  The chocolate and oranges add icing to the cake of mocha-like maltiness... A creamy, cold, yet warming dessert in a glass. 
THE RED SEA OF CACAO
8.6% abv  28 IBU
This beer is a collaboration with brewer Jim Mills from Caldera Brewing Company in Ashland, Oregon.  An Imperial Red Ale reminiscent of a liquid chocolate-caramel-sea salt candy bar with a touch of fruity spice. Brewed with barley, hops, molasses, chocolate, pink sea salt, and pink peppercorns.  Quite amazing really.
---

www.mauiwine.com 
LOKELANI SPARKLING WINE
A bouquet of vanilla flower and orange blossom is complemented by citrus and toasted almond notes on the palate. This vibrant sparkling wine has the ideal balance ~ nutty and nice, elegant and trendy. 
Learn about Brett Miller, the Maui Wine winemaker - http://www.mauiwine.com/userfiles/file/BrettBio.pdf
---
 ** TICKETS MAY BE PURCHASED AT THE RESTAURANT OR OVER THE PHONE WITH CREDIT CARD PAYMENT WITHOUT EVENTBRITE FEES. ** 
---
 HULA GRILL WAIKIKI • 2335 KALAKAUA AVENUE • HONOLULU, HAWAII 96815
808-923-4852 
When & Where

Hula Grill Waikiki
2335 Kalakaua Ave
#203
Honolulu, HI 96815


Wednesday, April 9, 2014 from 6:00 PM to 9:00 PM (HST)
Add to my calendar