Description

STATION 1
MAKAWELI RANCH TENDERLOIN TARTARE
Pickled Ho'io, Pecorino Ululoa Amaranth, Truffle
PAIRED WITH OCEANS VODKA
STATION 2
NI'IHAU ELAND LOCO MOCO
Rosemary Arancini
146° Ka Lei Egg
Roasted Hamakua Mushroom
Bordelaise Sauce
PAIRED WITH Deep Island Rum
STATION 3
RED CURRY MARINATED MAKAWELI SKIRT STEAK
Coconut Braised Taro
Ho Farms Cherry Tomato
Toasted Peanuts
PAIRED WITH
Imperial Red Ale with Ginger
STATION 4
NI'IHAU LAMB RAGU
Handmade Papardelle
Oven Dried Kamuela Tomatoes
Melted Leeks, Naked Cow Feta
PAIRED WITH Pillbox Porter
STATION 5
CINNAMON MALASADAS
Lanikai Stout and Coconut Gelato Milkshake
PAIRED WITH Okole Maluna Chocolate Haupia Imperial Stout
$65 per person | tax and gratuity included
A portion of ticket sales proceeds will be donated through Hula Grill's Legacy of Aloha program, supporting local non-profit organizations that foster sustainability in our communities, preserve the Hawaiian culture and the culinary arts.


Bring CASH for the Raffle tickets!! 100% of raffle proceeds will be donated through our Legacy of Aloha program to Pohai 'o Kamehameha, an organization that continues to guard, maintain, and preserve the rituals and the memory of the ruling Chiefs of Hawaii. Our donation will be earmarked for the Pa'u Riders, which ties back into our honoring of the Ranchers and Paniolo.
Raffle Prizes include: Gift Certificates to Hula Grill Waikiki and Duke's Waikiki, Hula Grill Waikiki Chili Pepper Water, a gift basket from Lanikai Brewing Company (a glass growler, trucker hat, pint glass and a bottle opener! Valued at $50), a gift basket from Hawaii Sea Spirits (Hats, shirts and barware! Valued at $100) and much more!
---
Chef Matt Young
Chef Matt joined the Hula Grill Waikiki culinary team in 2011, with hopes to foster the Farm to Table movement, focusing on local products and sustainable practices. Together with Chef Matt, the restaurant is able to participate in many community outreach programs including the Kokua Foundation and the Aina in Schools program, Hawaii Ag Foundation and Localicious Hawaii.
Makaweli Meat Company
Backed by rich Kauai history, preservation, and sustainable farming, Makaweli Meat Company is dedicated to providing premium, all-natural, 100-percent grass-fed beef. The Short Horn Red Angus Cross cattle freely roam and graze on the more than 25,000 acres of rich, sustainable grasslands on Makaweli Ranch, which is located in one of the world's cleanest and most isolated environments. They strongly believe in the growing farm-to-table concept of thinking globally and sourcing locally.

Makaweli Meat Co. is proud to follow the Robinson family's legacy of land preservation, environmental consciousness, self-sustaining agriculture, and the humane treatment of livestock. More Info
Hawaii Sea Spirits
A privately owned producer of distilled spirits that cultivates organic sugar cane, Hawaii Sea Spirits employs sustainable practices in support of ecological interests. Solar panels are used to power 100% of the operation and a deep-drill well provides irrigation for the crops. Their Organic Farm and Distillery highlights the company's commitment to social and environmentally conscious business practices. Situated on a breathtaking 80-acres on the slopes of Haleakala, the home of OCEAN Organic Vodka and Deep Island Hawaiian Rum captures panoramic views of both the north and south shores of Maui.
The sugar cane is organically farmed on the rich, volcanic soils without the use of synthetic pesticides and fertilizers and the mature sugar cane is hand harvested for processing. More Info on OCEAN Vodka, More Info on Deep Island Rum
Lanikai Brewing Co.
A local craft brewery located in Kailua, Hawaii. They specialize in using island-based ingredients in their inspired brews. Lanikai Brewing Company is focusing on the premium segment of the craft beer market.

Their mission statement fits firmly in with our eco-friendly beliefs - to create a premium beer selection targeted to local and visiting consumers which satisfies the desire for flavorful and creative beer using only premium ingredients manufactured by ecologically responsible techniques. Currently only distributed in Hawaii! More Info

---
Hula Grill Waikiki is located on the lobby level of the Outrigger Waikiki Beach Resort, 2335 Kalakaua Ave, Honolulu, Hawaii 96815.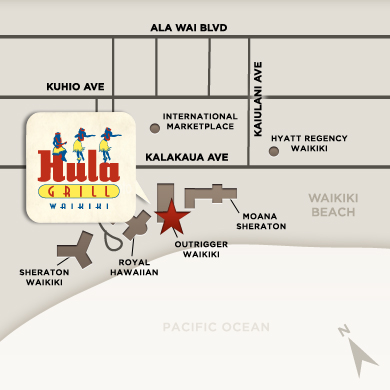 FAQs
Can I request to be seated with another ticket buyer?
There are no seating assignments! We prefer a more social event - we will have 5 stations setup featuring a dish and a drink and encourage our guests to mingle!
Are there ID requirements or an age limit to enter the event?
This is a 21 and older event. The oceanfront dining room will be open for guests of all ages. Drink responsibly!
What are my transport/parking options getting to the event?
Hula Grill offers validated valet parking at the Outrigger Waikiki Beach Resort, $5 for three hours. We also validate self parking at the Ohana East, $4 for three hours.
Do I have to bring my printed ticket to the event?
We will have a printed guest list at check in. If you and your guests will be arriving seperately we do advise for each guest to bring their own ticket. Bringing a printed ticket will speed up check in, but it is not required that you have the printed ticket.
Wait, what is Eland?
Eland are the largest of the antelope family. Native to the dry African deserts, eland thrive on the Desert Island of Niihau. Brought from Molokai Ranch by the Niihau Ranch landing craft in December 1998, they are a mixture of the Common Eland and the Lord Derby Eland.
Eland meat has six times less fat than cattle, half the calories of beef and delicious flavor all combining to make eland a dining delight. Eland is rich in various nutrients and is low in saturated fat. Studies show that eland meat helps retard the risk of osteoarthritis by as much as half. The meat has a very low amount of cholesterol, even lower than chicken breast, making it the perfect option for those who are vulnerable to heart disease.
Where can I contact the organizer with any questions?
If you have any questions please call the restaurant 808-923-4852 or email marketing@hulagrill.com.