Description
Join us at the upcoming Hughes Marino Information Session to learn why it's so great to be on our team!
Hughes Marino is the largest California-based tenant representation firm with offices in Los Angeles, Orange County, San Diego and Northern California. We have won countless awards for our one-of-a-kind company, culture, and team.
Hear direct from our owners and leadership the inside scoop on what makes Hughes Marino set apart from other commercial real estate firms. We'll cover everything from how to break into the industry, brokerage and operations management opportunities, and how to land a coveted spot on our incredible team.
Attendees are invited to participate in a lively Q&A session and one-on-one meet and greet with our speakers towards the end of the information session. Light refreshments will be served.
The Hughes Marino Information session will be cohosted by the USC Trojan Real Estate Association (TREA) and USC Marshall Real Estate Finance Association (MREFA), in conjunction with USC Marshall Undergraduate Career Services.
Hughes Marino featured speakers:
Who Can Attend: Open to all USC undergrads
Cost: FREE; RSVP required
All students must RSVP by registering online before the event. Each attendee is limited to a single registration. If you are attending with a group/club, please make sure each person submits a separate RSVP. This helps our Hughes Marino team obtain an accurate guest count for food & beverage. Thank you! We look forward to meeting you!
Questions: Please email Jennifer Morrar, Talent Engagement Director, at jennifer@hughesmarino.com.
Visit us online: www.hughesmarino.com/usc
Follow us: Facebook | Twitter | YouTube | Instagram | Feedblitz | LinkedIn | Google+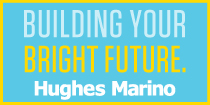 Date and Time
Location
USC Marshall School of Business - Fertitta Hall (JFF), LL105
610 Childs Way
Los Angeles, CA 90089-3362