About this Event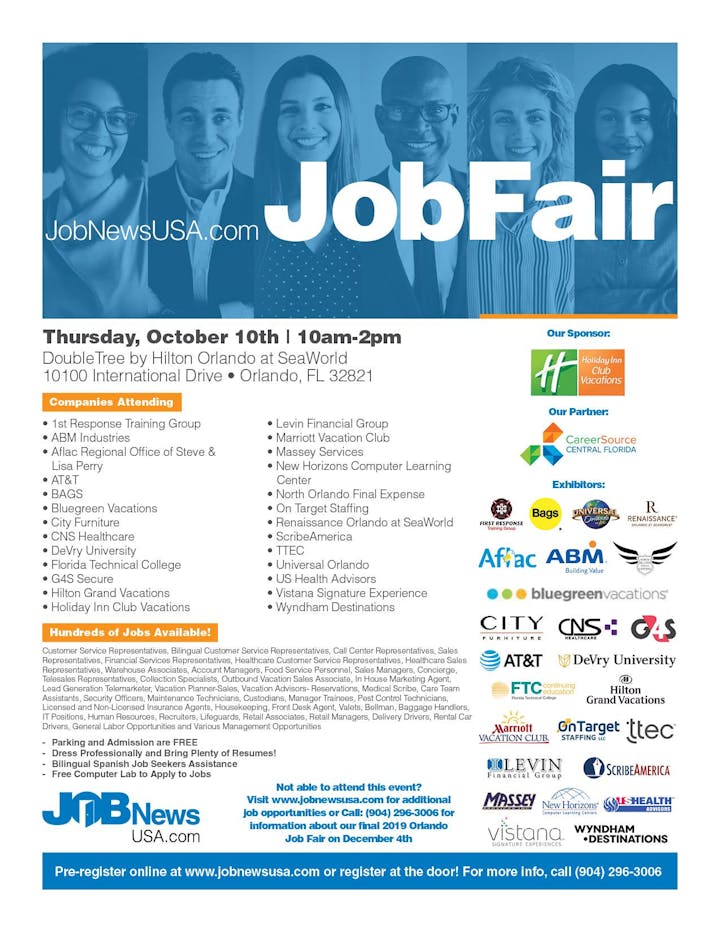 Huge Orlando Community Job Fair
Thursday October 10th at 10am!
Companies hiring for 100's of Jobs in a variety of industries.
Job News, along with our Sponsor, Holiday Inn Club Vacations, will be hosting a Job Fair from 10 am to 2 pm on Thursday October 10th, 2019 at the Doubletree by Hilton Orlando at SeaWorld located at 10100 International Drive, Orlando Florida 32821.
October 10th Orlando Job Fair Company Participants
This is a unique opportunity for job seekers to get guaranteed face time and make personal connections with recruiters and hiring managers from some of Central Florida's best companies and organizations as well as find out about an employer's upcoming opportunities that may not be advertised to the general public.
Booth space is still available and employers can call General Manager Andrew Lemister at (904) 296-3006 for additional information.
** As a service to Central Florida residents, we will be providing a Free Computer Lab to all attendees of the October 10th Job News Job Fair to research companies, apply to jobs and customize your resume**
FREE JOB SEEKER ADMISSION – FREE PARKING
JOB SEEKERS CAN PRE-REGISTER TODAY AT: https://www.jobnewsusa.com
Companies and organizations will be looking to fill "Hundreds of Positions" including the following:
SPONSOR:
​​​Orange Lake Resorts / Holiday Inn Club Vacations: OPC/Off Property Marketing Representative, In House Marketing, Administrative, Sales Consultants
PARTNERS:​
1st Response Training Group: Programs for EMT's, Paramedics and Nursing
ABM Industries: Rental Car Drivers
AFLAC Regional Office of Steve & Lisa Perry: Sales Agents
AT&T: Integrated Solutions Consultants, Home Sales Expert
Bags, Inc: Parking Services - Valet, Baggage Handler, Valet Lot Attendant, Assistant Account Manager, Wheelchair Agent, Entry Level - IT Technician
Bluegreen Vacations​: Reservation Support Specialist, Vacation Confirmation Associate, Reservationist – Inbound, Owner Referral Outbound Vacation Sales, Call Transfer Associate – Inbound Vacation Sales.
CareerSource Central Florida: Free Resume Review and Computer Lab
City Furniture: Sales Associates, Warehouse Associates, Delivery Drivers.
CNS Healthcare: ​ Free Medical Resource. Compensation upon enrollment.
DeVry University / Keller Graduate School of Management: Associate, Bachelor and Master's Degree Programs along with Undergraduate and Graduate Certificates. Courses are taught by credentialed professors for both on campus or 100% online. 8 week sessions to allow for a more individualized focus. Experienced tech-infused education to keep you moving forever forward.
Florida Technical College​: IT Professionals, Business Development Representatives.
G4S Secure: Armed and Unarmed Security Officers
Hilton Grand Vacations: Call Transfer Vacation Sales, Outbound Vacation Sales, Reservation Sales Agents
Levin Financial Group: Financial Service Representatives
Marriott​ ​Vacation Club​:​ Various Resort Operations positions, Data Administration, Work From Home – Sales – Vacation Planner, Sales – Outbound/Inbound Vacation Planner, Sales – Outbound Vacation Planner - $6,000 Experience Bonus Opportunity, Reservation Sales – Activations
Massey Services: Customer Care Specialists
​​New Horizons Computer Learning Center​: Student Opportunities
North Orlando Final Expense: Inbound Call Center Representative
On Target Staffing:
Renaissance Orlando at SeaWorld: Front Office Supervisor, Bellman, Guest Experience Expert, Housekeeping Attendant, Event Conicerge, Banquet Set Up Attendant
ScribeAmerica: Medical Scribe, Care Team Assistant I & II
TTEC: Healthcare Customer Service Representatives, Healthcare Sales Representatives, Customer Service Representatives, Sales Representatives, Bilingual Spanish Sales Representatives, Bilingual Spanish Customer Service Representatives
Universal Orlando -- Hundreds of job opportunities in: Attractions, Security, Culinary, Custodial, Food & Beverage
US Health Advisors: Insurance Agents, Sales Leader, Sales Representatives
Vistana Signature Experiences: Resort Operations - Guest Services, Resort Operations, Engineering Dept., Resort Operations - Food & Beverage, Resort Operations - Housekeeping
Wyndham Destinations: In House Marketing Agent, Call Transfer - Inbound Sales, Vacation Sales Advisor - Contact Center, Reservations Coordinator - Contact Center
We are adding more and more Companies everyday so visit our website: www.jobnewsusa.com for the updated list of participants.
* Booth space is still available and employers can call General Manager Andrew Lemister at (904) 296-3006 for additional information.
* Build your professional network.
* Job seekers should dress professionally, bring plenty of resumes and should pre-register at: https://www.jobnewsusa.com
* Many companies will be conducting on-site interviews so be prepared.
When you attend the Job Fair you can:
Meet one-on-one with recruiters and hiring managers.
Learn about upcoming job opportunities so new they haven't been advertised yet.
Possibly walk away with a job! Some employers offer on-the-spot interviews and job offers.
How to GET HIRED:
1. Visit jobnewsusa.com before the event and pre-register (you can also do this at the door). On the site you will be able to view the event directory so you can see whose hiring and what jobs are available.
2. Get a game plan and research companies of interest from the directory. Develop tailored resumes for the companies you want to apply with.
3. Have a clear career focus. Be prepared with an answer to one of the first questions each recruiter is going to ask you: "So, why are you here today?"
4. Sharpen and rehearse your elevator speech. Your elevator speech can be a great response to the typical interview question, "tell me about yourself."
5. Prepare and practice responses to typical interview questions. "Tell me what you know about our organization?" "Why do you want to work here?" "What are you looking to do?" "What are your goals?"
6. Sketch out a few questions to ask each recruiter.
7. Dress professionally! Clean-cut, well-fitting, conservative.
8. Make a good first and lasting impression! Wait patiently in line for your chance to meet with the recruiter and make sure you ask for their contact information before leaving.
9. Jot down notes as soon as you are done with the recruiter and include these notes in your thank you email that you will send when you get home.
10. Follow up! It is critical to continue to express your interest in joining their team and restate the value you can provide them that no one else can provide.
11. Make sure you arrange for child care the day of the event. You wouldn't bring your child to an interview – don't bring them to Career Fair. Career Fairs should be viewed as 30 interviews in one day!