Description
Huge Orlando Community Job Fair
Wednesday November 14th at 10am!

Dozens of Companies hiring for 1000's of Jobs in a variety of industries.
Job News, along with our Sponsor, Holiday Inn Club Vacations, will be hosting a Job Fair from 10 am to 2 pm on Wednesday November 14th, 2018 at the Doubletree by Hilton Orlando at SeaWorld located at 10100 International Drive, Orlando Florida 32821.
This is a unique opportunity for job seekers to get guaranteed face time and make personal connections with recruiters and hiring managers from some of Central Florida's best companies and organizations.
*** Booth space is still available and employers can call General Manager Andrew Lemister at (904) 296-3006 for additional information. ***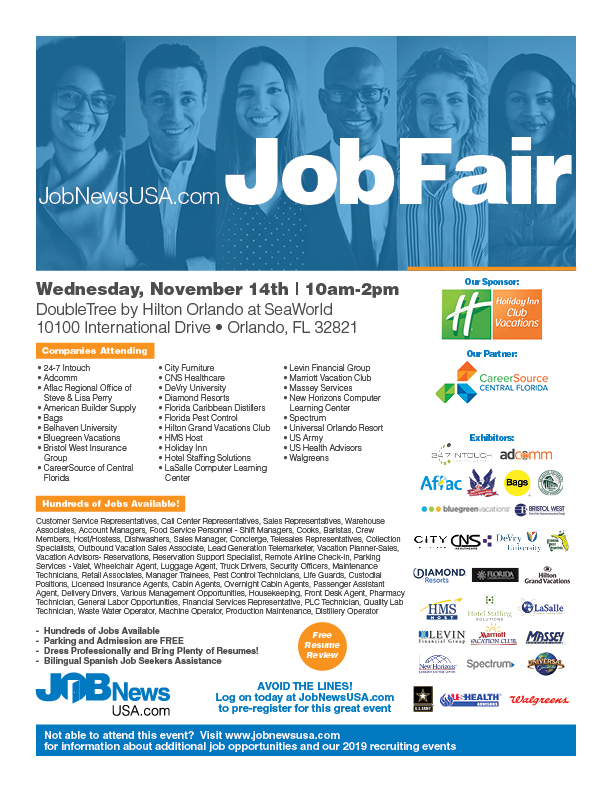 As a service to Central Florida residents, we will be providing a Free Computer Lab to all attendees of the November 14th Job News Job Fair.
** Bilingual (Spanish) job seeker assistance will be available to help you land your new job **

JOB SEEKERS CAN SAVE TIME AND AVOID THE LINES BY PRE-REGISTERING TODAY AT:: https://www.jobnewsusa.com

Jobseekers will be able to meet with some of Central Florida's best Companies and Organizations who will be hiring for 1000's of positions including:


SPONSOR:

​​​Orange Lake Resorts / Holiday Inn Club Vacations: OPC/Off Property Marketing Representative, In House Marketing Representative Face to Face & Teleservices, In House Marketing Manager, Sales Consultants, Contract Processor, Gift Center Representative, Tour Receptionist, Sales Training Manager, Preview Confirmation Agent, Marketing Training Manager, Control Room Clerk, Call Center and Corporate positions available via our career site.
EXHIBITORS:​

24-7 InTouch: Customer Service Representatives
Adcomm: Customer Service Representative & Training Assistant
AFLAC Regional Office of Steve & Lisa Perry: Sales Agents / Benefit Consultant
American Builder's Supply: Manager Trainee, Machine Operator, Production Associates, Warehouse Associates
Bags, Inc: Parking Services - Valet, Baggage Handler, Valet Lot Attendant, Assistant Account Manager, Wheelchair Agent, Entry Level - IT Technician
Belhaven University: Regionally accredited & offers Associate, Bachelors & Masters programs with many areas of focus, including Business, Management & Health Administration. Visit: orlando.belhaven.edu
Bluegreen Vacations​: Reservation Support Specialist, Vacation Confirmation Associate, Reservationist – Inbound, Owner Referral Outbound Vacation Sales, Call Transfer Associate – Inbound Vacation Sales
Bristol West Insurance Group / Farmer's Insurance: Claims Customer Service Associate, Personal Lines Customer Service Representative
​​Career Source Central Florida: Free Resume Review and Computer Lab
City Furniture: Showroom Customer Service Manager, Bilingual Customer Service Associates, Receiving, Pulling & Staging, Sales Associates
CNS Healthcare: ​Participants
DeVry University: With a long history of helping current and former members of the U.S. military reach their higher education and career goals. Career Education - Associate, Bachelor and Master's Degree Programs - Certification Boot Camps - Military Career Transition Training. A PROUD HISTORY EDUCATING MILITARY STUDENTS.
Diamond Resorts: Club Agent Call Center, Collections Specialist, Lead Generation Telemarketer, Marketing Reservations Specialist, Bankruptcy Coordinator, Sr. Financial Analyst, Title Operations Coordinator, Concierge, Front Desk Agent, Licensed Sales Agent, Marketing Representative-Sales, Sales Manager, Sampler Agent, Vacation Sales Concierge, Vacation Specialist, Facilities Maintenance Technicians.
Florida Caribbean Distillers: PLC Technician, Quality Lab Technician, Waste Water Operator, Machine Operator, Production Maintenance, Distillery Operator
Florida Pest Control: Manager Trainee, Outside Sales Representative, Pest Control Technician.
Hilton Grand​ ​​V​acations Club​:​ Call Transfer Vacation Sales Advisor, Outbound Vacation Sales Advisor, Reservation Sales Agent.
HMS Host: Baristas, Crew Member / Cashiers, Shift Supervisors, Hostess, Utility – Dishwasher
Hotel Staffing Solutions: Cooks, Houseman, Housekeeper, Banquet Set Up
Hudson RPO: Account Managers
LaSalle Computer Learning Center​: IT Professionals, Business Development Representatives.
Marriott​ ​Vacation Club​:​ Vacation Planner – Sales, Vacation Advisor – Activations/Reservations, Verifications Specialist, Various Resort Operations positions
Massey Services: Manager Trainee, Sales Representatives, Service Technicians, Digital Marketing Manager, Accounts Receivable.
​​New Horizons Computer Learning Center​: Student Opportunities
Spectrum: Outside Sales Representatives
Universal Orlando -- Hundreds of job opportunities in: Food and Beverage, Culinary, Security, Custodial, Parking & Transportation, Warehouse,

US Army: Hundreds of Opportunities Available at www.goarmy.com
US Health Advisors: Customer Service Representatives, Licensed Insurance Agents, Sales Agents
Walgreeens: Store Managers, Assistant Store Manager Trainees, Shift Leaders, Customer Service Representatives, Beauty Advisors, Pharmacy Technicians.
We are adding more and more Companies everyday so visit our website: www.jobnewsusa.com for our updated list of participants.

*Booth space is still available and employers can call General Manager Andrew Lemister at (904) 296-3006 for additional information.

Parking and admission are free.

Job seekers should dress professionally, bring plenty of resumes and should pre-register at: https://www.jobnewsusa.com



What to do BEFORE the Job Fair:

•Pre-Register Online at https://www.jobnewsusa.com
•Print out your registration page and bring it with you! This is your "fast pass" into the Job Fair at 10am ONLY!

•Dress your absolute best! This doesn't mean you have to go out and purchase an expensive outfit, just dress clean cut and professional!

•Update your Resume and bring at least 25 copies with you.

•Do your Research! Pick a few companies from the list and learn more about them online. The more you know about the company, the more you can converse with them at the event!

•Last but not least -- make sure you arrange for a baby sitter! No children will be allowed into the event.



What to do AT the Job Fair:

•Arrive with a Positive Attitude and SMILE!

•Bring at Least 25 copies of your resume

•Do not bring any food/drinks/gum into the Career Fair

•Make sure you visit EVERY employer at the event and tell them what type of career you are interested in. If they do not have it available, they might be able to refer you to a company that does!

•No Cell Phones inside the Career Fair room!
Treat it as a large interview and be professional!