Description
** HUGE JACKSONVILLE CAREER FAIR **
*** Tuesday June 20th at 10am! ***
** 100'S OF JOBS AVAILABLE IN A VARIETY OF INDUSTRIES**
*Booth space is still available and employers can call (904) 296-3006 for additional information.*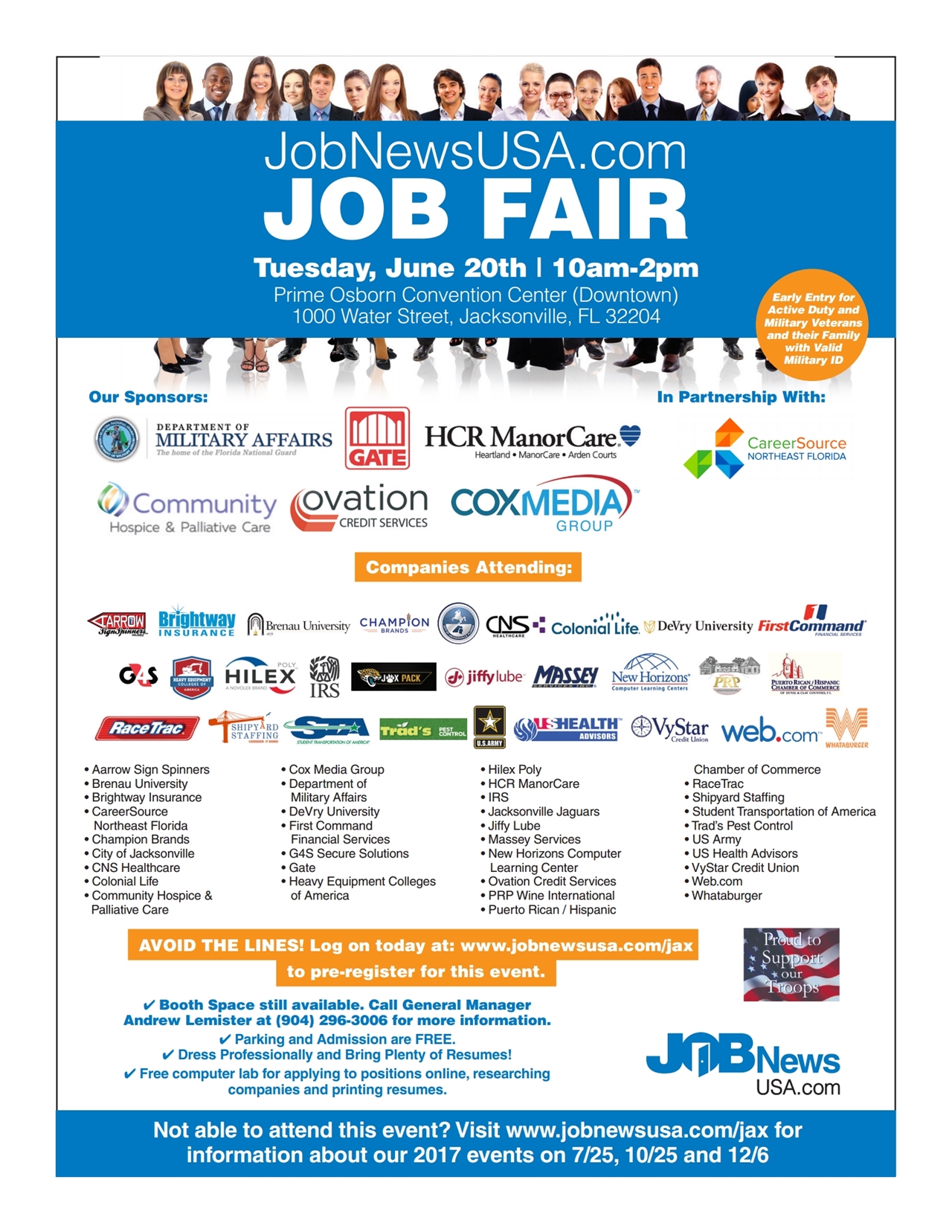 Job News will be hosting a job fair from 10am to 2 pm on Tuesday June 20th, 2017 at The Prime Osborn Convention Center.
*** SAVE TIME & AVOID THE LINES BY PRE-REGISTERING TODAY AT ***: https://www.jobnewsusa.com/jax
*** Booth space is still available and employers can call (904) 296-3006 for additional information. ***
Parking and admission are free.
Early admission for Veteran's and Active Duty Military personnel and their families with valid military ID.
Job seekers should dress professionally, bring plenty of resumes and should pre-register at:https://www.jobnewsusa.com/jax
What to do BEFORE the Job Fair:
•Pre-Register Online at https://www.jobnewsusa.com/orlando
Print out your registration page and bring it with you! This is your "fast pass" into the Job Fair at 10am ONLY!
•Dress your absolute best! This doesn't mean you have to go out and purchase an expensive outfit, just dress clean cut and professional!
•Update your Resume and bring at least 25 copies with you.
•Do your Research! Pick a few companies from the list and learn more about them online. The more you know about the company, the more you can converse with them at the event!
•Last but not least -- make sure you arrange for a baby sitter! No children will be allowed into the event.
What to do AT the Job Fair:
•Arrive with a Positive Attitude and SMILE!
•Bring at Least 25 copies of your resume
•Do not bring any food/drinks/gum into the Career Fair
•Make sure you visit EVERY employer at the event and tell them what type of career you are interested in. If they do not have it available, they might be able to refer you to a company that does!
•No Cell Phones inside the Career Fair room! Treat it as a large interview and be professional!