HUG & GROOM EVENT July 11, 2021 ~ Come & Learn About Our Programs at Free Rein Foundation ~ Meet ~ Groom ~ Hug our Horses Open To All
About this event
HUG & GROOM is BACK!
July 11, 2021 from 11am to 1 pm
Limited Space!! Snacks included + Water
Come & Learn & Hug & Groom our Horses
Hosted by Free Rein Foundation 
Meet ~ Groom ~ Hug our Horses
Six Feet from People - Zero Feet from Horses
Family-Friendly Event
Tickets: $15 Adults, Kids 3-14 $10, Under 2 yrs old Free
**ALL PROCEEDS GO TO CARE AND FEEDING OF RESCUED HORSES**
All children must be accompanied by an adult.
Meet The Horses: Tours into the pasture to meet, hug, and groom our rescued horses are on a first-come-first-serve basis.
Our volunteers will be there guiding you through the introductions!
There will be a limited number of people in each group so that everyone can interact with our horses safely.
Where: The Huntington Central Park Equestrian:
Parking: 6956 Ellis Street, Huntington Beach, CA
REGISTER on Eventbrite and bring your tickets to enter our raffle!!
Fun for all - Open to the Public
What to Expect:Parking: Park your car off the Ellis Street entrance parking lot.
You will be directed to walk up through the field and up to the Free Rein Pastures.
Path is hilly and not easy for strollers.
Wear clothing and shoes for dusty pasture.
Registration: Check-In table is at the entrance.
By purchaseing tickets you are agreeing to our terms and conditions as outlined below.
MASKS are Required.
Strollers and Wheelchairs are difficult to bring up the trail--just be prepared!If you have any questions, please reply here or just email us at info@freereinfoundation.org.
RAIN OR SHINE WE WILL BE THERE!!
------------------------------------------------------------------------------
By purchasing tickets you agree to our 3 Release Requirements:
IMAGE RELEASE: I hereby irrevocably consent to and authorize the use by Free Rein Foundation ("FRF") a, California non-profit corporation and Huntington Central Park Equestrian Center ("HCPEC"), of any and all photographs, video, voice recordings, or other media taken of me including derivative works thereof (collectively, the "Images"), and any reproduction of them in any form in any media whatsoever, whether now, known or hereafter created, throughout the world in perpetuity. I also consent to the use of my name or likeness, or an assigned fictitious name, in connection with the exhibition, distribution, merchandising, advertising, exploiting and/ or publicizing of Images or FRF and HCPEC. I hereby release and discharge FRF and HCPEC, its trustees, officers, employees, licensees, and affiliates from any and all claims, actions, suits or demands of any kind or nature whatsoever, in connection with the use of Images and the reproduction thereof as aforesaid. I understand and agree that FRF and HCPEC will be the exclusive owner of all rights, including, but not limited to, all copyrights, in and to the Images in whole or part, throughout the universe, in perpetuity, in any medium now known or hereafter developed, and to license others to so use them in any manner FRF and HCPEC may determine in its sole discretion, without any obligation to me. I hereby waive any right that I may have to inspect and/or approve-the use of the images or any reproductions, thereof, by FRF and HCPEC.
GENERAL RELEASE : I / we hereby agree to assume all responsibility and risk from the participation in equestrian activities with Free Rein Foundation ("FRF") and Huntington Central Park Equestrian Center ("HCPEC"); and further agree to hold harmless all instructors, teachers, trainers, employees, and the City of Huntington Beach free from all damages or liability for any injury or death to person(s) or property arising as a result of this participation. I / we understand by signing below that horses are animals that can be dangerous and unpredictable at any given time.
CONSENT TO EXAMINATION AND / OR TREATMENT: In the event of an accident, the undersigned, parents of the applicant (minor), do hereby consent to any X-ray examination, anesthetic, medical or surgical diagnosis or treatment and hospital service that may be rendered to said applicant or minor under the general or specific instruction of any physician or hospital. It is understood that this consent is given in advance of any specific diagnosis or treatment which may be required, but is given to encourage the Free Rein Foundation ("FRF") and Huntington Central Park Equestrian Center ("HCPEC"), volunteers/therapists/trainers, hospital staff, and such physician to exercise their best judgment as to the requirements of such diagnosis or treatment. The undersigned shall pay all fees for doctors, hospitals, ambulances and other medical charges reasonable and necessarily incurred.
FAQ's
What is the difference between a Hug & Groom and a Free Rein Tour?
At a Hug & Groom you and your guests will learn something amazing! All of our event participants come into the Free Rein pasture to spend time grooming, touching, and interacting with Free Rein's rescued horses. Our volunteers are trained to help and support you while interacting with the rescued horses.
On a Free Rein Tour, you experience horses and nature in an immersive experience. As our guests, you are guided by a Free Rein docent into and around the pasture to meet the herd of rescued horses, learn about them and the therapy they provide; then mosey through the Huntington Central Park Equestrian Center to see and hear about the stables and its equestrian residents; then take a walkabout in the neighboring Urban Forest to discover the spectacular, growing habitat that nurtures native species and migratory birds.
2. Hug & Groom groups are limited to 20-50 people, with reservations on a first-come, first-served basis.
Free Rein Tour sizes range from 1 to 10 people.
3. Both of these offerings are intimate, immersive encounters that support the Free Rein Foundation's rescue and healing mission.
How long is each event?
1. A Hug & Groom event occurs the first Sunday of the month from 11 a.m. to 1 p.m.
2. Free Rein Tours are scheduled throughout the month at agreed-upon (day) times and range from 90 minutes to two hours.
What else can I expect at each?
Both the Hug & Grooms and Free Rein Tours provide unique opportunities for people of all ages to enjoy nature, discover more about horses, and better understand the impact of these magnificent mammals on humankind.
Why is there a cost to attend the Hug & Grooms and Tours?
1. The rescued horses of Free Rein Foundation are cared for, fed, and trained for Equine-Assisted Therapy with 100% volunteer help and donations. We are fortunate to have many local vendors and care providers who offer their goods and services as a donation, but we still incur many costs to care for these majestic and powerful animals. You can be assured that 100% of your donations goes to these rescued horses.
Are there other ways to help the Free Rein Foundation Horses?
We have events throughout the year that you can learn more about by signing up for our mailing list : https://lp.constantcontactpages.com/su/ZR3DO1T/SignUpforNews
And we are fortunate to have Free Rein Foundation merchandise for sale. https://freereinfoundation.org/shop/
Finally, you can become a horse sponsor and donor here.https://freereinfoundation.org/sponsor-a-rescued-horse-today/
Free Rein Tours: https://freereintours.com/
Free Rein Hug & Grooms 2021Free Rein Hug & Grooms 2021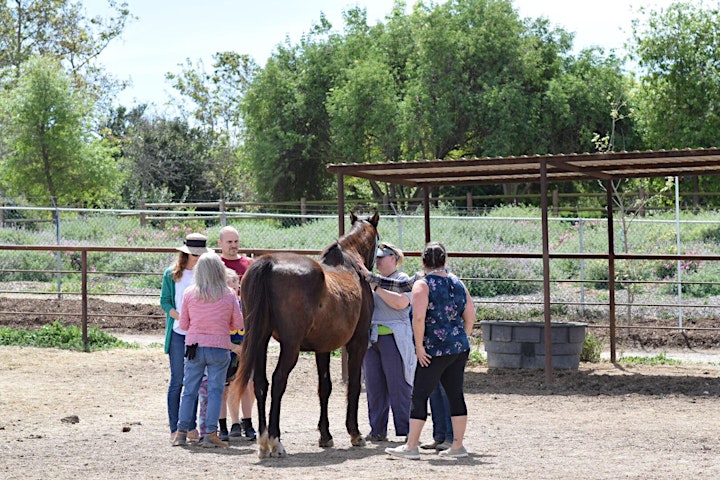 Organizer of Hug and Groom is Back: Come and Meet Our Horses!
Free Rein rescues, rehabilitates and rehomes horses that have been abused and enlists their incredible "horse sense" in Equine-Assisted Psychotherapy (EAP) and Equine-Assisted Learning (EAL) programs.  
The use of horses in the treatment and training of humans is a non-traditional therapeutic approach.  Activities provide opportunities to explore ways of managing difficult situations, fears, attitudes, and ways of being in relationships and society.
Free Rein's Equine-Assisted Psychotherapy programs provide incredible benefits for people suffering from anxiety, depression, anger management issues, drug addiction, grief and loss, and trauma.  During EAP sessions mental health treatment goals and issues are addressed through activities that aim to reflect real-life issues.  As counseling and therapy are part of the process, our EAP professionals are obliged to follow a code of ethics such as respecting the confidentiality and privacy of the client/s, as with any psychotherapeutic modality.
Our Equine-Assisted Learning Programs are focused on children and teenagers who learn valuable life lessons with the help of our horses.  In our 8-week (one session per week) EAL program, kids learn about themselves, their relationships with other people, and about their interaction with the world around them.  Our proprietary curriculum, developed by Free Rein's founder, Dr. Carole Harris, specifically addresses issues that children and teenagers face, including peer pressure, bullying, drugs, gangs, leadership, and self-confidence.
Contact us at: 
18381 Goldenwest Street
Huntington Beach, CA 92648
Tax ID: 46-3753339
info@freereinfoundation.org
(714) 842-7777