Description
The Institute for Animal Happiness
proudly presents
THE SECOND ANNUAL HUDSON VALLEY VEGFEST!
A JOYOUS TWO-DAY EVENT CELEBRATING THE EXCITING WORLD OF VEGAN LIVING!

---
Coming to Poughkeepsie, NY
NOVEMBER 3-4, 2018
11 am to 6 pm, both days
Purchasing your tickets online in advance not only supports the festival, but speeds your entry into the festival hall.
DAILY ADMISSION:
- $10 FOR ADULTS / TWO-DAY SPECIAL PASS: $15!
- CHILDREN 10 AND UNDER: FREE
- VETERANS: Half Price ($5 at door /Cash only)
This event is WHEELCHAIR ACCESSIBLE.
We are working on getting an ASL (AMERICAN SIGN LANGUAGE) INTERPRETER for one or both days - please be in touch with us via our website contact page for updates.
HV Vegfest is proud to be a ZERO-WASTE festival!


ACCORDING TO THE FARMER'S ALMANAC AND SEVERAL WEATHER SITES: Our event is adjacent to PEAK LEAF TIME and the colors should still be BEAUTIFUL at this time of year! Make Hudson Valley Vegfest a part of your weekend and STAYCATION plans. Come take in the festival tastes, sites and sounds and enjoy the beauty of this region!


---
TWO FUN-FILLED DAYS (Different speakers each day):
SATURDAY NOVEMBER 3rd, 2018 11 am - 6 pm
SUNDAY NOVEMBER 4th, 2018 11 am - 6 pm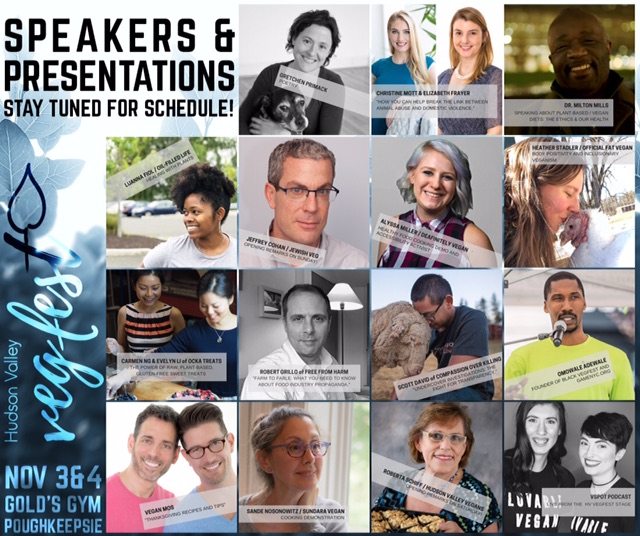 CLICK HERE TO VIEW THE VENDOR LIST (BEING ADDED TO DAILY):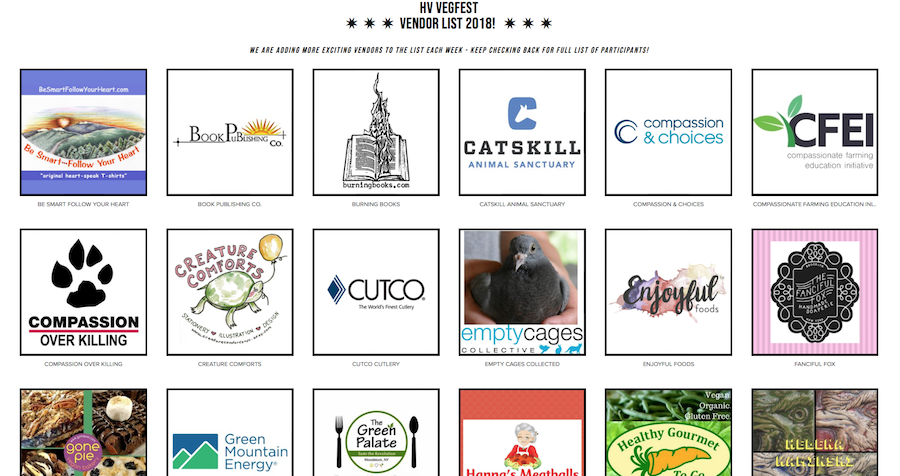 ---


This fun and ground-breaking event brings together everything exciting about the vegan world and movement, all under one huge roof in the Hudson Valley!


Everyone will be inspired at HUDSON VALLEY VEGFEST. Whether you are vegan and already excited about living a plant-based lifestyle - or you are just "veg-curious" and wondering what all the "vegan talk" is about - you are going to be changed, motivated and energized by this event:
ENJOY delicious, healthy foods... everything from veganized versions of Italian favorites, to vegan cheeses, to raw foods. There are so many new things to try and new tastes to enjoy!

LEARN about compassionate lifestyle choices, health & wellness, and living more mindfully!

MEET people at the forefront of teaching humane education & speak to incredible organizations working for positive change!

GET INVOLVED with local animal rescues and advocacy!

TAKE CARE OF YOUR SELF inside and out, with great cruelty-free beauty and care products that are as kind to others and the environment as they are nurturing to you!

UNDERSTAND how veganism supports intersectionality & fits into so many important movements for change!

TAKE ACTION to help the environment, by supporting a ZERO WASTE festival!

GAIN NEW SKILLS, taking in the delicious cooking demonstrations and presentations!

GO AHEAD AND NURTURE THAT SWEETH TOOTH, because healthier versions of the treats you love make life happy! Raw Chocolates and other treats, baked goods - we've got your sweet tooth covered!

Have lots of FUN!
HUDSON VALLEY VEGFEST is proud to be a ZERO WASTE FESTIVAL, thanks to ZERO TO GO!
We wouldn't have it any other way for this celebration of Compassionate & Mindful Living!


For details on speakers, vendors, and more, visit our official website: www.hvvegfest.org