About this Event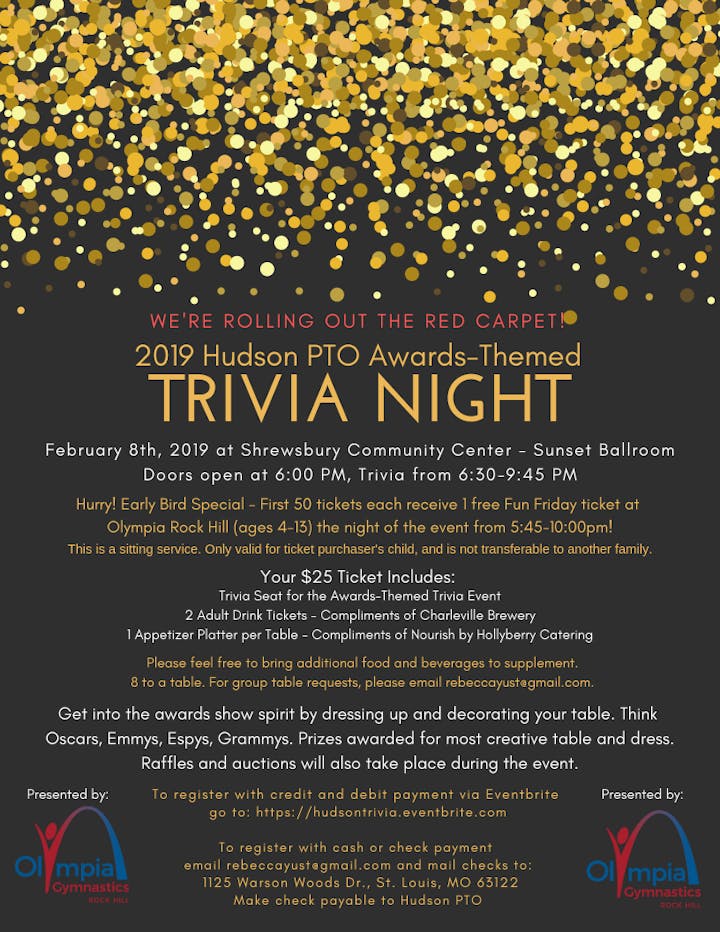 2019 Hudson PTO Awards-Themed TRIVIA NIGHT!
Presented by Olympia Rock Hill Gymnastics
February 8th, 2019 at Shrewsbury Community Center - Sunset Ballroom
Doors open at 6:00 PM, Trivia from 6:30-9:45 PM
Hurry! Early Bird Special - First 50 tickets each receive 1 free Fun Friday* ticket at Olympia Rock Hill (ages 4-13) the night of the event from 5:45-10:00pm!
*This is a sitting service. Only valid for ticket purchaser's child, and is not transferable to another family.
Your $25 Ticket Includes:
Please feel free to bring additional food and beverages to supplement.
8 to a table. For group table requests, please email rebeccayust@gmail.com.
Get into the awards show spirit by dressing up and decorating your table. Think Oscars, Emmys, Espys, Grammys. Prizes awarded for most creative table and dress.
Raffles and auctions will also take place during the event.
To register by credit or debit card, use this website and click the "Tickets" link above
To register with cash or check payment email rebeccayust@gmail.com and mail checks to:
1125 Warson Woods Dr., St. Louis, MO 63122
Make check payable to Hudson PTO