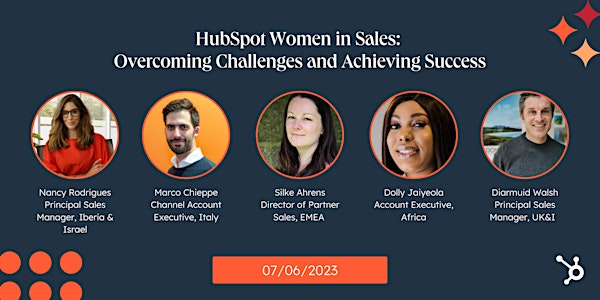 HubSpot Women in Sales: Overcoming Challenges and Achieving Success
Join HubSpot for an online event where our panel will share experiences and advices on how to become a successful woman in sales
Date and time
Wed, 7 Jun 2023 03:00 - 04:00 PDT
About this event
Are you interested in learning more about how to overcome challenges and achieve success as a woman in sales?
Join HubSpot on Wednesday, June 7th at 11 AM (Dublin time) for an online event where our panellists will share their insights on key topics such as working in a flexible environment, maintaining work/life balance, and some advice on career development.
Agenda
Introduction & Welcome
Panel Discussion
Closing thoughts
Moderator:
Nancy Rodrigues - Principal Sales Manager, Iberia & Israel
Panellists:
Dolly Jaiyeola: Account Executive, Africa
Silke Ahrens: Director of Partner Sales, EMEA
Marco Chieppe: Channel Account Manager, Italy
Diarmuid Walsh: Principal Sales Manager, UK&I
Is there any topic / question you would like us to cover? Please submit them by filling this form and we will do our best to cover them during our panel discussion.
Looking forward to seeing you,
The HubSpot team
About the organiser
HubSpot is a leading growth platform on a mission to help millions of organizations grow better. We build the software and systems that empower businesses to transform the way they attract, engage, and delight customers. We're also building a company culture that empowers people to do their best work through our core values of flexibility, autonomy, transparency, and belonging. If that sounds like something you'd like to be part of, we'd love to hear from you.
You can find out more about our company culture in the HubSpot Culture Code, which has more than 5M views, and learn about our commitment to creating a diverse and inclusive workplace, too. Thanks to the work of every HubSpotter globally who has helped build our remarkable culture, HubSpot has been named a top workplace by Glassdoor, Fortune, Entrepreneur, and more.
Headquartered in Cambridge, Massachusetts, HubSpot was founded in 2006. Today, thousands of employees work across the globe remotely and in our offices. Visit our careers website to learn more about culture and opportunities at HubSpot.