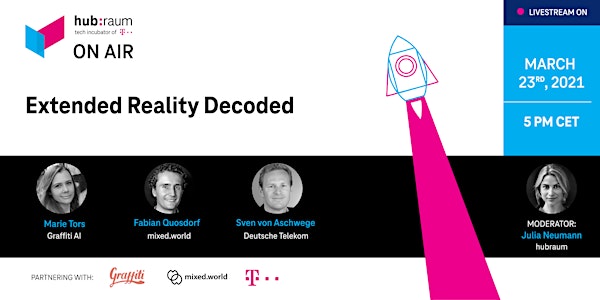 hubraum on air: Extended Reality Decoded
hubraum on air is a monthly virtual event that is organized by hubraum - the tech incubator of Deutsche Telekom.
About this event
Each month, we discuss a new tech-related topic with industry experts and startup investors. The event is open for tech enthusiasts, startup founders, investors and everyone who wants to keep their finger on the pulse.
In our 8th session of hubraum on air, we are going to discuss: What is the role of Extended Reality in our lives? What are its opportunities and limits? What can the experts tell us about the use of AI in creating astonishing Extended Reality experiences? We are inviting Marie Tors from Graffiti AI, Fabian Quosdorf from mixed.world and Sven von Aschwege from Deutsche Telekom.
Our virtual discussion takes place on March 23rd, 2021 between 5 - 6 PM (CET). Check out hubraum's website for more information: https://www.hubraum.com/events/#xr
Once you register, you will receive the link to your email 24 hours before the event.
Join us live on March 23rd at 5 PM!
About hubraum: By bringing together startups and the leading European telecommunications company Deutsche Telekom, hubraum fuels innovation transfer in 5G, AI & IOT technology to create new business opportunities for both sides. You can find more information about our programs and events on: https://www.hubraum.com/