Description
On October 13th, we're bringing The Global Switchboard Hub to life at the Ace Hotel! The event will highlight the people, projects, and organizations that are committed to better connecting Pittsburgh to the world.
The Global Switchboard Hub will be a publicly-accessible website that facilitates communication and collaboration among global engagement professionals, helps individuals find relevant services, and showcases the community's work. We invite you to experience the Hub for yourself at Hub+Spoke, an event that embodies the digital hub through a series of interactive experiences brought to you by partners from across Pittsburgh's global engagement network.
This event is a fundraiser to help launch the digital hub, and we want to see everyone in the community involved and represented. Tickets are sold on a sliding scale, so select the ticket price that is right for you.
Tickets give you access to the interactive portion, formal presentation, and the after party.
Food will be provided in partnership with Conflict Kitchen! Conflict Kitchen is partnering with three local food providers to highlight their culinary, cultural, and entrepreneurial contributions to the Pittsburgh community. The three providers will offer appetizers and samplers that present an entry point into their country of origin's cuisine, coupled with printed interviews with each food provider. The providers who will also curate the music and drink offerings for the event, and will be on hand to engage in conversation with Hub + Spoke guests.
A cash bar will be on hand.
Suggested Ticket Prices:

Standard Plus: $60

Standard: $40

Students: $20

Pay What You Can
**Please note that the difference between the ticket prices is simply related to one's capacity to pay, and is not associated with benefits or access to phases of the event.
Program
Interactive (6:00pm)
Imagine pulling a website from the internet, and exploring it in real life! We're transforming the Ace Hotel gymnasium into a physical representation of the digital hub, with six zones surrounding an open center, like spokes on a wheel. Signage at the entrance of each zone will describe key themes of global engagement, including: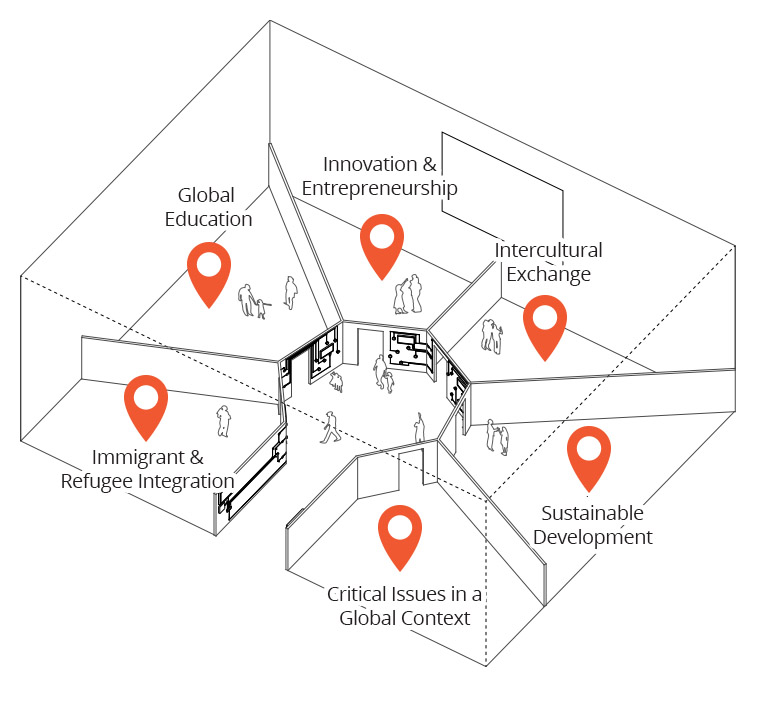 We invite you to, eat, learn, and exchange ideas as you partake in the activities put on by partner organizations in each zone.

Formal Presentation (8:30pm)
Following the interactive portion of the event you will be invited to move from the gymnasium to the 2nd floor ballroom for a keynote address, followed by a short presentation from The Global Switchboard about the digital hub.
After Party (9:30pm)
Following the keynote address, the event will transition into a dance party. Get on the dance floor! Enjoy drinks, music, and a good time!
Organization partners in this event:


Sponsors:
About The Global Switchboard
The Global Switchboard aims to foster effective global engagement in the Pittsburgh region. Through our co-working space and across our membership network we bring people together, encourage inclusive dialogue, and facilitate collaboration that amplifies the impact of globally focused people and organizations.