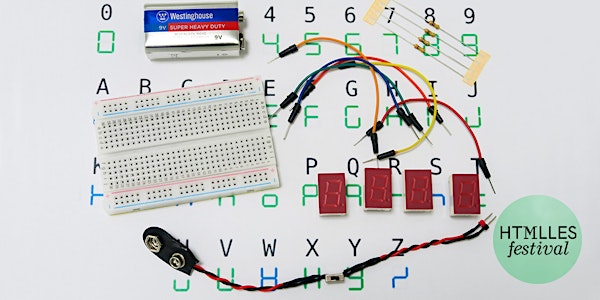 HTMlles Festival | S'amuser avec l'électronique [atelier]
Présenté par Eastern Bloc dans le cadre du festival HTMlles / Presented by Eastern Bloc as part of the HTMlles Festival
About this event
Présenté par Eastern Bloc dans le cadre du festival HTMlles
S'amuser avec l'électronique pendant qu'il est encore temps
Avec Josée Brouillard
Atelier en ligne
Mardi 24 novembre, 14h – 16h
Les participant-e-s pourront se familiariser avec l'art électronique en réalisant un badge personnalisé inspiré par le travail de l'artiste Josée Brouillard. En utilisant des affichages à sept segments, les participant-e-s pourront illuminer le mot de leur choix et ainsi exprimer leur désarroi face à la fin du monde à venir.
Les participant-e-s devront venir chercher leur kit de travail chez Ada X (dates à définir).
Presented by Eastern Bloc as part of the HTMlles Festival
S'amuser avec l'électronique pendant qu'il est encore temps
With Josée Brouillard
Online workshop
Tuesday, November 24th, 2pm – 4pm
Participants will be able to get familiar with electronic art by making a personalized badge inspired by the work of Josée Brouillard. Using seven-segment displays, participants will be able to illuminate the word of their choice and express their dismay at the end of the world to come.
Participants will have to pick up their work kit at Ada X (dates TBD).