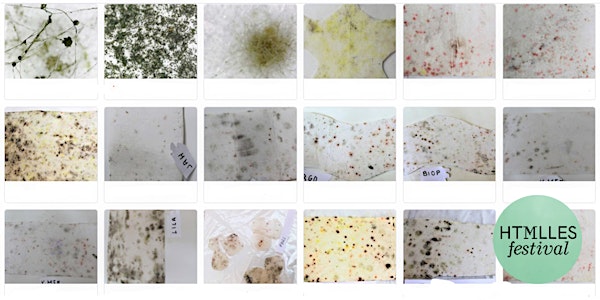 HTMlles Festival | Nous sommes des planètes / We are planets [atelier]
Présenté par TAG dans le cadre du festival HTMlles / Presented by TAG as part of the HTMlles Festival
About this event
Présenté par TAG dans le cadre du festival HTMlles
Nous sommes des planètes, Nathalie Dubois
Atelier
Jeudi 19 novembre, à 14h
En ligne
Pour vous inscrire, contactez ateliers@ada-x.org
Cet atelier explore le microbiote cutané humain, l'ensemble des microorganismes qui peuplent notre peau – de l'épiderme à l'hypoderme. Il propose une réflexion sur ces compagnons si proches et si différents, et qui, par leur nature, nous rendent immenses, planétaire. Pour provoquer une rencontre multisensorielle entre les participant-e-s et leurs microbiotes, les images des colonies issues des micro-organismes de chaque personne seront partagées et commentées. Les participant-e-s produiront des légumes lactofermentés avec leurs propres lactobacilles, ainsi que du levain avec leurs levures. Durant ces manipulations de végétaux et de farine, Nathalie Dubois présentera des données scientifiques et microbiologiques quant aux contenus nutritionnels et sociaux de ces cultures et du microbiome cutané.
Les participant-e-s devront passer chercher le matériel nécessaire chez Ada X en amont de l'atelier.
Presented by TAG as part of the HTMlles Festival
We are planets, Nathalie Dubois
Workshop
Thursday, November 19th, 2 pm
Online
To register, contact ateliers@ada-x.org
This workshop explores human cutaneous microbiota, microorganisms that populate our skin – from the epidermis to the hypodermis. The workshop offers a reflection on these invisible and intimate companions who live with us and yet remind us that we are immense, part of the planetary universe.
To provoke a multisensory encounter between the participants and their microbiomes, images of the colonies that result from each person's microorganisms will be shared and discussed. Participants will produce lacto-fermented vegetables with their own lactobacilli, as well as sourdough with their own yeasts. During these vegetable and flour experiments, Nathalie Dubois will present scientific and microbiological data on the nutritional and social contents of our bacterial cultures and skin microbiome.
Participants will have to pick up workshop materials at Ada X in advance.