Description
The High Tech Gründer Fonds (HTGF) & the German Tech Entrepreneurship Center (GTEC) present in this April Meet Up:
BEYOND AUTOMATION
The Future of Automotive and Mobility!
Panel of Investors, Start-ups and Corporates discuss future Mobility
The automotive industry will be hit by digitization as hard as any other industry. The mobility market is shifting towards diversification, autonomous driving, connectivity (data in and around the vehicles) as well as electrification. But with these trends a lot more questions regarding city policies, change of business models, regulatory challenges, willingness to pay etc. will rise. "Fit-for-purpose" will be the new guidance in decision making. And this development will be even triggered more by emerging markets. Revenues will shift towards on demand and data-driven services. High-density areas will become the new sweet spot to scale new models. The speed of software-based innovation will require upgradeability of cars. Furthermore, emission regulations, battery costs and availability of charging will be substantial for the speed of adaption to these changes. How to make consumers, regulators and corporates ready for vehicles taking over control from drivers?Innovation will come substantially from outside the traditional automotive industry. Is the automotive industry in danger to miss out on these trends? Is this the chance for start-ups to kick-in?
Get more first-hand insides and in-debts analysis from real industry players. Hear what the revolution of the automotive industry looks like and where start-ups find their share in it. Listen to the experts placing their bet in future mobility.
Get the chance to ask crucial questions and get honest answers from our panellists (more informations below):

Arvid Prozesky, Principal Hasso Plattner Ventures
Moritz Funk, CEO Autoaid
Mehmet Cabadak, Analyst Deutsche Bahn Ventures
Christian Lang, CEO & Co Founder, Chargery

Lina Eddisi

, Director of Growth

Xapix
The event will be moderated by the Head of HTGF Berlin Office:

Dr.Tanja Emmerling is a principal at HTGF, the one of the most active Seedinvestors in Europe, and leading HTGF's Berlin Team. She with a focuses on Software, AI, IOT and Mobility related Software. Tanja is a start-up mentor and a welcome guest on various panels. Before joining HTGF, she was Head of New Ventures in the Media industry, responsible for incubation and corporate ventures.

Come by on the 4th of April to GTEC's new event space in the Bpart.Berlin to listen to this, what is promising to be a very exciting, discussion.

See you there!
---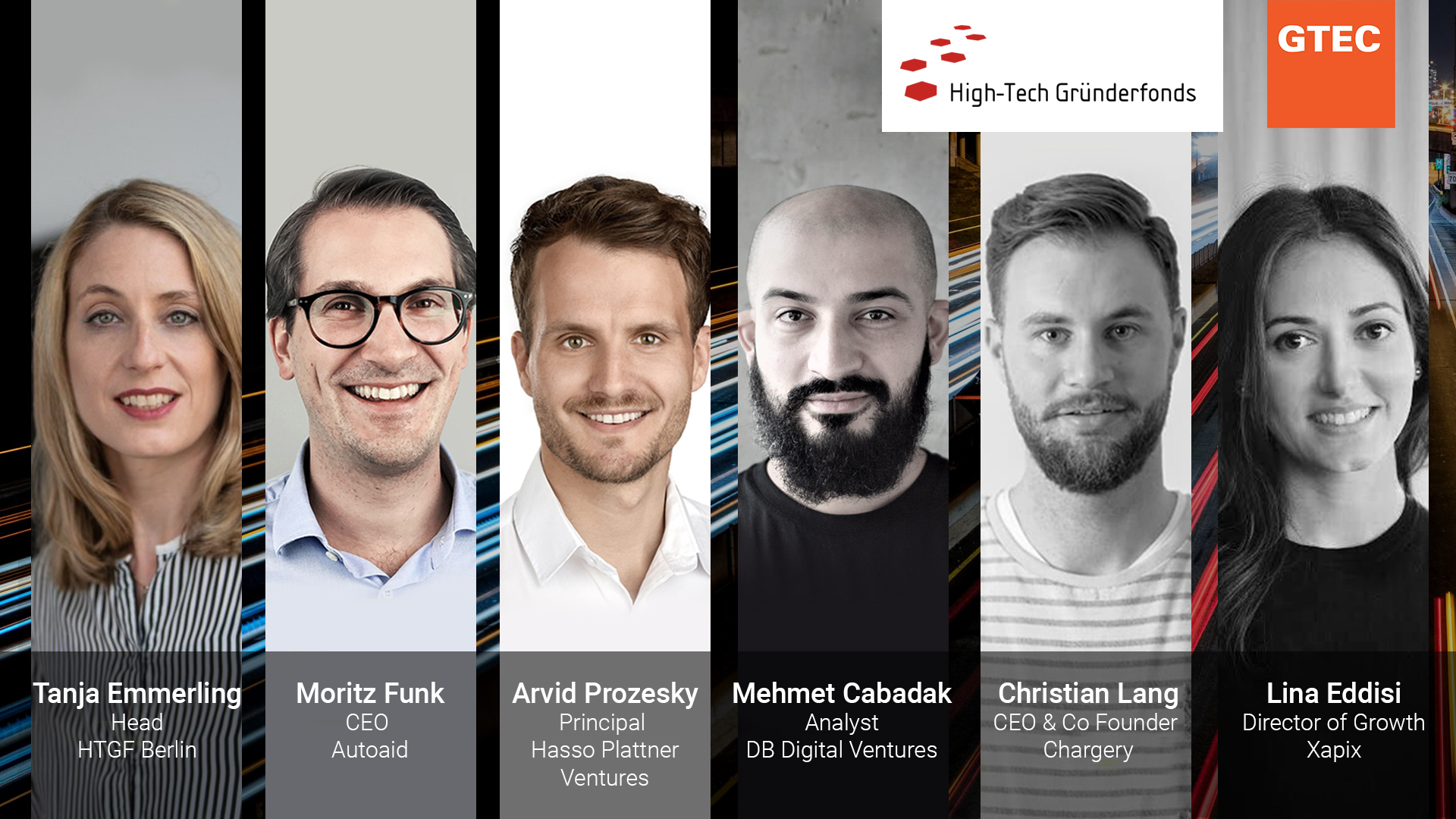 ARVID PROZESKY:
Arvid is a Principal at Hasso Plattner Ventures focussing on the sourcing and evaluation of deep tech companies. He is a software engineer by heart who has worked for Daimler and Volkswagen in a variety of fields such as manufacturing, new business models and vehicle connectivity.
MORITZ FUNK:
Moritz is CEO and founder of autoaid, a leading supplier of aftermarket vehicle diagnostic and OBDII connected car devices. The autoaid connected car devices are the only in the market giving all fleets access to OEM specific vehicle data from almost any make and model. Moritz holds a degree in Business Administration (Diplom-Kaufmann) from Freie Universiät Berlin. He studied in Berlin, Germany and Madrid, Spain.
MEHMET CABADAK:
Cabadak Mehmet is an analyst at Deutsche Bahn Digital Ventures and is screening the mobility industry. He worked for Rocket Internet in their Valuation department before joining DBDV and helping in building up a portfolio of world class investments.
CHRISTIAN LANG:
Christian is CEO and co-founder of Chargery, a Berlin basedemobility start-up. Chargery is a full-service provider for shared electric in urban areas. Core of Chargery is a mobile charging service for electric cars. After doing his MBA in Business Administration, Christian started working for some corporates – e.g. AUDI. Due to his belief in electric vehicles and shared fleets as the future of mobility Christian founded Chargery in sumer 2017 together with his two co-founders Philipp Anders and Dr. Paul Stuke.
LINA EDDISI:
Lina is responsible for growth-related topics at Xapix in the EMEA market, and loves to talk about strategies in the digital age. Prior to joining Xapix, Lina was global head of the Incubator of Continental, where she focused on venture development and fostering collaboration between corporates and startups. Her first destination after graduating with a degree in Strategy & Information was Elektrobit, a midsize company building embedded software for the Automotive industry. While there she laid the foundation of her expertise in software product strategy and M&A in the mobility sector. Besides her daily work she is an advisor and mentor for different accelerator programs like The Singa Business Lab.
By registering for this event, you agree that your contact data will be shared with the HTGF, High-Tech Gründerfonds and they will inform you about further upcoming events.