Actions and Detail Panel
HT Wellness Events CPT- The Beautiful Truth Film
Sat, April 8, 2017, 6:30 PM – 9:30 PM SAST
Description
Healing Truth Wellness Events CPT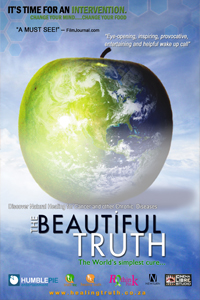 Saturday Evening: "The Beautiful Fruth" Fim Screening
Watch The Preview Here

"The Beautiful Truth" is the inspirational true story of a teen-aged boy who sets out to investigate the direct link between diet and diseases – in the process learning about the danger of toxic chemicals found in our food and water including: fluoride, mercury dental fillings, food additives such as MSG and aspartame, and pesticides - and finds the cure for cancer.

Film Journal says the film "will shock you or confirm your worst suspicions, and even the skeptical will want to find out more on their own."
"The Beautiful Truth is a must-see." – FilmJournal.com
"Guaranteed to cause a stir. One of the best and most important documentaries you will see!" – Scott Hoffman, MoviePictureFilm.com
"THE CURE FOR CANCER? "Documentary Film Defies the American Medical Community's Prescribed Treatments for Cancer and Chronic Disease"

Refreshments (something to drink) is served from 18:30 at the venue and the film comences at 19:00.
Duration of the film: 100min
The film is free, but we do request a R45 donation/contribution towards the venue use and refreshment included. Book/Register your seats here and then make the payment. Please pay in advance, 7 days before the event date. In the confirmation e-mail, you will receive the banking details for EFT's as well as `n link to pay with Credit Card/Debit Card/Cheque Cards. You can also make payment on the website www.healingtruth.co.za, top right, menu button "Payments".

If you do not attend the whole day conference, please invite all your friends also to attend this film event. After seeing this film, they will think differently about food and life!

Date and Time
Location
Devon Valley Hotel
Devon Valley Road
Devon Valley
Stellenbosch, Western Cape 7599
South Africa