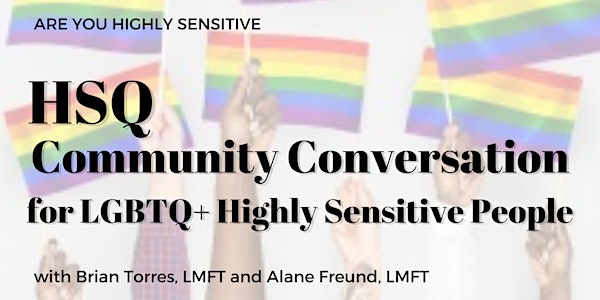 HSQ Community Conversation for LGBTQ+ Highly Sensitive People
Facilitated by Licensed Marriage Family Therapists, Brian Torres and Alane Freund
About this event
Where is our community? How do we find each other as highly sensitive LGBTQ+? We were thinking we might start with this community conversation.
Who should come to our community conversation? If you Identify as both a highly sensitive person and a person in the LGBTQ+ world, you are most welcome. We will be open and curious about what it means to walk simultaneously in both of these identities.
Do you find that you are more impacted by your environment than the majority of people are? Do you have stronger, perhaps even more exquisite, emotional reactions to the world around you? Do you feel overwhelmed by your place in the world–especially because you just don't seem to fit? Or maybe because the world just doesn't fit you?
These statements might be true of you because you have innate high sensitivity.
They may also be true if you are LGBTQ+ and outside the norm of the majority in terms of sexual orientation or gender identity.
What if both are true of you? It can be an exhausting existence, living forever on the outside. Thriving in a world that doesn't fit you, isn't designed for you, and often doesn't see you requires a strong heart and deep skill.
And the gifts of living HSQ are also profound. We know what the world needs…and how to design our lives. We are more socially aware, highly empathetic, and deeply feeling.
Maybe another question is are we thriving and what do we need from our communities.
Sensitive & Strong by Annet de Zwart - A conversation with Alane Freund and Brian Torres about the LGBTQ+ community.
We talked about the importance of community for HSQ's (Highly Sensitive Queer), the LGBTQ+ community. How it is experienced and how to find your tribe.
Meet Brian Torres, MA, LMFT
Brian Torres (he/they), MA, LMFT, is a psychotherapist and consultant based in Los Angeles, California. Brian is a former mental health and crisis counselor with the Los Angeles LGBT Center and The Trevor Project. He specializes in working with highly sensitive persons and BIPOC and LGBTQ+ folks in his clinical practice. Brian is passionate about the intersections of high sensitivity and queer identity. He has presented at various conferences and conducted training on Highly Sensitive Persons in the LGBTQ+ community.
http://www.briantorrestherapy.com/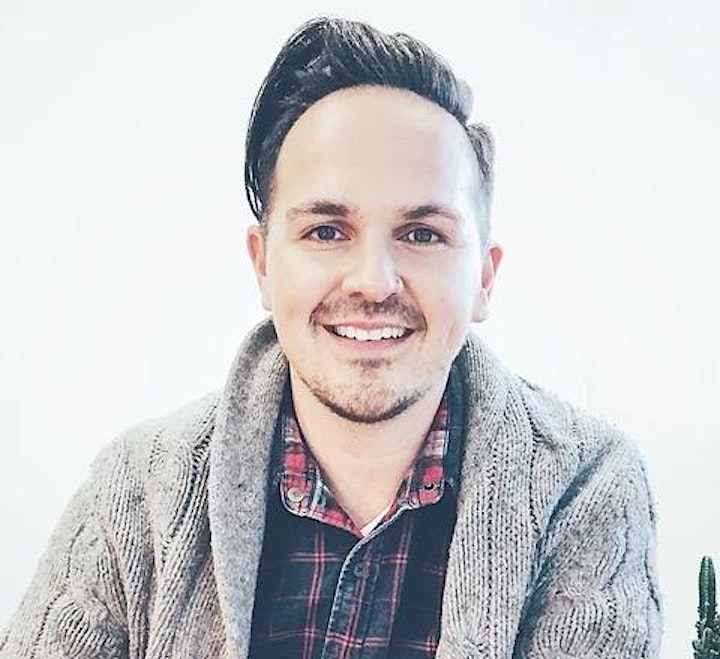 Meet Alane Freund, LMFT, International Consultant on High Sensitivity
alanefreund.com & areyouhighlysensitive.com
As a consultant, speaker, and therapist for highly sensitive people, Alane Freund has helped adults, youth, and families focus on solutions for over three decades. An International Consultant on High Sensitivity (ICHS), Ms. Freund has developed and implemented programs for highly sensitive people and youth as well as the clinicians who serve them. She holds Masters' degrees in both clinical psychology and school counseling and is the parent of a highly sensitive young adult. Ms. Freund's widely acclaimed Talk at Google, Understanding the Highly Sensitive Person, has become a major resource for HSPs worldwide. She hosts the twice monthly Are You Highly Sensitive LIVE Q&A workshops and leads small group Sensitivity Circles, including Parenting Sensitivity, Sensitive & Anxious Teens, HSQs, and Wise Women & Wonder (HSWomen 50+).
Alane offers team building, educational workshops, and retreats online and across the globe, including her trademarked program, HSPs & Horses, at Heart and Mind Equine in Marin County, California. She can be reached for consultation or speaking through her website, AlaneFreund.com or via her YouTube channel: Alane Freund LMFT. (Lic. #LMFT36077).