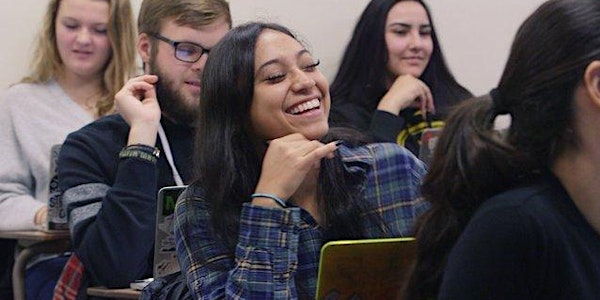 HSI-NOW Webinar Series-Toward Latinx "Servingness" on WI's College Campuses
Learn how local colleges are contributing to Latinx student success!
About this event
Hispanic-Serving Institutions (HSIs) are colleges and universities in which at least 25% of the students are Hispanic. In the state of Wisconsin, there is a growing number of HSIs and "emerging" HSIs – institutions that have seen tremendous growth in their Latinx student populations and are poised to become HSIs in the near future. But while the federal designation of HSI is based on the demographic make-up of the student body, being "Hispanic-Serving" means so much more than enrollment numbers. This webinar series takes a deep dive into a variety of Wisconsin campuses that are, or will become, HSIs, and what it means to them to inhabit an ethos of "servingness".
Session 2: Exploring Wisconsin's Public Four-Year Universities
Wednesday, August 10, 12pm-1:15pm
Facilitator: Luis Benevoglienti, Associate Director of Multicultural Initiatives, UW-Parkside
Panelists:
Alberto Maldonado, Director of the Roberto Hernandez Center, UW-Milwaukee
Dr. Peggy James, Dean of the College of Social Sciences and Professional Studies, UW-Parkside
Carlos Salazar, Director of Intercultural Engagement, UW-Oshkosh
Session 3: Exploring Wisconsin's private colleges and universities
Wednesday, August 17, 12pm-1:15pm
Facilitator: Jacki Black, Director of Hispanic Initiatives and Diversity & Inclusion Educational Programming, Marquette University
Panelists :
Elena Hernandez Burke, Coordinator of Global Exchange Programs & Hispanic Student Initiatives and Director of Diversity, Equity & Inclusion, Alverno College (HSI)
Jason Meyler, Associate Professor of Spanish, Chair of the World Languages Department, HSI Committee Member, Mt. Mary University (HSI)
Session 4: Exploring Wisconsin's Technical Schools
Wednesday, August 24, 12pm-1:15pm
Facilitator: Arlensiu García, Student Recruitment Specialist, Milwaukee Area Technical College
Panelists:
Cynthia Galvan, HSI Academic Diversity Officer & English Faculty, Milwaukee Area Technical College
Director of HSI Initiatives, Gateway Technical College
Session 1: What's an HSI anyway? *RESCHEDULED*
Thursday, Sept. 1st, 12pm-1:15pm
Facilitator: Arlensiu García, Student Recruitment Specialist, Milwaukee Area Technical College
Keynote:
Margarita Melendez, HSI Education Program Specialist, U.S. Department of Education

This webinar series is sponsored by the HSI-Network of Wisconsin (HSI-NOW), a coalition of leaders from higher education institutions in Southeast Wisconsin that have obtained or are working toward the federal designation of Hispanic-Serving Institution (HSI) and are committed to attracting, supporting, retaining, and graduating underrepresented students. HSI-NOW member institutions share information and best practices, seek out collaborative opportunities to address challenges, and engage with and serve as a resource for the broader community. By tapping into the unique strengths of each institution and creating an infrastructure of mutual support, HSI-NOW collectively builds capacity to graduate an increasing number of underrepresented students in the region and to truly serve all of our diverse community stakeholders.