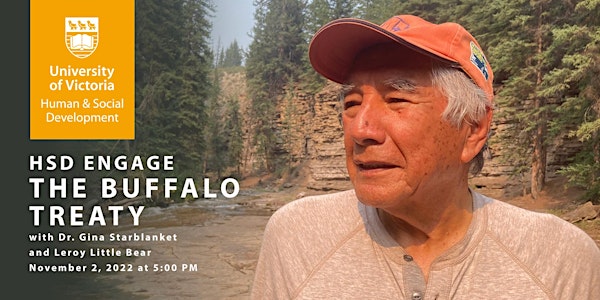 HSD Engage: The Buffalo Treaty
Hear Dr. Leroy Little Bear discuss his work on the historic international Buffalo Treaty and its importance today.
When and where
Location
First Peoples House Ring Road Victoria, BC V8P 5C2 Canada
About this event
A culture consists of paradigmatic concepts, values, and customs. These beliefs, behaviour, relationship norms, and interpretive tools of the society one may refer to as the metaphysics of that society. One of the key touchstones of the metaphysical world for Indigenous peoples of the northwest plains has historically been, and continues to be, the buffalo. These relationships with the largest land animal on the continent are more than the National Geographic story of Indigenous peoples using every part of the animal. Instead, and as Leroy Little Bear has shared for some time, buffalo are a keystone species, intricately connected to Indigenous paradigms. This is simultaneously an environmental statement, and a cultural, economic, and political one.
At this event, Dr. Gina Starblanket will host Dr. Leroy Little Bear to discuss his work on the historic international Buffalo Treaty that was initiated between First Nations on both sides of the USA-Canada border in 2014. Together, they will talk about the contemporary importance of the Buffalo treaty to Indigenous communities, with particular emphasis on their research collaborations. This talk will explore the treaty in relation to the theory and practice of Indigenous governance generally, with a focus on buffalo-human relations, inter-Indigenous relations, relationality, kinship, and practices of treaty-making.
Dr. Gina Starblanket, Associate Professor, School of Indigenous Governance
Gina is Cree/Saulteaux and a member of the Star Blanket Cree Nation in Treaty 4 territory. Her research takes up Indigenous political orders and Indigenous movements towards political transformation, the politics of treaty implementation, prairie Indigenous political thought, along with questions relating to gender and Indigenous feminisms.
Leroy Little Bear, Professor Emeritus, University of Lethbridge
Leroy is an esteemed Blackfoot researcher. He is the founding member of Canada's first Native American Studies Department, founding Director of the Harvard University Native American Program, and recipient of the National Aboriginal Achievement Award for Education. Little Bear was born and raised on the Kainai First Nation in Alberta, Canada. He was one of the first Indigenous people to graduate from the University of Lethbridge, completing a Bachelor of Arts Degree in 1971. He went on to complete a Juris Doctor Degree at the College of Law, University of Utah in 1975. Along with his wife, Amethyst First Rider, Little Bear brought about the historic Buffalo Treaty between First Nations on both sides of the USA-Canada border in 2014.
Refreshments and light snacks will be served prior to the lecture.