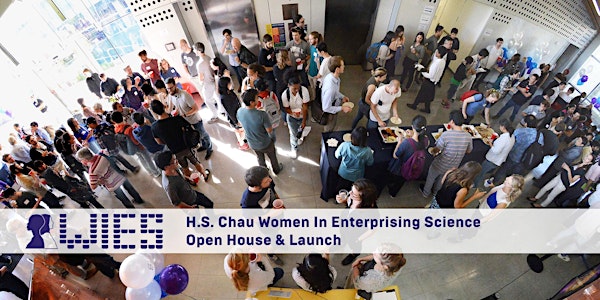 H.S. Chau Women In Enterprising Science Open House & Launch
A live event at the IGI to learn about the HS Chau Women in Enterprising Science Program & addressing gender inequity in bioentrepreneurship
When and where
Location
Innovative Genomics Institute Building Room 115 2151 Berkeley Way Berkeley, CA 94704
About this event
Join us to hear about how the HS Chau Women in Enterprising Science Program (WIES) at the Innovative Genomics Institute (IGI) is helping the next generation of biotech entrepreneurs and learn about opportunities to apply!
This in-person event will include:
Panel discussions on Women in the Biotech Entrepreneur space.
Meet the 2022-2023 WIES and Tory Burch Fellows: Hear from our Fellows about their experiences during our inaugural year.
Tours of the new dedicated labs and spaces that spark innovation.
Delicious food and beverages.
When: February 10, 2023, 3:00 pm to 6:00 pm
Where: Innovative Genomics Institute Building (in-person, Room 115, with the reception in the lobby)
Who this is for: Faculty, post-docs, graduate students, and staff interested in learning more about the IGI WIES program
Program
3:30 pm — Introductory Remarks
Brad Ringeisen (Executive Director, IGI)
3:35 pm – 4:20 pm — Panel: Women Breaking through the Biotech Glass Ceiling
A recent Harvard Business Review study (Bittner & Lau, February 25, 2021 issue) found that female founders in biotechnology received only 2.3% of venture capital funding in 2020.
In this panel discussion, we will hear from successful entrepreneurial women in biotechnology as they share their founder stories of struggles, wins, and obstacles while providing upcoming entrepreneurs inspiration and practical advice to break through the biotech glass ceiling.
Panel
Chaeyoung Shin (Founder and CEO, NAMUH)
Janice Chen (Co-Founder & CTO, Mammoth Bioscience)
Tammy Hsu (Chief Scientific Officer & Co-Founder, Huue)
Moderator: Clarice de Azevedo Souza (Senior Program Manager, IGI)
4:20 pm – 4:45 pm — Panel: Insights from the IGI Entrepreneurial Fellows
Entrepreneurship is much more than simply having an idea. 90% of the work is in implementation.
In this panel discussion, we will hear from the 2022-2023 WIES and Tory Burch Fellows and learn how the IGI's entrepreneurial programming is helping them on their journey.
Panel
Jennifer Hamilton (WIES Fellow)
Lin Du (WIES Fellow)
Navneet Matharu (WIES Fellow)
Veronika Kivenson (Tory Burch Fellow)
Moderator: Susan Abrahamson (Director of Intellectual Property, IGI)
4:45 pm – 4:50 pm — Closing Remarks
Jennifer Doudna (Founder and Chair of the IGI Governance Board)
4:50 pm – 6:00 pm — Entrepreneur Lab Space Tours and Reception
Music provided by DJ Christie James
Guest Speakers
Chaeyoung Shin
Dr. Chaeyoung Shin is the Founder and CEO of NAMUH, a company with a mission to bridge the nutritional gap between infant formula and breast milk at the molecular level.
Dr. Shin graduated with her Ph.D. in Chemical Engineering from UC Berkeley, where she found a knack for biotechnology and research that could further humanity (literally and figuratively).
Janice Chen
Janice Chen is the co-founder and CTO of Mammoth Biosciences, a biotechnology company based in the San Francisco Bay Area that is harnessing the diversity of nature to power the next generation of CRISPR products across diagnostics and therapeutics. Through its discovery of novel CRISPR systems, the company is enabling the full potential of its platform to read and write the code of life.
Janice received her Ph.D. from UC Berkeley while in the lab of Nobel Laureate Jennifer Doudna. Janice was selected as a Forbes 30 Under 30 in Healthcare, Business Insider's 30 Under 40 in Healthcare, Endpoints Top 20 Women in Biopharma, MIT Technology Review 35 Innovators Under 35, EY Entrepreneur Of The Year, SF Business Times Most Influential Women, and delivered a TEDx talk on the potential for CRISPR to democratize diagnostics.
Tammy Hsu
Tammy Hsu, Ph.D., is the Co-Founder and CSO of Huue, a biotechnology company creating sustainable indigo dyes for denim.
Tammy received her BS and Ph.D. in Bioengineering at Stanford University and UC Berkeley, respectively. Dr. Hsu credits her experience in the Dueber Lab at UC Berkeley, where discussions of biotech industry innovations were frequent, for bringing about her entrepreneurial mindset.
In 2021, Tammy was selected as MIT Technology Review 35 Innovators Under 35.
Accessibility
The event venue is wheelchair accessible. We strive to host inclusive, accessible events that enable all individuals to engage fully. To request accommodation or for inquiries about accessibility, please contact James Paul "J.P." Gonzales, jp@humancompatible.ai, 619-818-6586.