Description
RecruitingDaily Presents: #HRTX 2018
In the world of talent acquisition, we understand better than most that time is a precious commodity. So, we invite you to join us for a morning full of learning that we know will be of immense value. We'll have you back in your office that afternoon, so you can finish up your day with actionable experience. In other words, it's worth it to attend and you can tell your boss we said so.
---
Before you get too excited, this event is for certain folks:
You lead (manager, director, VP or above) a talent acquisition department (corporate not contractor), your company has more than 1,000 employees OR in 2018 you need to hire more than 300 people.
---
What to expect:
We'll start with introductions. Then, we'll have a light breakfast and a truckload of coffee after which we'll be breaking the audience into 4 groups. Each group will engage in candid sessions facilitated by industry experts.


Torin Ellis - Diversity Recruiting
Torin is a diversity strategist, published author, and contributor on SiriusXM. As a tenured practitioner, he addresses talent development and recruitment through the leadership lens. Engagements range from surgically sourcing and securing high impact talent, curating conversations around bias/race and inclusion in the workplace, to setting strategy for internal recruiting teams.

Jo Weech - College Recruiting
Employee engagement is the key to retention. From sourcing through team building, Jo has enjoyed cultivating a Silicon Valley environment within federal contracting and startups. Collaborating with companies to attract and engage the most talented resources from unconventional places continues to both challenge and enthuse her.

Ben Gotkin - Employee Referrals

As a consultant with Recruiting Toolbox, Ben works with clients to build and deploy high ROI recruitment strategies and processes, identify and implement the right recruitment technology, and a bring real-world, practitioner focus to make it all work well together: people + process + technology.
---
The fourth group will be lead by Subject Matter Experts (SMEs, we don't call them software vendors) that will be facilitating critical recruiting tech conversations.
About every hour so, each group will rotate through all four sessions. At or around lunch each facilitator will reveal what was learned and how to action the advice from the day. Brian will close out the event with his thoughts on the day.


Brian Fink - MC
With 10+ years of successfully guiding innovators across North America, Brian Fink's focuses on building recruiting functions, candidate engagement, organizational transformation, recruiter training, and executive search. Whether helping startups take-off or working with disruptive companies to navigate growth, Brian enjoys relationships with visionaries who meet challenges head-on and driving talent towards opportunity.
---
Selling this internally:
> Networking with your local peers
> Actionable insights from the the facilitated conversations

Diversity Recruiting

College Recruiting

Employee Referrals
> Discussions with recruiting tech leaders
See you there!
---
Btw, the venue is AWESOME: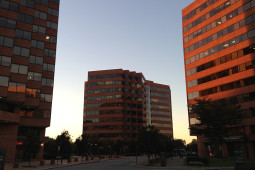 Brazen Technologies, Inc. Corporate Office, 2107 Wilson Blvd #500, Arlington, VA 22201
The business park (Colonial Place) has underground parking for $14 for the day. You can enter/exit once you turn in to Colonial Place from Wilson or Clarendon Blvd or from the other side on Key Blvd.