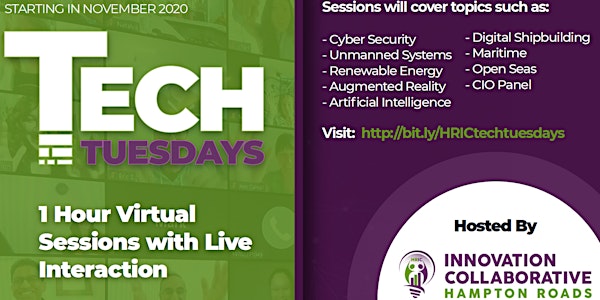 HRIC Tech Tuesday - VA Offshore Wind
HRIC Tech Tuesdays is a recurring series of lunch hour technical content webinars intended to be monthly on a Tuesday (schedules may vary).
About this event
Tech Tuesdays is a series of 1-hour max Zoom sessions live, with chat Q&A. To see the month-by-month lineup, visit: http://bit.ly/HRICtechtuesdays. The next event coming up will be:
February 9, 2021 Session 4: VA Offshore Wind Project, Noon-1p EST
Virginia's offshore wind energy initiative, supported by Old Dominion University's research and coordination, came to life in October with the launch of operations of two pilot turbines in the Atlantic Ocean.
These two 6-MW pilot turbines will be used as a testbed to demonstrate innovative technologies and design methods that will reduce the cost of energy from Dominion Energy's 2.6 GW commercial project, which will consist of more than 185 14-MW turbines, due to be fully operational by year-end 2026.
"I'm proud that Old Dominion is harnessing its talents to contribute to what promises to be a crucial milestone in energy innovation," ODU President John R. Broderick said, "and I'm excited we are now able to show off the first phase of what we hope will be the largest wind farm in the country."
On Tuesday, February 9, 2021 from noon-1p EST, join George Hagerman, senior project scientist at ODU's Center for Coastal Physical Oceanography and Lloyd Eley, manager of site construction, Dominion Energy for an in-depth view of the project to-date and what Virginia can look forward to over the horizon.
Zoom log-in details will be emailed out to registrants in advance of the session.
To learn more about HRIC and its programs, visit our website at: http://hrinnovationcollaborative.com/ and benefits of membership at: https://technologyhamptonroads.com/why-join/.
Please share with your network to help spread the word.
Watch this outstanding video to understand some of the huge advantages Virginia has in offshore wind: https://www.youtube.com/watch?v=KUtHZvF94gw