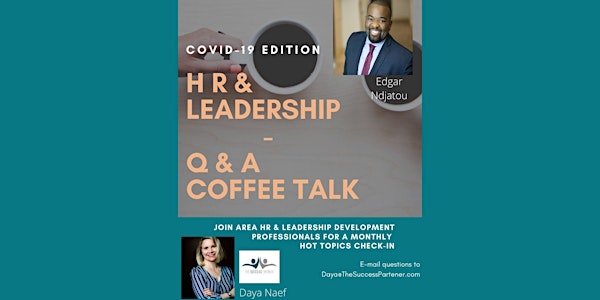 HR & Leadership Q & A Coffee Talk
Description
Demonstrating leadership can be challenging in the best of times! Deadlines, personality clashes, policies and regulations!
Now, most or all of our personnel are remote. Some have other family members with them while they're trying to work. Some don't have the necessary equipment or technology.
Situations are different and difficult.
We've opened up this Q & A for HR Professional Edgar Ndjatou and Leadership Development Professional Daya Naef to lead a discussion on addresses things just like these.
Please feel free to email questions ahead of time to daya@thesuccesspartner.com or could to the call. Depending on the size of the group we may have open or chat Q & A.
This will be a reoccurring event, dates TBD. Follow The Success Partner on Facebook and Eventbrite for events.