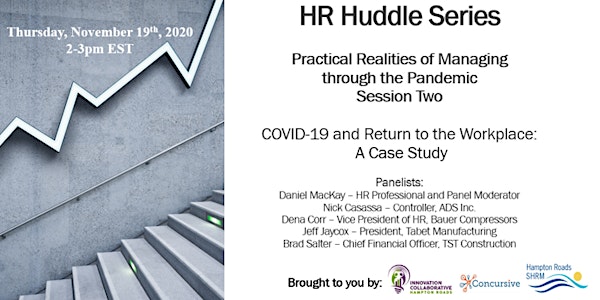 HR Huddle Session 2
The HR Huddle Series discusses the challenges of managing the impact of COVID-19 for a small-to-medium sized business.
About this event
Session 2 of the Series
Join a panel of local experts on Thursday, November 19th from 2-3pm to review a case study about challenges and solutions related to a return to the workplace during the pandemic.
Program Hosts
• Dan Bell, Hampton Roads Innovation Collaborative
• Dave Richards, Concursive Corporation
Format: Live Case Study
Listen as experts discuss how a fictional manufacturing company might navigate the challenges and issues posed by remote work and the need to return employees to the workplace. Specifically, what are the key considerations regarding safety, employee wellbeing, finance, and customer service. The case study will explore the negotiations and collaborations among department leaders as they manage through competing priorities while focused on achieving business objectives. Review the short case study in advance and consider how your thinking, experiences and ideas might align with theirs.
The Panel
• Daniel MacKay – HR Professional and Panel Moderator
• Nick Casassa – Controller, ADS Inc.
• Dena Corr – Vice President of HR, Bauer Compressors
• Jeff Jaycox – President, Tabet Manufacturing
• Brad Salter – Chief Financial Officer, TST Construction
Audience
• Business owner / leader with limited Human Resources staff
• Human Resources Professionals
Click for flyer: https://technologyhamptonroads.com/wp-content/uploads/HR-Huddles-Promotion-Session-2.pdf
Zoom link will be emailed out to registrations two days in advance of session.
To learn more about HRIC, click: https://technologyhamptonroads.com/
To learn about the Value Add of becoming an HRIC Member, click: https://technologyhamptonroads.com/why-join/