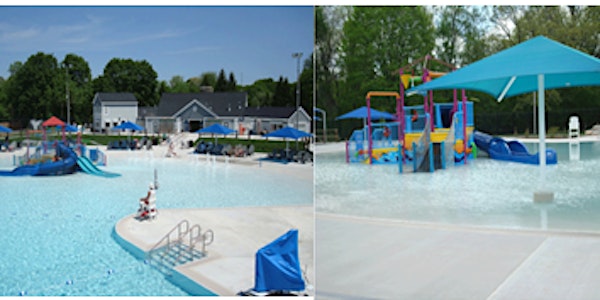 Hoyt Park Pool Party!
Hoyt Park Pool Party! Sponsored by Potawatomi Hotel & Casino's Heart of Canal Street program and organized by Team Up! with Families!
When and where
Location
Hoyt Park 1800 North Swan Boulevard Wauwatosa, WI 53226
About this event
Thank you Potawatomi Hotel & Casino's Heart of Canal Street program for improving the lives of children in Southeast Wisconsin by being the primary sponsor of this fun family event! It's a pool party just for us!!!  Join us at the beautiful Tosa pool at Hoyt Park that we rented just for kids with special needs and their families & friends!!  This is a great time!  They have a lift, and it's zero-depth, so there are options for physically challenged individuals to enjoy the water. This FREE event is for families and friends of children with special needs.  The kids will love it!  The concession stand will be open during the event for the purchase of food and beverages!  Lifeguards will be on duty, but adult supervision of children is mandatory!  Please register to attend with the family name, phone number, and email address of each guest/family unit!! This helps us to let them know how many lifeguards are needed. These are their guidelines from their website regarding COVID:
By entering the pool and related facilities, you are taking responsibility for your own protection.
It is highly recommended that you wash your hands with soap and water frequently.
Do not use the pool if you have a cough, fever or other symptoms of COVID-19 or GI tract symptoms including nausea, vomiting or diarrhea in the past two weeks.
Please follow current CDC guidelines when it comes to the wearing of masks, social distancing and gathering in groups.
Also remember we have a vulnerable population attending so if you feel sick or have a fever DO NOT ATTEND or if waiting for results of a COVID test then do not attend. This event is supposed to be a safe environment for our special needs kids and we want families to have peace of mind while participating. No need to print out tickets for the event, we'll have a check-in process with just your name and quantity of people.  If the weather looks questionable or if the event gets canceled, we may need to reschedule and will notify you via email so please check before attending, especially if it's raining.  For this reason it is best to pre-register so we can notify you of any changes. You can bring your refreshments or purchase food at the concession stand during the event!  During the event, we may take photos for our webpage and fundraising events, if you would prefer not to have a photo taken, please notify us at the event. Any donations to keep these events possible is greatly appreciated, and we will have a bucket available at the sign in desk:-).  These hours are after their public hours and are our only option to reserve for just us! Hope to see you there!