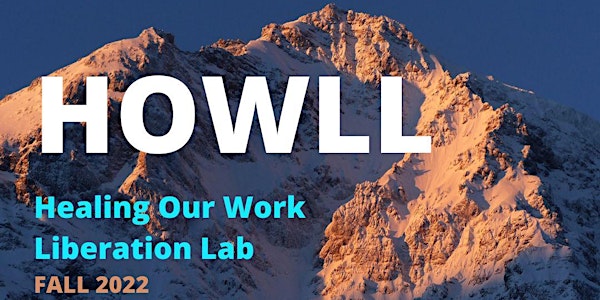 HOWLL (Healing Our Work Liberation Lab)
Gather with nonprofit and community leaders to explore possible futures and ask "what if?" our work and lives aligned with liberation.
Refund Policy
Refunds up to 7 days before event
Eventbrite's fee is nonrefundable.
About this event
howl /houl/
noun: howl; plural noun: howls; verb: howl
a loud cry of pain, fear, anger, amusement, or derision
a prolonged wailing noise such as that made by a strong wind
to cry out loudly and without restraint under strong impulse (such as pain, grief, or amusement)
to drown out or cause to fail by adverse outcry
Are you crying out for a liberatory work culture that aligns with the life you want and need? Are you ready to join your voice with others in grieving, questioning, reimagining, and practicing? What does liberatory leadership look like now? What is the liberation that we are presently longing for? What if we lived and worked in alignment with our visions of justice and liberation? What would our relationships with one another and ourselves look and feel like?
As we head into our 4th year of our work, we invite new AND returning HOW community participants to revisit the themes from our past programming in this 3-session series to explore what has changed as our world changes, what lessons we have learned, and see what we're still grappling with related to:
Accountability & Repair: What would our work and relationships look like if we could transform harm into healing?
Centering Care: What if care was both the means AND the outcome through which our society conducted itself?
Navigating Change & Transition: What if we embraced change and meaningfully honored transitions of all kinds?
The space created through Healing Our Work's facilitation approach aims to build a community through safety, care, and accountability. More on our approach here: https://healingourwork.com/how-we-work/.
Over THREE (3) peer support and emergent learning sessions together we will intentionally slow down to tap into our collective wisdom and creativity to begin to build our capacity and our practices of:
reconnecting with our humanity, values, voices, and bodies to show up authentically in our workspaces and relationships
uncovering and naming oppressive systemic and relational norms and dynamics
dreaming up and modeling intentional ways of leading and being
building relationships for ongoing support for our radical leadership
What You'll Experience
Three live, interactive online group peer support sessions, each meeting for 2 hours (with breaks), once per month facilitated with a balance of structure and spaciousness and individual and collective exercises
Curated resources and creative reflection activities for further self-study
A container for developing relationships and incubating possibilities and practices to support your well-being, healing, and growth
Peer support from a community interested in individual and collective transformation
Tips, tools, and practices for accepting, integrating, and navigating change and transformation into your daily life
Fall 2022 HOWLL (Healing Our Work Liberation Lab) Zoom Meeting Dates -- All meetings will be 10:00am-12:00pm EST:
Note: Registration covers attendance at all 3 meetings:
Fridays September 16th, October 14th, November 18th
HOW alumni AND newcomers to the HOW community are all welcome!
Payments & Sliding Scale: Our HOW Huddle series is $150-$300 for the full 3-session series depending on where participants feel they fall on the scale. Patreon discount is 10% off the series or $135-$270. If you can, please pay the suggested registration fee to help cover the cost of our planning, facilitation, and web hosting. If you are not paying the full rate, you can choose the "Pay what you can" ticket option and choose a rate on the scale, no questions asked. We also have a discounted ticket option for our Patreon members. Also, we are aware that $150 for the series is still too high for some people; if this is the case for you, please contact us to start a discussion as we do not want cost to be a barrier. Limited scholarships are available. ***If your organization is paying for you to attend, please use the full rate.***
10% of our revenue will be donated to BIPOC content authors/contributors/scholars whose work we are sourcing and building upon.
IMPORTANT INFORMATION TO NOTE:
*Confidentiality will be paramount in this group. Participants will play an active part in shaping the content of this series, and will be invited to bring questions, resources, and real-life examples from their work to aid the group's learning.
**This is NOT a training. It is a lab. It is a playground. It is a collaborative space to connect, explore, and practice, with HOW supporting through facilitation and holding space.
*** An integral part of this series is the peer support and connection that will be built between participants. With this in mind, we expect participants to commit to attending all 5 sessions.
****If you are not sure if this workshop is for you, feel free to reach out to us for clarity. We would love to hear your questions and concerns.
The Facilitators:
Kris Smith (they/she) uses their training as a social worker (MSW University of Pennsylvania), experience as a social justice-oriented trainer, and sensibilities as a visual artist in facilitating group work. These underpin their understanding of individual trauma, group dynamics, and exploration of identity and community. Kris brings 16 years of facilitation experience along with a background with youth work and social justice in New York City and Philadelphia. Kris also co-facilitates Weavers of Equity, a peer professional development program for Philadelphia women of color in organizational leadership positions. In addition to their work with Healing Our Work, Kris is an Associate Consultant with Dragonfly Partners, LLC and supports organizations to get unstuck in their social change work both internally and externally. Kris is also a Trainer and a certified Trauma-Competent Professional through Lakeside Global Institute, where they facilitate workshops about individual and collective trauma and healing around Pennsylvania.
Julia Terry (she/her) is a visual artist, educator, and facilitator. She is passionate about the power of art for trauma-informed, anti-racist education, and parenting for liberation. She has worked in nonprofit administration and leadership for the past 15 years, and founded the Art of Growing Up, a rites of passage program for youth. Julia holds a B.A. from Hampshire College in Studio Art and Youth Development, and completed her M.A.T in Art Education at Tufts University and the School of the Museum of Fine Art. She currently sits on the Philadelphia Commission for Women. Publishings include chapters in "Difficult Dialogues about Twenty-First-Century Girls" edited by Donna Marie Johnson and Alice E. Ginsberg, 2015, and the "Journal of Applied Arts & Health". Julia is a recipient of a Leeway Art and Change Grant and has exhibited her work in group and solo shows. Her art can also be found on the cover of "Re-Writing the Return to Africa," by Anne Francios and in "Affirming Diversity: The Sociopolitcal Context of Multicultural Education," by Sonia Nieto and Patty Bode. As a facilitator she brings expertise in leadership and organizational models, trauma informed approaches, rituals and creative processes, strategy, and white accountability.
Julia lives in West Philly, with her two children, and loves to make cut paper art and collage, have spontaneous dance parties in her kitchen, and buy flowers at the farmers market.