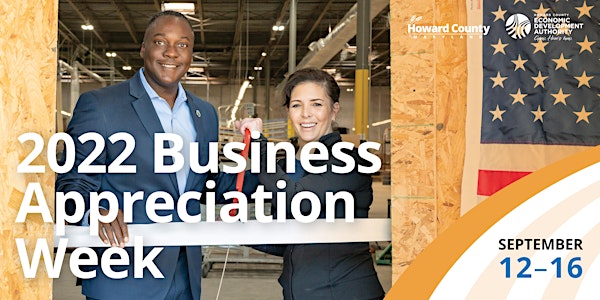 Howard County Business Appreciation Week 2022! (Please Select One Time)
Howard County businesses of all types and sizes are invited to take part in the 2022 Business Appreciation Week.
When and where
Location
Meetings to be held at your place of business. Meetings can also be arranged to be held at HCEDA Columbia, MD 21046
About this event
Howard County welcomes businesses of all industries and sizes to take part in this year's Business Appreciation Week 2022, September 12-16, 2022. During this week, ambassador teams including county department heads, government officials, community organization leaders, and Howard County Economic Development Authority (HCEDA) team members will visit local businesses to learn more about their experiences doing business in Howard County.
As part of HCEDA's ongoing mission with County Executive Calvin Ball, we would like to hear directly from businesses to:
Learn more about the company's growth, highlights, and challenges
Receive feedback on opportunities to continue to improve the business climate in Howard County
We hope that you take the opportunity to share your stories and experiences by signing up for an appointment.
Appointments are available Monday, Tuesday, and Thursday between 9:00 AM and 4:00 PM, but space is limited. Registration will close on Monday, August 15th.