Howard and Frances Morphy at The Interval: In the Footsteps of the Ancestors

Tuesday, November 3, 2015 from 6:30 PM to 8:30 PM (PST)
Event Details
The Long Now Foundation welcomes
Howard Morphy and Frances Morphy
Anthropologists (Australian National University, Canberra)
"In the Footsteps of the Ancestors - the Dreamtime in the politics of the present"
co-presented with the Center for Advanced Study in the Behavioral Sciences

@ The Interval at Long Now: check-in begins at 6:30; talk will start at 7:30 
Join us afterwards for drinks and conversation with our speakers

Howard and Frances Morphy have spent decades working with and studying the Aboriginal people of the Northern Territory of Australia. They will share their expertise on the Yolngu people: their mythology, language, art, and culture--including the belief in a Dreamtime (Wangarr) of world-creation which continues in the present.
The Morphys will discuss the Blue Mud Bay court case in which the Yolngu, inspired by their tradition of spiritual relationships with the land and sea, won legal recognition of their rights over their land and coastal waters. The Morphys helped map the ancestral presence of the territory which became evidence to explain to the modern legal system the millennia-old traditions that were the basis for the Yolngu claim.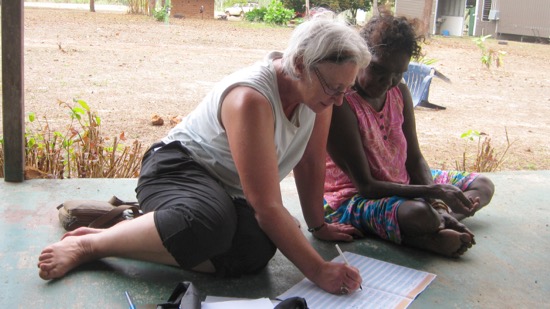 We will have limited copies of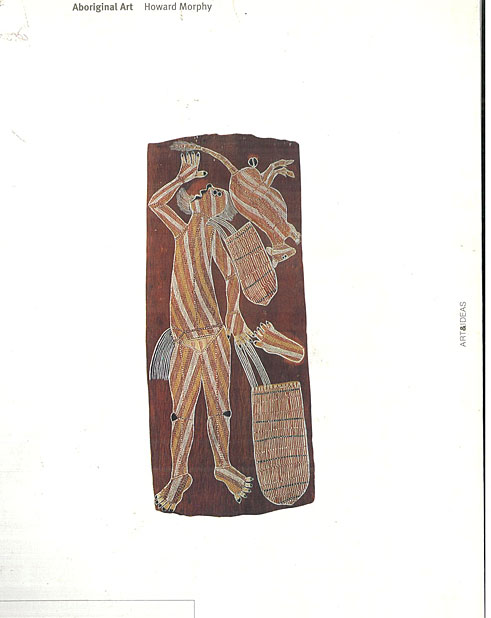 Howard Morphy's book Aboriginal Art (Phaidon) on sale at the talk.
Howard and Frances are currently visiting Research Affiliates at Stanford's Center for Advanced Study in the Behavioral Sciences where they are exploring the possibilities for, and limits of, developing metacategories for cross-disciplinary theorization and cross-cultural understanding.

Long Now is proud to regularly feature CASBS Fellows in our "Conversations at The Interval" series.
For over sixty years CASBS has been a national and international locus for transformative thinking and research on the most important issues in social science.  The Center's residential fellowship program attracts the finest scholars from psychology, sociology, economics, political science, anthropology, history, philosophy, linguistics, and related disciplines.

More about Long Now's partnership with CASBS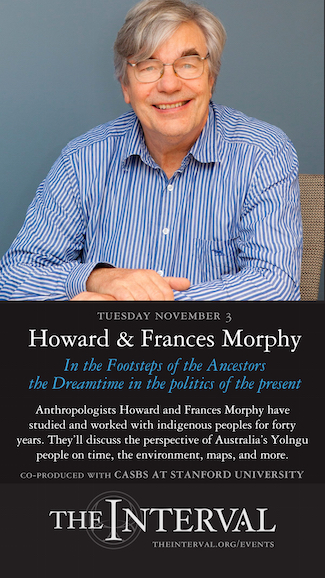 Howard Morphy has moved between museums and university departments and feels at home in collections and archives as much as in the field. On the completion of his doctorate he became a lecturer at the Australian National University. He subsequently spent ten years at the Pitt Rivers Museum, Oxford, as curator and lecturer in ethnology. In 01996 he moved to University College London as professor of anthropology, and the following year he returned to Australia. In 02009 he became inaugural director of the Research School of Humanities and the Arts at the Australian National University, where he is currently Distinguished Professor of Anthropology. He was awarded the Huxley Medal in 02013.
Frances Morphy is a research affiliate at CASBS, major research focus since 02001 has been the intersection between anthropology and demography. She has extensive research experience in Arnhem Land, northern Australia, where she has worked since 01974, and in the Fitzroy Valley in western Australia. Her research interests include the anthropological demography of household and settlement formation in remote indigenous areas; social, cultural, and economic aspects of the encapsulation of indigenous Australians within the Australian state; the impact of colonization on indigenous social systems and languages; and cross-cultural translation.

Long Now members hear about Interval events first: become a member today
When & Where

The Interval at Long Now
Fort Mason Center
2 Marina Blvd
San Francisco, CA 94123


Tuesday, November 3, 2015 from 6:30 PM to 8:30 PM (PST)
Add to my calendar
Howard and Frances Morphy at The Interval: In the Footsteps of the Ancestors