Description
SUMMER OF WEIRD
The 18th annual How Weird Street Faire
Sunday May 7, 2017
Noon to 8pm
Centered at Howard and 2nd Streets
Downtown San Francisco, Earth
$20 for a Magic Button at the faire.
For more information visit http://HowWeird.org/


THE PRESALES END AT 5PM ON SATURDAY MAY 6TH
AFTER THAT THE MAGIC BUTTONS ARE AVAILABLE AT THE FAIRE ON SUNDAY
On May 7, 2017, a unique gathering of the tribes will occur in downtown San Francisco for a Celebration of Peace. It will be a tribute to the 50th anniversary of the Summer of Love, and the 18th annual How Weird Street Faire, featuring the current generation of creative countercultures. Bring flowers, bring costumes, bring love, bring peace.
We join together to affirm our unity, generate waves of joy, and expand our consciousness. Turn on, tune in, and be weird.

There will be dancing in the streets at 11 stages of world-class electronic music, spectacular performances, fantastic foods, unique vendors, visionary art, inspiring creativity, and peace technology exhibits. The faire will take place from Noon to 8pm, come early to catch all of the fun.

How Weird is centered at Howard and 2nd Streets, San Francisco, Earth. Located at the convergence of art and technology for the city, and the world. The faire is easily accessible by public transportation, while parking has become very difficult. It is a short walk to the Montgomery Station on Market Street.

The How Weird theme for 2017 is "Summer of Weird", paying tribute to the cultural pioneers that inspired us and brought us further, while celebrating the continuing evolution of culture and expression. Participants are encouraged to come with flowers in their hair, and colorful costumes suitable for dancing. It will be extremely groovy.

The How Weird Street Faire is open to all ages, and all nationalities. The faire is handicapped accessible. The How Weird Street Faire celebrates acceptance and appreciates diversity. Leave your fear behind.
The faire entrances (or gates) are at:
Howard & 1st Streets
Howard & New Montgomery Streets
Mission & 2nd Streets
This is where you will pick up your presale Magic Button, at the faster "Presales Only" line.
The Magic Button comes with many discounts and specials and free goodies and fun activities!
You can see the updated list here - http://howweird.org/magic-stickers/

There are lots of exciting additions to the faire this year!

New this year is Circus Alley on Minna Street, featuring a music stage by Skyhigh Odditorium and aerial performances. There will be entertainment curated by Madamn Burnz, including handbalancing acts, contortionists, pole arcobatics, and performance dance. Circus Alley will be an interactive environment with face painters, stilt walkers, and clowns, as well as a diverse line-up of music throughout the day with Cerebellum Projekt.
Also new this year is Green Alley, an exhibition of hemp and cannabis culture. Green Alley will feature select exhibitors, the Canna Education Center with a wide range of talks, and a dub music stage by Mountain Lion Hi-Fi. Talk topics include legal information, medical applications, grow technology, and information about the hemp plant. Speakers include Tim Blake, Swami Chaitanya and Nikki Lastreto, Ed Rosenthal, Patrick Goggin, and more. Green Alley will be located on Tehama Street off of 2nd Street, across from Art Alley. Green Alley is open to all How Weird Street Faire participants. There will be no sales of cannabis at the faire.
Art Alley will be overflowing with sensational delights this year, filling Tehama Street from 2nd to 1st Streets. There will be a new craft area from San Francisco's Museum of Craft and Design, featuring an interactive booth where participants can make flower arrangements for their hair. Surrounding that will be live and exhibited artwork and local art vendors, showcasing the extreme creativity of the Bay Area.
For 2017, there will be a special new item… the Magic Button.
The Magic Button is a collectible metal pin button will go to those that give $20 at the faire entrances, or for less in advance online. The Magic Button is available in limited quantities. Everyone who orders a presale Magic Button will receive a button!

The Magic Button comes with lots of freebies and discounts at the vendors, including $2 off drinks at the bars. There will also be fun activities and exciting specials. Enjoy all that the faire has to offer!
For a list of this year's vendors and their Magic benefits visit http://howweird.org/magic-stickers/
A REVOLUTION YOU CAN DANCE TO!

The legendary soundtrack for the Summer of Weird will be provided by Northern California sound collectives, including the CCC, SomaFM, Symbiosis, Muti Music, Enchanted Forest, Northern Nights, Pulse SF, Temple Nightclub, Mountain Lion Hi-Fi, Underground Nomads, Cypher Sessions, Solid Gold Jacuzzi, Skyhigh Odditorium, and more.

There will also be a Lagunitas Beer Circus off the center intersection with exciting performances and music and lots of fun games to play.

The How Weird Street Faire features some of the top stage producers, DJs, and sound systems on the planet. They will be featuring a wide range of electronic dance music by local and international artists. How Weird is an annual reunion of the tribes for electronic music dancers of all sorts.
50 YEARS OF PEACE CELEBRATIONS

The SF Oracle proclaimed in 1967, "A new concept of celebrations must emerge, become conscious, and be shared, so a revolution can be formed with a renaissance of compassion, awareness, and love, and the revelation of unity for all mankind." How Weird is proud to continue the great San Francisco tradition of taking celebrations further.

The How Weird Street Faire is a project of the nonprofit World Peace Through Technology Organization, showing the world that peace is possible. After half a century, peace is needed more than ever.

HOW WEIRD 2017 FAIRE MAP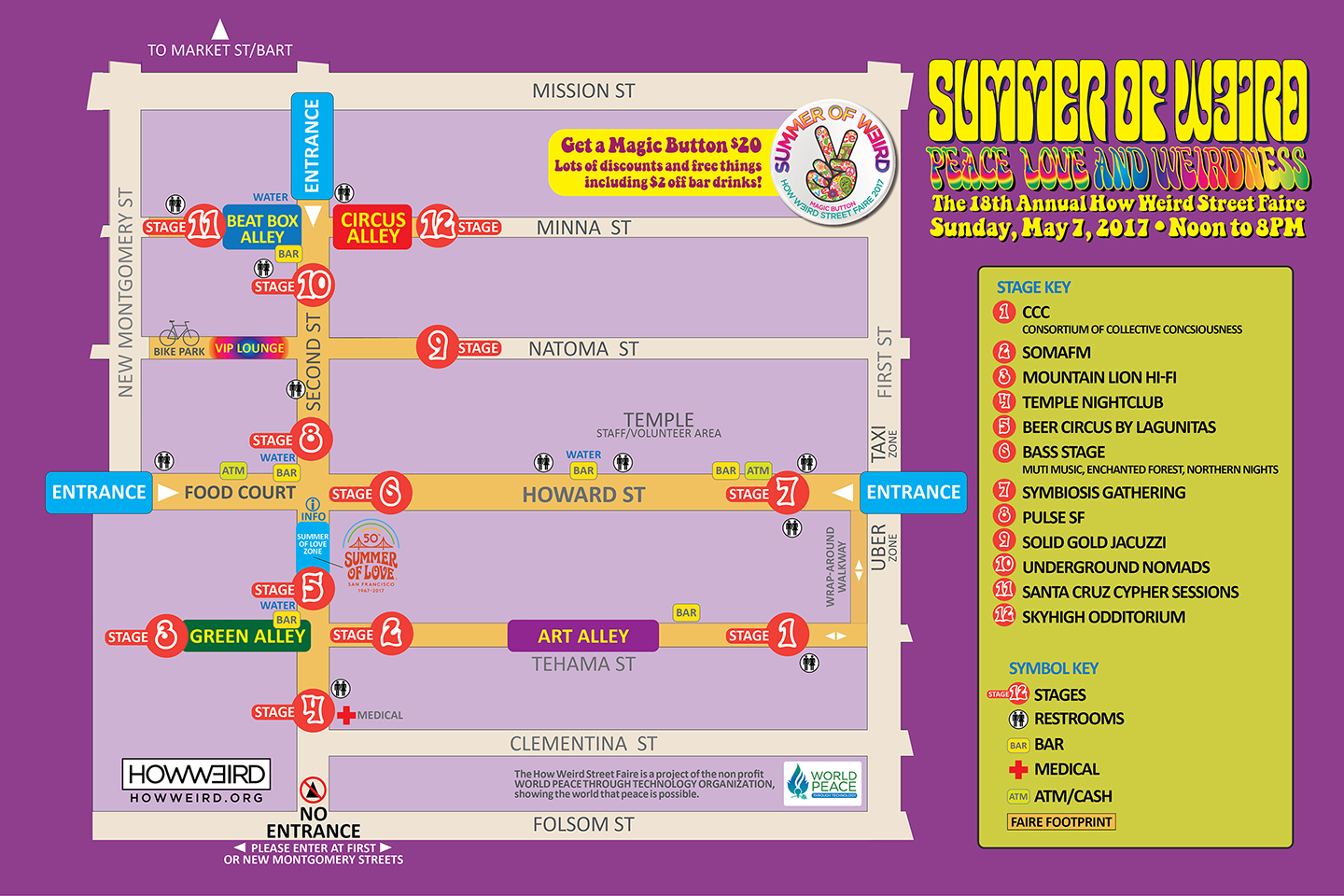 You can pick up the Magic Button at the Presales Line at each entrance to the faire.
To help make things go quickly, please have a receipt of your purchase when you arrive and a photo ID. You can use your phone, or paper, or ID if needed.
---
FAQs
Entrances?

There are 3 entrances to the faire:
Howard & New Montgomery Streets
Howard & 1st Streets
Mission & 2nd Streets
Each faire entrance will have a shortened line for presale Magic Button buyers.

Directions?

The How Weird Street Faire takes place in the heart of the SoMa district of San Francisco. It is centered at Howard & 2nd Streets, a few blocks south of Market Street, and a block east of Yerba Buena Gardens. The coordinates are 37°47'12.4″ N, 122°23'53.7″ W

The faire is near the Montgomery BART station, Transbay Terminal, Caltrain Station, and MUNI. We recommend taking public transportation to the faire. There is also a taxi waiting area at 1st Street and Howard. We recommend arriving early, the faire starts at Noon.

Car parking?

If you drive, it can be hard to find parking. For short stays, you can go to the parking garage at 5th & Mission Streets.

Bike parking?

This year there will be self-service bike parking on Natoma Street, with an entrance on New Montgomery Street. Park your bike before entering the faire. Please lock your bike over the top of the barricades, not on the side. There will be security watching the bikes.

UFO parking?

The designated Flyer Saucer landing zone is at 37°47'16.62″N, 122°23'53.92″W

Handicapped accessible?

Yes, the faire is handicapped accessible. It is at street level.

Ages?

How Weird is a place where all are welcome. The faire is open to all ages, but we recommend ear plugs or headphones for children.

Are dogs allowed?

No. Dogs are not allowed at the How Weird Street Faire this year, because of problems. Only service dogs can enter the faire.

What about other animals?

We strongly discourage bringing pets to How Weird, because of the large crowds and loud noise.

What can't I bring to the event?

Glass bottles are not allowed, nor are weapons. Bags and people may be searched going into the faire.

What can I bring to the event?

Smiles, flowers, a colorful costume, and an open mind.

Are costumes required?

Yes, they are. You can go as yourself, or go as someone else. We recommend something colorful, creative, fun, and weird. Weird is always in style. Magic Buttons are the perfect compliment to every costume.

Are there ins and outs?

Yes, there are. And if you have a Magic Button, it will make it easier to come back in the faire.

What time should I arrive?

Arrive at Noon. The faire starts at noon, and you don't want to miss any of the fun. The music will also start at noon. And the vendors will be open at noon. Even Art Alley will be shining at noon.

Lost and found?

Lost and Found is located in the Info Booth, where you will also find answers to all of your faire questions.