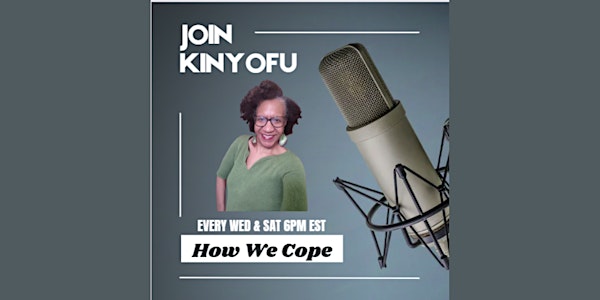 How We Cope: Weekly conversations about Resilience beyond Adversity
Discussing resilience beyond adversity
About this event
On Wednesday's and Saturdays, you can join Kinyofu on Clubhouse to discuss resilience beyond adversity.
PAST TOPICS (available on Replay on Clubhouse): Types of Stress, Types of Resilience, Stress in our Bodies, Mind Full or Mindful?, The Relevance of Childhood Adversity, Guided Meditation 101.
FUTURE TOPICS: How our thoughts take us out, Reprogramming our Thoughts, Critism vs Feedback, Creating Affirmations, Excellence vs Perfection, Self-care/Self-first, Childhood of Role-reversal, Setting Boundaries.
To join,
1) Download Clubhouse.com.
2) Join the club: https://bit.ly/ListentoKinyofu.
3) Click Follow and Click the Bell to ALWAYS be notified when the next room opens.
Also, check out MeetKinyofu.com for access to her social media links, events, articles, and videos.
WHO IS KINYOFU? Kinyofu Mlimwengu holds a Bachelor's Degree in Community and Human Services and a Master's Degree in Education. Kinyofu inspires generations of resilience from wombs to classrooms and now Zooms through coaching, teaching and speaking. She provides experiential activities to support the individual's vision toward their best self. Kinyofu is driven to do what she can to stop generational trauma in its tracks.